BlackBerry losses hit $4.4 billion
Christmas doesn't bring much cheer for BlackBerry, despite a Foxconn deal.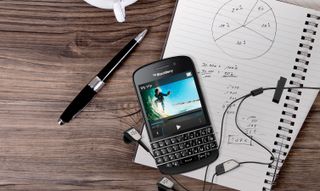 Beleaguered smartphone company BlackBerry has reported epic losses of $4.4 billion for its third quarter, as it announced a deal with Taiwanese supplier Foxconn to build phones in 2014.
Its losses were up from $965 million in the previous quarter, whilst revenues fell to $1.2 billion, down $380 million or 24 per cent from $1.6 billion. Looking at the same quarter a year ago, revenues had dropped 56 per cent from $2.7 billion.
BlackBerry took big hits from a $1.6 billion inventory writedown and a $2.7 billion asset impairment charge.
The company has had another turbulent year, in which CEO Thorsten Heins was shown the door along with numerous other executives and it reversed a decision to sell up to its largest shareholder Fairfax Financial Holdings.
"With the operational and organizational changes we have announced, BlackBerry has established a clear roadmap that will allow it to target a return to improved financial performance in the coming year," said John Chen, Executive Chairman and Chief Executive Officer of BlackBerry.
"While our enterprise services, messaging and QNX Embedded businesses are already well-positioned to compete in their markets, the most immediate challenge for the Company is how to transition the Devices operations to a more profitable business model."
In a bid to turn its fortunes around, it has now signed a deal with Foxconn. The five-year partnership will see the pair develop devices for "fast-growing markets", starting early 2014.
"Partnering with Foxconn allows BlackBerry to focus on what we do best iconic design, world-class security, software development and enterprise mobility management while simultaneously addressing fast-growing markets leveraging Foxconn's scale and efficiency that will allow us to compete more effectively," Chen added.
A daily dose of IT news, reviews, features and insights, straight to your inbox!
A daily dose of IT news, reviews, features and insights, straight to your inbox!
Thank you for signing up to ITPro. You will receive a verification email shortly.
There was a problem. Please refresh the page and try again.