Apple to use 5-inch sapphire crystal display for iPhone 6
Firm pens a deal with specialist GT Technologies.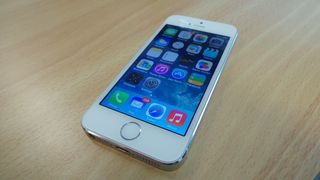 Apple is planning to use sapphire crystal glass technology in its next iPhone, after details emerged of equipment it had purchased.
The iPhone maker has struck a deal with GT Technologies which will allow the firms to produce between 100 and 200 million displays at a manufacturing facility in Arizona.
Documents showing the import of materials were published by 9to5Mac and appear to confirm that Apple and GT Advanced will be working together to produce larger displays.
Apple is tipped to increase the screen size of the iPhone to five inches. Switching to sapphire is expected to provide the next iPhone with a number of other advantages. The material is the second hardest substance after diamond and is highly resistant to scratching.
Reports suggest that Apple will also be able to underlay the Sapphire screen with its Touch ID technology, which is currently restricted to the home button.
Apple is expected enhance other key features too; including the camera and storage, which could be upped to 12-megapixels and 128GB, respectively.
A daily dose of IT news, reviews, features and insights, straight to your inbox!
Khidr Suleman is the Technical Editor at IT Pro, a role he has fulfilled since March 2012. He is responsible for the reviews section on the site - so get in touch if you have a product you think might be of interest to the business world. He also covers the hardware and operating systems beats. Prior to joining IT Pro, Khidr worked as a reporter at Incisive Media. He studied law at the University of Reading and completed a Postgraduate Diploma in Magazine Journalism and Online Writing at PMA Training.
A daily dose of IT news, reviews, features and insights, straight to your inbox!
Thank you for signing up to ITPro. You will receive a verification email shortly.
There was a problem. Please refresh the page and try again.