iPhone 6 & iPhone 6+, Apple Watch & new iPad Air: Apple launch day arrives
Two new iPhones, an iWatch and the next generation iPad Air expected to launch today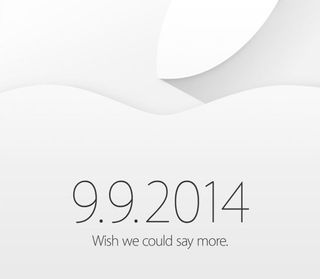 Apple looks set to take the wraps off a host of products at its launch event in Cupertino later today, with the iPhone 6, iWatch and the next generation iPad Air all expected to put in an appearance.
The event is likely to be presided over by Apple CEO Tim Cook and Phil Schiller, the consumer electronics giant's vice president of worldwide market, if previous launches are anything to go by, and will kick-off at 6pm, UK time.
The IT Pro team will be covering all the news from the event as it happens, with comprehensive breakdowns and comparisons planned for all the kit Apple decides to debut during the keynote, so make sure you check the site often for updates.
Industry sources are suggesting tonight's event could be one of the most ambitious in Apple's history, with two new iPhones tipped to make their debut, along with news of the vendor's first foray into wearable tech in the form of the iWatch, as well as the next-generation iPad Air.
We're also likely to see a comprehensive walkthrough tonight of the various new features packed into Apple's soon-to-be-launched iOS 8 mobile operating system, and possibly how its HomeKit and HealthKit offerings will tie-up with the devices it unveils at the launch.
Below, we take a quick run through the devices that are hotly-tipped to be unveiled tonight, with links to articles we've written about them already, and place our bets on how likely they are to make an appearance.
iPhone 6
September has traditionally seen Apple announce details about a new iPhone it's bringing to market, and this year - as was the case in 2013 - the rumour mill seems to be suggesting that two models could be in the offing.
Last year, this resulted in the highly-praised iPhone 5s, which marked the introduction of the firm's TouchID biometric finger scanner, and the lower cost iPhone 5c.
Whereas cost and specs were the key differentiators between last year's two devices, in 2014 it seems it's all about size for Apple.
According to various reports, the firm is planning to bring a 4.7in smartphone and a 5.5in phablet-style device to market.
You can find out more about both devices, and what's rumoured to be bundled in with them here.
Likelihood of launch: 99.99999 per cent Apple always debuts new iPhones in September, and last year's crop are already falling behind the competition on the specs front, so a refresh is well overdue.
iWatch
With Asus, Sony, Samsung, LG already touting smartwatches of some description, Apple has been accused of being late to the wearable tech party.
However, given Apple's track record for popularising the use of, and improving on, technology that already exists, market watchers have been quick to bat away suggestions the firm's decision to bide its time will cause it harm.
Industry sources claim the device is likely to sport a 2.5in touch screen, which arcs around the wrist, and will have wireless charging capabilities. Furthermore, it's thought the device will also act as a fitness tracker by monitoring health metrics, such as heart rate, calories burnt and the number of steps taken.
Here's a link to our latest news about the iWatch.
Likelihood of launch: The momentum surrounding Apple's iWatch has markedly ramped up in recent months, with the announcement Apple had recruited a former Tag Heuer sales director to help with its development.
Early reports hinted at an October release date for the iWatch, so we'd say there's a75 per cent chance of a shiny wristwatch.
iPad Air 2 AKA New iPad Air
Apple officially did away with the numeric naming convention for its tablet family last October with the launch of the 9.7in iPad Air, which it declared the "lightest, full-size tablet in the world."
The device is due a refresh, with reputable KGI analyst Ming-Chi Kuo suggesting last weekthat tonight will be the night Apple announces the iPad Air's successor.
Little is know about the prospective, new device at the moment, although reports suggest it could feature 2GB of RAM and come equipped with Touch ID.
Here's a link to an article featuring further details on the iPad Air 2.
Likelihood of launch: 30 per cent.The iPad Air 2 was a late, prospective addition to the keynote line-up, and - given Apple usually debuts new additions to its tablet family in October, ahead of the holiday rush - we're a little dubious about claims it'll be launched tonight. We could be wrong, but Apple rarely tampers with its release cycles.
Be sure to check back here once the keynote ends to see if any of our predictions were true.
A daily dose of IT news, reviews, features and insights, straight to your inbox!
Caroline Donnelly is the news and analysis editor of IT Pro and its sister site Cloud Pro, and covers general news, as well as the storage, security, public sector, cloud and Microsoft beats. Caroline has been a member of the IT Pro/Cloud Pro team since March 2012, and has previously worked as a reporter at several B2B publications, including UK channel magazine CRN, and as features writer for local weekly newspaper, The Slough and Windsor Observer. She studied Medical Biochemistry at the University of Leicester and completed a Postgraduate Diploma in Magazine Journalism at PMA Training in 2006.
A daily dose of IT news, reviews, features and insights, straight to your inbox!
Thank you for signing up to ITPro. You will receive a verification email shortly.
There was a problem. Please refresh the page and try again.