iPad Air 2 vs Surface Pro 3: Tablet or hybrid?
iOS takes on Windows 8 to see which is the best portable device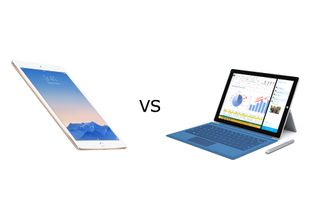 In a world where portable machines are becoming ever more powerful, we take a look at the best tablets Microsoft and Apple have to offer.
The arch-rivals have taken opposite paths when it comes to products. Apple has opted for a pure-play tablet, whereas Microsoft has attempted to cover all bases by manufacturing a 2-in-1.
We take a look at the strengths and weaknesses of the Surface Pro 3 and iPad Air 2:
Design & Display
Surface Pro 3
Microsoft has designed the Pro 3 as a 2-in-1 hybrid device so it's the bigger device on test. The Surface Pro 3 has a unique kickstand built into its chassis so it can be propped up on tables or even on your lap.
The Pro 3 is made from a premium Magnesium-alloy material and this houses a sublime 12in display (2,160 x 1,440) with a density of 216 pixels-per-inch (ppi). This makes it ideal for a wide variety of tasks from detailed productivity work to watching multimedia.
We measured a maximum screen brightness of 352cd/m2, which is more than adequate for everyday usage.
We did find one-handed usage difficult because of the 12in form factor and 800g weight. You'll be at your most comfortable using the Pro 3 when it is placed in your lap or a flat surface.
iPad Air 2
Being a tablet, the Air 2 is smaller, thinner and lighter than its hybrid rival. A unique feature is the inclusion of the Touch ID fingerprint sensor - this allows you to unlock the device with a fingerprint and also to authorise purchases in the App Store.
Apple has used a 2,048 x 1,536 resolution on the 9.7in display (264ppi). Brightness for the iPad Air 2 was slightly higher, clocking in at 400 cd/m2. Apple has added an anti-reflective coating to the panel, making it easier to use under bright overhead lights.
The Air 2 is wafer thin (6.1mm) and weighs in at 437g so it's easy to carry out and hold with one-hand for longer periods than the Pro 3.
Winner: iPad Air 2 - It's more portable and the screen is a great size.
Input
Surface Pro 3
Microsoft provides a stylus in the box, which has some unique capabilities.
You can activate OneNote at anytime (even from sleep mode) with a click of the purple button at the top of the pen. You can start taking notes immediately, be it in a meeting or lecture, all without having to unlock the device. Another click will save the note to the cloud and open up a fresh sheet. It's a simple and well executed idea and optimal for the times when you want to jot down a quick memo.
You can also screenshot any page on the device and annotate it. This is done by double clicking the pen lid and choosing the print screen option.
You'll notice the Type Cover in all the flashy promotional posters and adverts for the Pro 3, but this isn't included as standard and is classed as an "accessory". Without the Type Cover, the functionality of the Pro 3 is significantly reduced as you'd have to use the touchscreen keyboard and lose out on screen space, which is already at a premium. It's expensive too - adding 109 to the price.
iPad Air 2
Apple doesn't provide stylus input - but it's possible to buy a third-party stylus from Wacom if you wish.
You can also hook up a Bluetooth Apple keyboard if you want to carry out long-form productivity activities. There is a wide variety of third-party keyboard accessories on the market from prominent manufacturers such as Anker, Belkin and Logitech. These are considerably cheaper than the Type Cover for the Pro 3 and start at 30.
Winner: Pro 3 - The unique stylus input helps the Pro 3 to shade this category. However, the iPad Air shouldn't be discounted as the accessories can boost input and are far cheaper than the Microsoft's Type Cover.
Specifications and Performance
Surface Pro 3
Microsoft offers the Pro 2 with a choice of Intel's Core i3,i5 and i7 processors, along with up to 8GB of RAM. The internal storage capacity starts at 64GB and tops out at 512GB for the top-end model.
Microsoft uses the Windows 8.1 Pro (64-bit) operating system giving the Pro 3 full laptop-like functionality. You're also able to download apps from the Windows Store should you wish to get the most out of the Metro interface.
The specifications mean the Pro 3 is more comparable to a laptop rather than a tablet. In our benchmarks which test multimedia, multitasking and responsiveness, the Pro 3 scored a respectable 64/100 - giving it the performance of a mid-range laptop.
Air 2
The iPad is designed as an efficient companion device and this is reflected in the component selection. The Air 2 is powered by an ARM-based A8X processor with an M8 co-processor and 2GB of RAM.
iOS 8 is pre-loaded onto the iPad - which doesn't quite offer the full functionality of the OS X or Windows operating systems. However, there are hundreds of thousands of bespoke apps for the Air 2.
Useful apps like Pages, Numbers, Keynote, iMovie and GarageBand are all pre-loaded onto the tablet. You'll be able to carry out light video/photo/music editing, browse the web and use basic productivity tools on the the Air 2 without any issues. However, it isn't capable of heavy duty workloads like the Pro 3 and you may have issues opening some files.
Winner: Pro 3 - It offers the performance of a laptop in a portable form factor.
Battery Life
Surface Pro 3
This has been a weakness of the range over all three generations. The Pro 3 has power hungry components and the Windows operating system sucking up battery power. We managed shy of 6 hours in our video playback test without using the internet.
Don't expect all-day battery life from the Pro 3 otherwise you'll be disappointed.
iPad Air 2
This is were the power efficient components come into their own. In our video playback test the Air 2 clocked a superb 12 hours and 30 minutes and you can expect up to 10 hours of longevity with Wi-Fi browsing.
Winner: iPad Air 2 - Both batteries are sealed into the device but the iPad is the clear winner when it comes to longevity.
Connectivity
Surface Pro 3
Microsoft has built a microSD card reader into the chassis, allowing you to boost storage by up to 128GB.
There's also space for a mini DisplayPort and a USB 3 connection. It may not sound like much but you can easily boost functionality by using USB splitter if you need to connect multiple peripherals.
Wireless connectivity comes in the form of Wi-Fi 802.11ac/a/b/g/n together with Bluetooth 4. There's no option to have 4G built-in, but this can be mitigated by tethering to a smartphone when you are on the move.
iPad Air 2
The Air 2 is limited to a Lightning connector for charging and data transfer purposes. This means wireless connections are pivotal.
Apple includes Wi-Fi 802.11a/b/g/n/ac (dual channel 2.4GHz and 5GHz) connectivity along with Bluetooth 4.
A cellular version of the iPad is also available so you can have internet connectivity on the move without having to tether the device.
Winner: Pro 3 - It's got the ever present USB standard as well as expandable memory.
Pricing
Surface Pro 3
The entry-level Pro 3 is powered by a Core i3 chip, 4GB of RAM and comes with a basic 64GB SSD. Pricing for this starts at 640 but we would recommend the Core i5 model and upwards.
The Core i5 model with 128GB of storage and 4GB RAM costs 750. If you want 8GB of RAM and a 256GB SSD, which is what we'd recommend, you'll have to pay 999.
No matter which configuration you choose, another 110 has to be factored in for the Type Cover, which is a necessity.
The Surface Pro 3 ships with a one-year limited warranty and Microsoft offers 90 days of technical support.
iPad Air 2
Apple has changed the configuration it offers for the Air 2. The entry-level 16GB Wi-Fi model remains - starting at 399.
However, the firm has scrapped the 32GB edition. This means the price jumps to 479 for the 64GB Wi-Fi model. If you want the maximum 128GB of storage - you'll have to fork out 559.
We'd recommend getting 64GB edition so you don't have any storage issues when it comes to downloading apps and installing future software updates. The 16GB of internal storage just doesn't cut it.
If you want the 4G connectivity you'll have to add another 100 on to the prices above.
Apple provides a 12 month warranty and if you have any problems you can pop into an Apple Store.
Winner: iPad Air 2 - Neither device is cheaper but the Air 2 represents better value for money. When you factor in the price of the Type Cover and the high-end Pro 3 model - the price is more than many Ultrabooks.
Overall
Both devices have their strengths. The Pro 3 was dominant when it came to input, performance and connectivity. Meanwhile, the Air 2 excelled in the areas of display, battery life and pricing.
Neither device is user upgradeable or easy to repair. The Pro 3 received a repairability score of 1/10 and the Air 2 wasn't much better with a score of 2/10 from teardown specialist iFixit.
It really depends what you want. If you're looking for a laptop replacement, capable of running legacy programs, then the Surface Pro 3 could be ideal.
Those looking for a portable companion device primarily for browsing and light productivity work would be encouraged to go for the Air 2. Or if you're on a budget it's worth considering the slightly original iPad Air as well.
Get the ITPro. daily newsletter
Receive our latest news, industry updates, featured resources and more. Sign up today to receive our FREE report on AI cyber crime & security - newly updated for 2023.
Khidr Suleman is the Technical Editor at IT Pro, a role he has fulfilled since March 2012. He is responsible for the reviews section on the site - so get in touch if you have a product you think might be of interest to the business world. He also covers the hardware and operating systems beats. Prior to joining IT Pro, Khidr worked as a reporter at Incisive Media. He studied law at the University of Reading and completed a Postgraduate Diploma in Magazine Journalism and Online Writing at PMA Training.