LG G4 hands-on: cameras, curves and leather
We get up close and personal with LG's bendy new flagship phone, the LG G4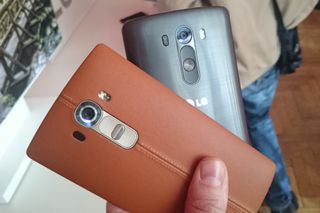 LG yesterday unveiled the LG G4, the latest iteration of its flagship handset. The device boasts several impressive features, including camera upgrades, a Quantum-IPS display and a gently curved body.
LG G4 hands-on: design
The G4's biggest surprise was this 'Slim Arc Design', which translates to an ever-so-slightly curving shape. It's not quite as pronounced as the LG G Flex 2, announced earlier this year, but it's enough to make it "fit the human body more comfortably", according to LG.
We'd have to agree with them it fits very nicely and naturally into the hand. Taking calls on it feels agreeably similar to an old-school landline, too.
Leather cover
The LG G4 also features a rather unique and eye-catching leather backing, which certainly makes a change from the glass and metal we're used to seeing. It's pretty impressive quality too, and LG is boasting about the premium materials that go into its construction.
Although companies such as BlackBerry have released leather-backed phones before, the G4 still stands out. From a visual perspective, it really makes a splash, and LG claims that it's also 20 per cent more impact-resistant. While we're not entirely sure if we believe that, the leather back does help provide grip where other phones can be a touch slippery.
Ceramic finish
We're a big fan of the elegant leather design, and generally premium build quality. However, LG isn't forgetting about the vegan market, and the G4 is available in ceramic and metallic finishes for those who object to leather goods.
Aside from the new cladding and curved profile, however, there's not much cosmetic difference. The sleep and volume buttons are still somewhat awkwardly placed on the phone's back, and the body looks pretty much identical to its predecessor the G3 - albeit one that someone's sat on.
LG G4 hands-on: specs, hardware and battery
Inside, there's a bit more change, and the G4 is packing a six-core Qualcomm Snapdragon 808 processor, with an Adreno 418 GPU powering the 5.5in quad-HD IPS Quantum display. In practice, it not only looks great, but feels slick and responsive, as we'd expect from the follow up to one of the best phones of 2014.
One feature we weren't expecting, especially in light of current industry trends, is the removable 3000mAh battery and microSD.
LG G4 hands-on: connectivity and features
The addition of expandable memory via MicroSD could easily have tempted LG to dial back the onboard storage. However, they've been surprisingly generous, with 32GB as standard.
Unfortunately, the trade-off for these features is that the G4 has once again sacrificed our beloved waterproofing. Not that you'd want to get all that leather wet in the first place, but we're still sad not to see it.
In terms of connectivity, the G4 sports a range of flagship-grade features, including NFC, Bluetooth 4.1, and .11ac Wi-Fi. None of that is surprising, but it's a pleasingly well-rounded array.
LG G4 hands-on: camera
The G4's camera quality is really being emphasized by LG, and it has had some pretty hefty tweaks. Rather than prioritising a higher magapixel count, however, LG says it has worked on improving autofocus, shutter speed and other practical photography elements.
The G4's 16MP rear camera is equipped with a colour spectrum sensor, the first of its kind in a smartphone. Supposedly giving increased colour accuracy over rivals, it's paired with OIS 2.0 for increased stability, a larger aperture and a 40 per cent bigger image sensor.
Professional photographers may also be excited to learn that the G4 allows users to export their images as uncompressed RAW files, which can be sent directly to a computer for editing. In addition to the manual mode for custom ISO and white balance adjustments, this could make the G4 a rival to the iPhone 6 Plus for easy, high-quality images.
Selfie enthusiasts will also likely be fans of the 8MP front camera, which comes with an updated version of the G3's Gesture Shot' mode. This lets you take four selfies in different poses, with two-second intervals between shots.
LG G4 hands-on: software
Naturally, the G4 will run Android Lollipop 5.1 out of the box, with LG's UX 4.0 interface over the top ofit. As such, LG's Smart Notice system is back, with a host of improvements to make it smarter and more personalised.
For example, if it's been raining for two days in a row (not exactly unusual in Britain), the notification will read it's still raining' or it's raining again'. Essentially, it's near-identical in function to Google Now's cards system, but the new additions work well and give it a bit more personality.
LG have also partnered with Google for much of the device's software. Google Docs, Slides and Sheets all come pre-installed on the G4, and every purchase comes with 100GB of free Google Drive cloud storage for two years.
LG G4 hands-on: price and release date
We were hoping for some pricing or availability details, but the company is thus far being tight-lipped about when we might have a chance to get our hands on it, or how much it'll set us back. They've promised that news will be forthcoming in the next few weeks though, so we'll update this as soon as we learn more, as well as adding our full review and verdict.
Get the ITPro. daily newsletter
Receive our latest news, industry updates, featured resources and more. Sign up today to receive our FREE report on AI cyber crime & security - newly updated for 2023.
Adam Shepherd has been a technology journalist since 2015, covering everything from cloud storage and security, to smartphones and servers. Over the course of his career, he's seen the spread of 5G, the growing ubiquity of wireless devices, and the start of the connected revolution. He's also been to more trade shows and technology conferences than he cares to count.
Adam is an avid follower of the latest hardware innovations, and he is never happier than when tinkering with complex network configurations, or exploring a new Linux distro. He was also previously a co-host on the ITPro Podcast, where he was often found ranting about his love of strange gadgets, his disdain for Windows Mobile, and everything in between.
You can find Adam tweeting about enterprise technology (or more often bad jokes) @AdamShepherUK.