Google drone trials approved, as Amazon "horrifies" Brits
US approves trials of delivery drones, but it's not smooth flying for similar Amazon tests in the UK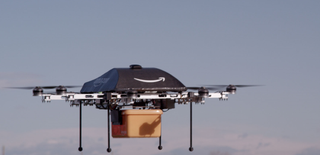 Google's drones are set to take to the air above the US, as Amazon faces criticism for its delivery-by-air trials in the British countryside.
Google's parent firm Alphabet was given permission by US regulators to test its Project Wing unmanned aerial vehicles (UAVs) in one of six designated areas.
The US already allows line-of-site drone flight, but this will be among the first trials of flights not directly controlled by a pilot. The tests will be in airspace under 400 feet.
"Data gathered will be shared with government partners to help regulators answer critical safety and human factors questions for UAV cargo delivery operations" a White House statement said. "Project Wing is planning for the testing to include operations with external cargo loads and to build towards beyond line of sight (BLOS) capabilities."
The trials come alongside a 26 million investment from the US government into drone research over the next five years, looking into the use of UAVs for inspection of infrastructure, disaster response, agricultural monitoring and more.
Amazon's trial "horrifying" locals
Amazon has already started testing its delivery drones in UK skies - and some in the countryside are not happy. The BBC reported complaints from people living near the Fleam Dyke trail near Cambridge, with one local saying she was "absolutely horrified" by the proximity of drones to a Roman road.
"The idea of bringing drones to the middle of the countryside is so deeply shocking, one's words fail," Julia Napier, secretary of Friends of the Roman Road and Fleam Dyke, told the BBC. "This is a site of special scientific interest. It is also important as an historical Roman monument."
She said the area was used by people to "find peace", and that drones "whizzing over their heads, delivering parcels to people who cannot wait more than two days... means more noise in the countryside."
While that may sound like a case of nimbyism, the trials are designed to capture such complaints, with the US Post Office planning to track the "public's rapidly evolving opinion of drone delivery".
Drone dominance
Despite such complaints, government enthusiasm for such technologies - the White House believes drones could be worth $82 billion to the US economy by 2025 - suggests they will take flight soon.
Instead, the question may well be whose drones dominate. The US Postal Service is considering "how the public would view drone delivery if it were offered by [itself] and a small collection of other interested organisations."
The head of Google's project, David Vos, has previously said he does not think any one drone company should rule the skies.
"We think the airspace side of this picture is really not a place where any one entity or any one organization can think of taking charge," Vos told Bloomberg last year. "The idea being that it's not Google is going to go out and build a solution and everyone else has to subscribe to it.' The idea really is anyone should be free to build a solution."
A daily dose of IT news, reviews, features and insights, straight to your inbox!
A daily dose of IT news, reviews, features and insights, straight to your inbox!
Thank you for signing up to ITPro. You will receive a verification email shortly.
There was a problem. Please refresh the page and try again.