Apple unveils new £319 iPad that will work with the now cheaper £89 Apple Pencil
The first Apple event of 2018, held in Chicago, was geared all around education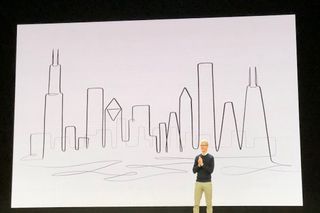 Apple has taken the covers off its latest education-focused products at a launch event in Chicago.
The Apple March event the first Apple event of 2018 took place at Lane Tech College Prep High School. An invitation to the event, sent to guests two weeks ago, featured a calligraphy-style Apple icon and the words: "Let's take a field trip", accompanied by the description: "Join us to hear creative new ideas for teachers and students."
Today's event was a bit of a breakaway from Apple's usual events, namely because it wasn't held in San Francisco and it wasn't streamed live.
Tim Cook opened the event by saying Chicago is "home to one of the most forward-thinking schools systems in the country," because it shares Apple's strong belief "technology has an important place in education."
New iPads
Ahead of today's event, rumours suggested Apple would launch low-cost iPads and education software aimed at students, teachers, and maybe even businesses. Apple is lagging behind both Google and Microsoft when it comes to shipping its devices to schools and the company is said to be keen lure these customers away from Chromebooks, Windows PCs, and Surface tablets.
Google's Chromebooks and Android tablets are said to take around 60 percent of the education market, with Windows devices making up around 22 percent, according to figures from Futuresource Consulting. In a bid to launch a counterattack, ahead of today's Apple event, Google finally unveiled its first Chrome OS tablet, made by Acer. It very much occupies an area that Apple has failed to capture with its iPad.
Last year saw the launch of the 7th generation iPad, the 2nd generation 12.9in iPad Pro and a 10.5in Pro model. We haven't seen an iPad mini since the iPad mini 4 in 2015, which was later discontinued in September 2016 for all but the 128GB model.
At today's event, Greg Joswiak, Apple's VP, iOS, iPad and iPhone Product Marketing introduced a new 9.7in iPad. "The most popular iPad in education is the 9.7in iPad available to schools for $200," explained Joswiak. "Today we're introducing a new iPad that's taking what's so popular about the old iPad and making it better." It will also support Apple Pencil, the stylus previously restricted to the iPad Pro range.
The new iPad comes in silver, grey, and gold and will cost 319 for the 32GB with Wi-Fi model and 449 for the 32GB Wi-Fi+Cellular. The Apple Pencil drops to 89 and both are available to order today.
Joswiak revealed that, through the use of Apple Pencil, iWork is expanding so Pages, for example, will now come with Smart Annotation that helps teachers mark up their student's work. Digital books are also coming to iPad with the new addition.
Cheap MacBooks
In addition to new iPads, if Apple wants to take aim at Google's Chromebooks and the latest Acer Chrome OS tablet it needs to make MacBooks cheaper. Last year, analyst Ming-Chi Kuo predicted Apple would refresh the MacBook Air range, complete with "a lower price tag" in the second quarter of 2018.
The MacBook Air, which first launched in 2008, has remained almost static since 2010. The latest launch, in 2017, saw Apple release a 13in MacBook Air and MacBook, a 4th generation 13in MacBook Pro, plus a 13in and 15in MacBook Pro with Touch Bars largely power updates with the new Touch Bar, which some called a gimmick.
Alas, today's rumours about cheaper MacBooks didn't materialise. They may well launch at a later event, or even the iPhone event in September, but today's event focused very much on the iPad and bringing education apps to the Mac.
Dual-display MacBook Pro
Other rumours had suggested Apple would launch a dual-display MacBook Pro at today's Apple March event after Apple was awarded a patent for the futuristic design. This didn't happen, either.
According to the patent, a future MacBook could do away with a keyboard and trackpad, replacing it with a second display where the keyboard once sat. In one design, the displays are shown separated by a hinge, meaning the second OLED display will form a keyboard. In a second design, the second display works more like an accessory that you can attach to the device with a magnetic hinge, acting more like a separate tablet or iPad. This is reminiscent of the Lenovo Yoga Book.
Apple Pencil 2
Ahead of the Apple March event, reports suggested Apple was gearing up to ship more Apple Pencils. One way to do this is to increase the number of Apple Pencils being shipped to schools.
As a result, rumours suggested a new Apple Pencil would launch today to extend the Apple Pencil's compatibility beyond the iPad Pro range. This didn't quite materialise. Instead the Apple Pencil's compatibility is being extended to run on devices other than the iPad Pro.
Before today's event, the Apple Pencil cost 99. This has now dropped to 89. Logitech is additionally launching the Logitech Crayon, a low-cost alternative to the Apple Pencil for just $49 (UK price TBC).
Education apps and software
In recent months, Apple and Tim Cook have been pushing the company's education agenda hard with a series of teaching and training events taking place at Apple stores globally. In an interview with Alphr last year, Tim Cook discussed the need to teach more children and young people coding during a visit to London during EU Code Week.
Over the next year, Apple plans to offer more than 6,000 sessions across Europe as part of its Today at Apple programme, unveiled at its September event. These sessions will take place in 100 stores in ten countries and will specifically teach participants how to code in the programming language Swift. Apple introduced Swift Playgrounds and its Everyone Can Code curriculum in 2016, both of which are free.
At the Apple March event, Apple took this campaign up a notch by launching more education-related software. The Classroom app is coming to Mac. iWork apps, including Pages and Digital Books, is coming to iPad and Apple has launched an app called Schoolwork, to help teachers assign tasks and homeworks to students and track their progress.
Joswiak also demonstrated three ARKit apps designed to help with education Boulevard AR, which lets people explore history, Free Rivers, from WWF, to teach children about nature and geography, and Froggipedia, that lets students dissect frogs in AR. And, with a new ARKit module for the Swift coding programme, students and teachers will be able to develop even more.
Elsewhere, Apple unveiled Everyone Can Create a program designed around the idea that "technology can unlock creativity" in music, video, photography, and drawing.
A daily dose of IT news, reviews, features and insights, straight to your inbox!
A daily dose of IT news, reviews, features and insights, straight to your inbox!
Thank you for signing up to ITPro. You will receive a verification email shortly.
There was a problem. Please refresh the page and try again.