BlackBerry Q10 dubbed Selfridges' fastest-ever selling tech product
Initial stock sold out across all three stores in two hours, it is claimed.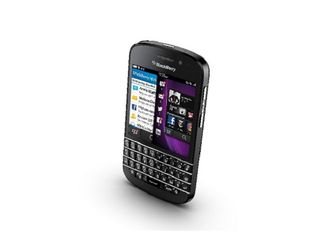 The BlackBerry Q10 went on sale exclusively at Selfridges in London, Manchester and Birmingham this weekend, and reportedly become the department store's fastest-ever selling consumer electronics product.
According to the smartphone maker formerly known as RIM, an initial stock of Q10s totalling 2,000 units - sold through Carphone Warehouse franchises within Selfridges were all gone within two hours.
Stock continues to be delivered on the hour, every hour, in order to keep up with demand, it has been claimed.
Julian Slim, head of home and leisure at Selfridges, said: "The BlackBerry Q10 has been, without a doubt, the most highly anticipated smartphone we have ever sold and is already our most successful."
Michael Collins, a former hedge fund analyst who was present at the London store during the Q10's first day on sale, wrote on tech stock site Seeking Alpha: "Upon arriving, there were lots of exporters buying 20+ units each. They had suitcases, and one used the suitcase on the escalator so his pal could be the first to the counter.
"Carphone Warehouse had broken customers out into two lines single unit buyers like me and multi-unit' buyers. [The staff] were bringing phones up in baskets, hundreds at a time [and] at 3.00pm, without phones left, they still had lines in the multi-buyer section and individual buyers' section."
Ahead of the event, Graham Stapleton, chief operating officer at Carphone Warehouse, said: "The 4G enabled BlackBerry Q10 combines the brilliant features of the touchscreen BlackBerry Z10 adds the classic BlackBerry QWERTY keyboard that our customers know and love."
BlackBerry also claimed pre-orders for the Q10 via Selfridges' website had "exceeded all expectations, with over 30,000 page views of the pre-order page within the first two days of the exclusive announcement".
However, the company declined to say how many of those page views had translated into sales.
The Q10, along with the firm's other flagship smartphone the Z10, is key to the future success of BlackBerry, after a torrid year that saw the company's shares slump by 10 per cent in December thanks to a drop in subscriber numbers.
In March, the company was forced to defend against allegations the government listening post GCHQ had declared its BlackBerry 10 OS, which powers the Q10 and Z10, too insecure for government use.
The same month, Thorsten Heins, BlackBerry's CEO, said sales of the Z10, which was released in January, were off to a good start and the firm was in fact surprised BlackBerry 10 was attracting users away from other platforms.
Speaking after the launch of the Q10 in Selfridges, Rob Orr, managing director for the UK and Ireland at BlackBerry, said: "The BlackBerryQ10 represents the next chapter in the BlackBerry 10 story and we are delighted that it has been so well received. This initial success at Selfridges highlights the strong consumer demand for a high-end physical keyboard smartphone."
A daily dose of IT news, reviews, features and insights, straight to your inbox!
Jane McCallion is ITPro's Deputy Editor, primarily covering security, storage and networking for ITPro, CloudPro and ChannelPro.
Jane joined ITPro and CloudPro in July 2012, having previously written freelance for a number of business and finance magazines. She has also covered current affairs, including the student, public sector workers and TUC protests and strikes in central London while studying a Masters in Journalism at Goldsmiths, University of London.
Prior to becoming a journalist, Jane studied Applied Languages at the University of Portsmouth.
A daily dose of IT news, reviews, features and insights, straight to your inbox!
Thank you for signing up to ITPro. You will receive a verification email shortly.
There was a problem. Please refresh the page and try again.