DuckDuckGo slams Google's search engine auction as "fundamentally flawed"
Search engine outfit says "pay-to-play" auction is only serving to strengthen Google's dominance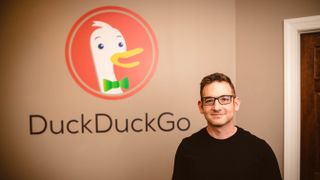 (Image credit: DuckDuckGo)
DuckDuckGo has slammed the Android search engine auction model as "fundamentally flawed" and has urged the European Commission (EC) to take action against Google.
Microsoft's Bing search engine has usurped DuckDuckGo in the latest round of bidding and will now be used as an option for European-based Android users during the initial setup of a new device.
The bidding process comes in response to an EC ruling which found that Google was abusing its monopoly by forcing phone makers to use Google Search as the default search engine for web browser apps in Android.
Google's response was to create an auction where new Android customers would have a choice of four different search engines when setting up a new device. Companies that want their search engines included have to bid against one another to secure a place on the list - only three of the final four are alternatives as Google has the fourth spot by default.
DuckDuckGo was previously the most frequently-offered alternative, but its elimination didn't come as a surprise to the company going by the title of its most recent blog post: "As Predicted, Google's Search Preference Menu Eliminates DuckDuckGo".
"This EU antitrust remedy is only serving to further strengthen Google's dominance in mobile search by boxing out alternative search engines that consumers want to use and, for those search engines that remain, taking most of their profits from the preference menu," DuckDuckGo wrote in the post. "The auction model is fundamentally flawed and must be replaced."
The main problem with Google's search preference menu, according to DuckDuckGo, is that it's a "pay-to-play" auction. The search engine suggests that Google is incentivising bidders to be "worse on privacy", to increase ads and ultimately give more of their profits to Google.
DuckDuckGo also suggests it has been priced out of the bidding because it chooses not to maximise its profits by exploiting users.
"We predicted this outcome but chose to participate as long as we could since offering consumers an easy way to get simple privacy protection is more important than a boycott." the firm said in its blog post.
DuckDuckGo has put forward a proposal for a better way of selecting default search engines, by having the ones with the most market share in each market shown in a randomly ordered menu. The firm has called on the EC to take action and demand Google overhaul its preference menu design because "the current remedy is not a remedy at all."
The firm said that the EC was waiting on data before it looked into any form of action against Google, but that data is now available, according to DuckDuckGo. The company said it will be sending information that "demonstrates" how the current process inevitably eliminated the search engine.
In response, a Google spokesperson told IT Pro that Android provides users with unprecedented choice in deciding which applications they install.
"In developing the choice screen for Europe, we carefully balanced providing users with yet more choice while ensuring that we can continue to invest in developing and maintaining the open-source Android platform for the long-term," they said.
A daily dose of IT news, reviews, features and insights, straight to your inbox!
Bobby Hellard is IT Pro's reviews editor and has worked on Cloud Pro and Channel Pro since 2018.
In his time at IT Pro, Bobby has covered stories for all the major technology companies, such as Apple, Microsoft, Amazon and Facebook, and regularly attends industry-leading events such as AWS Re:Invent and Google Cloud Next.
Bobby mainly covers hardware reviews, but you will also recognise him as the face of many of our video reviews of laptops and smartphones.
He has been a journalist for ten years, originally covering sports, before moving into business technology with IT Pro. He has bylines in The Independent, Vice and The Business Briefing.
Contact him at bobby.hellard@futurenet.com or find him on Twitter: @bobbyhellard
A daily dose of IT news, reviews, features and insights, straight to your inbox!
Thank you for signing up to ITPro. You will receive a verification email shortly.
There was a problem. Please refresh the page and try again.