What is unified comms?
Unified communications is now central to digital transformation, but what is it?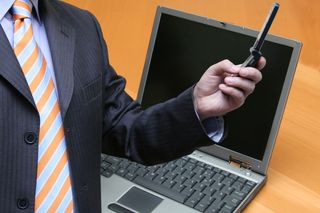 More than just adding telephony to email, unified communications (UC) takes several real-time and asynchronous communications technologies and puts them in a framework to improve communications throughout the enterprise.
Rather than being just one piece of technology, UC is a consistent arrangement of devices and applications that can be used either on their own or in tandem.
The basics
Businesses have evolved past just using the telephone and now embrace all means of communication. This now ranges from messaging to video conferencing. Let's look at some of the individual elements.
IP PBX
At the core of unified communications is the IP PBX (Internet Protocol Private Branch Exchange). It enables all the different elements that make up UC to be brought together. It brings together voice and data networks so that users can get internet access, VoIP and traditional phone calls on a single connection.
VoIP and IP telephony
An increasingly important part of unified communications is Internet Protocol (IP) telephony. This uses the networks and the internet to carry calls.
Voice over IP (VoIP) is essentially the transmission of voice over connected networks, either acorss the internet or on local area netwoks (LAN) with a little configuration.
Messaging
UC includes email, instant messaging, voicemail and even faxes. Unified messaging puts all these into a single mailbox for the user to access from a desktop or mobile device. Unified messaging has a number of features such as inbound call screening, live reply, call return, and cross media messaging.
Conferencing and collaboration
Conferencing can span from audio to video and the web. Collaboration can feature shared workspaces, file and document sharing as well as whiteboarding.
Participants of a web conference can see presentations while aalso taking part in a conference. Shared workspaces allow users to view, share, edit and save files and documents.
Presence
Presence allows users to be notified other theirs and others availability to communicate. Presence information from various sources are combined by presence servers in order to present that information to applications and end users.
Mobility
Unified communications has moved beyond the desktop computer and a deskphone to embrace mobile devices. Integrating mobile with an enterprises communications system enables users to carry out their duties regardless of their location.
Communications-enabled business process (CEBP)
This combines unified communications with an organisation's business applications in order to streamline business processes.
THis technique ensures that there are communications not only between users, but users and applications, and between applications themselves. The main goal is to reduce the latency caused by the human element as much as possible.
Examples of this are the automated delivery of information to users, and even online financial transactions. Another area where CEBP can be used is where a business process can contact the right engineer to fix a problem when a network outage happens.
What is not unified communications?
Unified communications is not one single piece of technology.
Some will mix up "unified messaging" and "unified comms" as if they are the same thing. Unified messaging is but one part of unified communications.
The same goes for next generation IP communications. This too is just one part of the UC puzzle.
Get the ITPro. daily newsletter
Receive our latest news, industry updates, featured resources and more. Sign up today to receive our FREE report on AI cyber crime & security - newly updated for 2023.
Rene Millman is a freelance writer and broadcaster who covers cybersecurity, AI, IoT, and the cloud. He also works as a contributing analyst at GigaOm and has previously worked as an analyst for Gartner covering the infrastructure market. He has made numerous television appearances to give his views and expertise on technology trends and companies that affect and shape our lives. You can follow Rene Millman on Twitter.