When in Rome, don't rely on the expensive roaming
Rip-off roaming is alive and well, but free Wi-Fi satisfied my hunger for data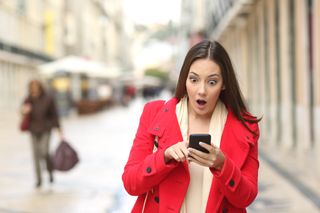 "Welcome to the United States of America. Data is 5.00/MB." Some welcome message, that. It makes the rubber-glove treatment at customs look like just a relaxing massage.
Of course, I'd known this serrated- edge welcome was coming. I researched BT Mobile's roaming prices before I left for CES in Las Vegas. Last year, I used my phone with impunity, benefitting from Three's Feel at Home package, which treats the US and other countries no differently to the UK.
BT, on the other hand, doesn't travel quite so readily. It's Roam Like Home package largely comprises EU countries where it's forced by law not to charge any extra. Possibly feeling the blow of not being able to scalp Benidorm-bound Brits for streaming episodes of EastEnders on iPlayer, it instead wreaks its revenge on visitors to the US.
And so, even if you buy one of BT's US data bundles in advance, it charges 15 for a mere 100MB. That's a good deal cheaper than the ad-hoc 5 per MB it charges if you simply leave your data running as the plane screeches across the tarmac, but it's still a hell of a long way from a good deal. How can one network afford to effectively give you roaming data for free, while another wants to charge 150 per GB? It's criminal. Or, at least, it should be.
So, the day before I flew to Vegas, I nipped into Dixons, intent on buying a Three Mi-Fi dongle. Even Three's rolling one-month contracts offer free roaming in the US, so I'd pay 15 for a one-month contract and suck down as much data as I needed, rather than pay BT 15 to stream one album on Spotify.
At least, that was the plan. After standing at the Dixons till for 20 minutes, broadcasting everything from my date of birth to my DNA sequence to the lad who insisted this was all "required information" for my rolling one-month phone contract, computer said "sod off". Three's systems had gone down, making it impossible to issue new contracts.
Could I buy the dongle and sort the contract with Three later, after they'd rebooted the Atari ST powering their back end? No. "It's not our fault," said Dixons' sniffy store manager, ushering me out of the way so she could sell a 4K television to a pensioner who'd come in for a pack of AAA batteries.
So, I landed in the US data-less. I'd switched off mobile data on the journey over the Atlantic, lest my phone download a backlog of emails the moment I landed and BT laid claim to my life savings. And I had to stand there, smouldering, while every other git on that flight spent the ten minutes it takes to disembark catching up on tweets, emails and football scores. All I had to keep me entertained was Coldplay being piped through the plane's PA system.
Yet, my data purgatory didn't last long. Within an hour we were tucked up in our hotel, with the complimentary Wi-Fi bringing me up to speed. And there was free Wi-Fi in almost every place I visited for the rest of the week: hotels, bars, restaurants, convention centres, bars, coffee shops, bars.
Many places demanded an email address before they let you loose on the connection, but the vast majority didn't validate that address. If there is a legitimate owner of bob@bob.com, he's probably wondering why he's being inundated with offers for the Cirque Du Soleil and Celine Dion concerts. Sorry, Bob.
If I ever needed to make a phone call home or to a business associate, I could normally do it via WhatsApp or Skype using the hotel Wi-Fi. And it's not as if I was uncontactable when hopping between Wi-Fi puddles, either. My phone still received incoming calls and texts for free (something BT's bean counters are doubtless furious about).
I realised that having my mobile data switched off wasn't the living nightmare I feared it would be. In fact, it was quite refreshing to walk between meetings or go out for the evening without the phone- pinging, watch-buzzing, attention-grabbing notifications. Nobody dies if you don't respond to a Slack missive or email instantly; people tend to find workarounds if you fail to issue a prompt response.
"Don't worry, I've sorted it," was a common message that week, leading my inner demons to scream: "why the hell didn't you work it out for yourself in the first place?". The pervasiveness of smartphones makes people lazy: it's easier to ping someone a question than take the time to search through your email or scour Google for the answer. I'm guilty of it myself.
I'm not arguing that having no data is better than free roaming. And we'd certainly have been up a certain creek without a rowing implement if Tim's phone hadn't had Google Maps on our five-hour drive to the Grand Canyon and back. But if BT's bean counters think I'm desperate enough for data to pay a fiver for every email attachment I download, they're out of their tiny, greedy minds.
Image: Shutterstock
Get the ITPro. daily newsletter
Receive our latest news, industry updates, featured resources and more. Sign up today to receive our FREE report on AI cyber crime & security - newly updated for 2023.
Barry Collins is an experienced IT journalist who specialises in Windows, Mac, broadband and more. He's a former editor of PC Pro magazine, and has contributed to many national newspapers, magazines and websites in a career that has spanned over 20 years.
Today, he's a contributor to Forbes.com, a columnist for PC Pro and ComputerActive, and is the co-editor of BigTechQuestion.com, a site dedicated to helping solve people's tech problems. You may have seen Barry as a tech pundit on television and radio, including BBC Newsnight, the Chris Evans Show and ITN News at Ten.
You can follow Barry on Twitter at @BazzaCollins, or email him at barry@mediabc.co.uk
Get the ITPro. daily newsletter
Receive our latest news, industry updates, featured resources and more. Sign up today to receive our FREE report on AI cyber crime & security - newly updated for 2023.
Thank you for signing up to ITPro.. You will receive a verification email shortly.
There was a problem. Please refresh the page and try again.