4G vs 5G - what's the difference?
From 3G to 4G, mobile connectivity has revolutionised our lives. Now 5G is set to do it again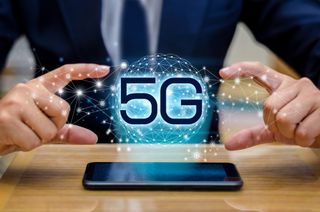 We're on the verge of 5G roll out. It's due to reach a selection of UK cities in 2019 and according to most providers, 5G is a year or so away from mass deployment. And the technology that's going to bring everything else, from driverless cars to smart cities, into our daily lives.
While the telecoms companies race to be the first to deploy 5G networks, there's a list of exciting new technologies waiting for the industry to bring them to market. Self-driving technology will benefit from 5G's faster data transfer speeds, as will most IoT based technologies. Same too for artificial intelligence and augmented reality.
Before we get ahead of ourselves, like Donald Trump talking about 6G, it's worth remembering 4G and the influence it has had on our world. Already companies such as Samsung and Huawei are unveiling 5G enabled smartphones, but long before them, the mobile phone was radically changed by 4G.
For years, 4G has enabled us to connect to the web from almost anywhere and transformed our mobile phones from just text and call-based devices to handsets of immense potential. This revolutionary technology no longer meets our demand now and is soon to be superseded by 5G.
We've taken a look at how 4G transformed mobile telecommunications and how 5G will impact the industry and our daily lives.
5G will enable the IoT
The first 5G networks and devices are expected to be available as soon as this year, however, they're unlikely to achieve commercial success until the early 2020s. While the exact definition of what constitutes 5G is a cause of contention among technologists and companies, it's best to look at 5G as simply being smarter, faster and more efficient than 4G.
As we enter an era where more people and devices are connected to the internet, it'll be crucial to have a mobile network standard that can support huge demand. 5G networks will also enable more effective device-to-device communication, provide more bandwidth and lower latency thanks to built-in computing intelligence.
4G was a massive feat for mobile technology, but nobody could really predict how fast smartphones and tablets would evolve. There are also big differences in terms of speed. Although 5G is still under debate and evolving, there have been some key milestones.
For instance, in 2015, 5G researchers working at the University of Surrey were able to reach speeds of 1Tbit/sec. Just to compare, 4G can hit speeds of 300mbps. A high-speed mobile network will be crucial if communication between ever-increasing amounts of connected devices is to be effective.
Alex Gledhill, from Intel UK, gives a good description of this technology: "5G is envisioned as an end to end ecosystem that enables a fully mobile and connected society. In a nutshell, 5G networks will provide more data bandwidth and less latency due to built-in computing intelligence aimed at handling more data more efficiently than today's 4G networks."
Coping with demand
Low latency will also be a key differentiator between 4G and 5G. That means you'll be able to download and upload files quickly and easily, without having worry about the network or phone suddenly crashing. Once you've downloaded an item, response times will be better. For example, you'll be able to watch a 4K video almost straight away, and you shouldn't experience any pausing or buffering during playback.
5G will also fix bandwidth issues. Currently, there are so many different devices connected to 3G and 4G networks, they don't have the infrastructure to cope effectively. 5G will be able to handle current devices and emerging technologies such as driverless cars and connected home products.
Constantly evolving
Although we're still a few years away from rollout, there have been some positive strides made in the development of the connectivity. Intel is one of the companies pioneering 5G in partnership with mobile network infrastructure providers and carriers.
"Intel has partnered with AT&T and Ericsson to launch the first 5G business customer trial at Intel's Austin, Texas, facility. That doesn't mean the current networks will go away. They will funnel into 5G, updating along with devices and technologies," Gledhill tells IT Pro.
"To deliver 5G connectivity and intelligence, we must work together and industry partnerships are more critical than ever. No one company can move this technology forward alone, which means collaboration between industry leaders from device and equipment manufacturers to network operators and service providers is vital."
Intel isn't the only company focusing on 5G. Qualcomm has also developed a 5G chip to embed in devices. The company's X50 modem was revealed last year and has already been placed in Samsung's Galaxy S10 5G, but that's not due to be commercially available until the summer.
At the tail-end of 2017, EE ended its trial of 5G technology, delivering download speeds of 2.8Gbps using the 3.5GHz test spectrum and a Huawei base unit. Currently, a number of phone manufacturers have unveiled 5G enabled devices, such as Samsung and Huawei, meaning 5G could reach our phones earlier than previously predicted.
In the UK, the government has set out new proposals for forging full fibre broadband across the country with an eye on building the infrastructure for 5G. It is aiming to replace copper wire networks with a full fibre infrastructure, which it says is vital to underpin 5G coverage.
Currently, the UK is lagging behind other countries, such as Russia who trialled 5G coverage during the World Cup. Some matches were streamed live to viewers watching in virtual reality with superfast 5G streams.
Picture: Shutterstock
Get the ITPro. daily newsletter
Receive our latest news, industry updates, featured resources and more. Sign up today to receive our FREE report on AI cyber crime & security - newly updated for 2023.
Nicholas Fearn is a freelance technology journalist and copywriter from the Welsh valleys. His work has appeared in publications such as the FT, the Independent, the Daily Telegraph, the Next Web, T3, Android Central, Computer Weekly, and many others. He also happens to be a diehard Mariah Carey fan. You can follow Nicholas on Twitter.