Broadband industry sues New York over $15 price cap
Companies argue FCC regulations forbid this type of state-level regulation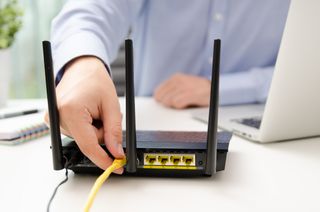 (Image credit: Shutterstock)
The broadband industry is suing the State of New York to stop it from imposing a $15-per-month cap on broadband fees for low-income families.
The state passed a law in mid-April to provide affordable internet access for approximately seven million New Yorkers across 2.7 million households. Eligible recipients included those who received free or reduced-price lunches, supplemental nutrition assistance program (SNAP) benefits, Medicaid, senior citizen or disability rent protection, or affordability benefits from utilities.
The Empire State also unveiled an Affordable Broadband Portal to help New Yorkers find the affordable broadband options in their area and announced an in-depth statewide broadband mapping study to find broadband availability, reliability, and cost.
On Friday, a collection of industry groups filed suit against New York State Attorney General Letitia James, arguing states can't regulate broadband services. The suit contends the Federal Communications Commission (FCC) ruled in 2018 that broadband is an interstate information service that can't be regulated as a common-carrier service.
"The Rate Regulation expressly seeks to set the rates and speed of an interstate communication services," it said. "No state has ever successfully engaged in such regulations."
The FCC's 2018 ruling under chairman Ajit Pai came after a public consultation fraught with controversy. It was hotly contested because it changed the Commission's view of broadband communications from a common-carrier utility to a luxury, relaxing its control over broadband ISPs and effectively overturning federal net neutrality rules.
RELATED RESOURCE
The complete guide to changing your phone system provider
Optimise your phone system for better business results
While the ruling included language to stop states from regulating broadband themselves, the ability to pre-empt state decisions hasn't been tested in court. The broadband industry is arguing the point in a legal battle with California, which seeks to impose state-level net neutrality laws.
Broadband providers already serve low-income users via programs like Lifeline and the new Emergency Broadband Benefit, which comes into effect this month, the lawsuit added.
The New York State Telecommunications Association, the CTIA, ACA Connects, USTelecom, the NCTA, and the Satellite Broadcasting & Communications Assocation filed the suit.
New York governor Andrew Cuomo dismissed the broadband industry's complaint.
"I knew giant telecom companies would be upset by our efforts to level the playing field, and right on cue, they're pushing back," he said, pointing to the need for lower-cost connectivity during the pandemic. "This is nothing more than a transparent attempt by billion-dollar corporations putting profit ahead of creating a more fair and just society."
As part of its announcement last month, the state also launched ConnectED NY, an emergency fund to provide 50,000 economically disadvantaged students with free internet access until June 2022.
A daily dose of IT news, reviews, features and insights, straight to your inbox!
Danny Bradbury has been a print journalist specialising in technology since 1989 and a freelance writer since 1994. He has written for national publications on both sides of the Atlantic and has won awards for his investigative cybersecurity journalism work and his arts and culture writing. Danny writes about many different technology issues for audiences ranging from consumers through to software developers and CIOs. He also ghostwrites articles for many C-suite business executives in the technology sector and has worked as a presenter for multiple webinars and podcasts.
A daily dose of IT news, reviews, features and insights, straight to your inbox!
Thank you for signing up to ITPro. You will receive a verification email shortly.
There was a problem. Please refresh the page and try again.