Why should we have to pay a ransom for old email accounts?
With other free and low-cost hosting options available, holding onto old broadband addresses makes little sense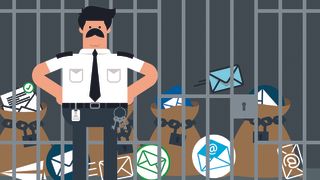 You've doubtless read repeated warnings about how to avoid ransomware, but even the companies we think of as the good guys attempt to take hostages – your cherished email address being one of them.
People cling to their email address like their mobile phone number, because they've had it from way back when their computer made screeching noises every time they went online; it's the one that all their friends have saved in their address books; and they use it for all their online accounts. Moving email address is only marginally less hassle than moving house.
The broadband providers know this all too well, which is why you'll get stung if you try to retain a provider's email account after you leave them. BT charges you £7.50 per month for the Premium Email service you need to keep old BT email addresses running, while TalkTalk will fleece you for a fiver each month to keep TalkTalk or Tiscali addresses active. When better-equipped webmail accounts are free, that doesn't half hurt.
How do you avoid getting caught in this trap? My advice is to steer clear of broadband provider accounts in the first place. Gmail, Outlook and the like will probably remain free forever, and you can access them with whichever broadband provider or device you use.
The other alternative is to buy your own domain (bertjackson.co.uk, for example) and run your own email, which isn't as expensive as you might think. The brilliant Zen Internet's basic Bronze hosting package is £5.39 per month and that includes up to 10 email inboxes on your own domain.
A '.co.uk' address costs £8.39 per year from Zen, which all added up is still cheaper than paying for BT Premium Email over the course of a year.
Whether you go down the free webmail route or buy your own domain, moving an email account is not as tricky as you'd expect. The key is preparation: don't shut off the old account before moving to the new one, and give yourself a couple of months with both running to give you the best chance of a smooth transition.
The first step is to import the messages from your old account to the new one. Most webmail providers offer an import tool somewhere in their settings – Gmail's can be found by clicking the Settings cog, choosing Settings and then selecting the 'Accounts and Import' tab. You may want to spring-clean the old account first, getting rid of any messages with huge attachments that you don't need.
Next, you need to set up two things on your old account: a forwarder that sends all incoming messages to the new account; and an auto-reply that explains to your correspondents that you're moving to a new address and to please update their contacts. Obviously, emails from stores such as Amazon and eBay, utility companies and even your bank won't pay any attention to this, so you'll have to do the manual drudge work of changing your registered email address with key accounts.
On the plus side, you'll find you get rid of an awful lot of junk mail and accounts that you didn't want in the first place when you finally turn the forwarder off and close the old account. And you'll feel like Liam Neeson, having freed your email account from the hostage takers.
Get the ITPro. daily newsletter
Receive our latest news, industry updates, featured resources and more. Sign up today to receive our FREE report on AI cyber crime & security - newly updated for 2023.
Barry Collins is an experienced IT journalist who specialises in Windows, Mac, broadband and more. He's a former editor of PC Pro magazine, and has contributed to many national newspapers, magazines and websites in a career that has spanned over 20 years. You may have seen Barry as a tech pundit on television and radio, including BBC Newsnight, the Chris Evans Show and ITN News at Ten.