What is a chatbot?
An explainer on automated bots for business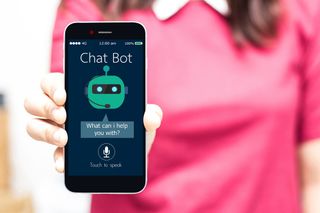 Machines have had the ability to engage in conversation with us for a number of years now. We may think of Alexa, Siri or Bixby today, but chatbots have been nattering away to us for years.
They're usually deployed online in retail or customer service guises, but they've become popular as apps and smartphone assistants too. With machine learning algorithms and hoards of conversational data, chatbots are smart software that sets out to mimic human conversation in either spoken or written responses.
Most are basic and just reply to online queries, but last year Microsoft unveiled its rather creepy chatbot that could book appointments over the phone. It fooled the human on the other end of the line by adding 'erm' between sentences. It may seem a dumb and limited technology at present but it's an area of technology that's rapidly growing and its capabilities are becoming more and more intelligent.
In 2017, a company called Luka caught the attention of the worlds media when it made a chatbot from the text messages of a dead man. Before that, Microsoft had a chatbot released over Twitter, called Tay Tweets, that had to be taken down the same day after it was hacked to post racist content.
It was a far cry from the ELIZA chatbot developed by MIT in 1966, that worked by pairing words with a list of possible responses.
From 1966 to today, many chatbots have been created to varying success, to the point that it's now commonplace for a chatbot to be on an everyday device, like Siri on iPhones and Bixby on Samsung's Galaxy range. The next evolution of that is the home assistant with Amazon Echo's Alexa and Google Home both becoming popular fixtures in domestic life.
Most social media sites allow for chatbot integration, which led to the most alarming use of the technology; Microsoft's Tay launched on Twitter with machine learning capabilities. The chatbot had the ability to digest other Twitter user's messages and mimic them.
This proved to have an unexpected result as many Twitter users began feeding bigotry content that the bot then mimicked, much to Microsoft's horror. The intelligence of the bot saw it learn about racism, tweet out some rather abhorrent tweets and be shut down all within 16 hours.
Chatbots are arguably the most human use of AI and are having a big impact on businesses around the world.
The journey has just begun
Laurent Roussel, business technologist at software corporation CA Technologies, says the chatbot journey has just begun and sees great potential for businesses. In particular, he says, they could revolutionise the way IT support systems are run and make them smarter. Firms can also expand sales channels by implementing chatbots.
"Chatbots open up a whole new world of possibilities for businesses and we are just at the start of this journey. While currently geared towards customer-facing applications, chatbots could have a big impact on the enterprise, for example as IT support systems. Features such as being available 24/7 and the ability to scale at peak times make them very well suited," Roussel says.
"Chatbots can be advantageous for many reasons, but a logical development of the current bots seems to be as an extended sales channel. Using a chatbot in this circumstance means companies can enhance their sales models by increasing sales at a lower cost.
"Advances in machine learning and analytics also mean that the technology can trawl through thousands of knowledge articles and databases, allowing the bot to recommend the best fix to any problem encountered by the business user, with minimum productivity loss."
Although there are fears that chatbots will replace humans in the future, they could also result in the creation of new jobs and opportunities.
"As with most disruptive technologies, introduction of chatbots can result in job roles disappearing and being replaced with automation and AI," Roussel adds.
"However, new technologies can also encourage the creation and emergence of new roles. While these roles may not yet have been thought of, they do present those who may have initially lost out to AI with new, exciting opportunities."
Big for customer service
For chatbots to be a success, it's crucial they follow the conventions of human conversation, and they're already showing they can do that. Customer service is an area where this skill is desperately needed, as questions always need to be answered. Bots, many believe, will become a common part of customer service operations in the future. Merijn te Booij, chief marketing officer at Genesys, is one of those people.
"From a customer service point-of-view, bots have the potential to add incredible value to the customer journey--both from a business and customer experience perspective," he tells IT Pro. "Research from Forrester shows that 70% of customers often prefer to resolve issues themselves, if at all possible.
"This is where bots can step in. Simple interactions such as appointment setting and troubleshooting can be resolved quickly and efficiently without wasting customer time or straining valuable business resources."
While they offer great potential, he predicts that chatbots will support humans in their jobs and won't replace them completely. "Whether or not bots can completely eclipse the human touch, however, is yet to be determined," he says. "The technological potential is certainly there, but we see bots as a way of making humans more effective and more valuable to resolve the more complex and demanding cases where they're needed most."
Improving customer engagement
Evan Wray, co-founder and vice president of mobile engagement platform Swyft Media, says bots are helping companies engage with customers more effectively.
"There's a huge opportunity for companies to engage with customers in new ways, and in the place they spend the most time," Wray says.
"Bots allow companies to become a part of the conversation -- rather than an interruption, and reach customers in a way that is one-to-one, highly scalable and with a personalised approach. Bots provide value and can ease customer frustration.
"Flight delays or gate changes are annoying to flyers. But a bot that alerts them of a change or problem and can connect them directly to customer service will help ease some of that pain," he explains.
New ways of working
Mike Crooks, head of Mubaloo Innovation Lab, says it's understandable that chatbots are beginning to take over; consumers are using technology more than ever, so to communicate with intelligent systems makes sense. They also introduce new ways of working for businesses.
"With the consumerisation of IT, where consumers comfortably use technology like smartphones, there is the expectation of intuitive experiences and simple to use interfaces -- which is not reflected in the technology solutions these consumers use at work. Bots present a fundamental step in the evolution of tech user experience and could help drive advancements in this area in the enterprise," says Crooks.
"The opportunity for enterprise bots is vast, as is the potential for the technology to gain mass adoption at a faster pace than we are seeing in the consumer market. Bots will help streamline operations, automate tasks and eventually start using cognitive learning to transform the business decisions we make, the speed at which work can be delivered and possibly the very nature of our jobs."
A route to digital transformation
The power of chatbots and indeed machine learning software can be seen with Marks & Spencer's recent move to replace its call centre staff with AI-powered chatbots designed to quickly deal with customer complaints.
M&S said that 100 employees who work across its 13 UK call centres will not be losing their jobs and instead will be reassigned to in-store roles to offer face-to-face services on the shop floor.
The move is part of M&S' embracing of digital transformation, whereby legacy IT infrastructure and operations are replaced with digital services and more advanced technology.
"We know that M&S needs to modernise," said Chris McGrath, IT programme manager at M&S. "We have a lot of backstage resources sitting in switchboards that manually handle these calls. We're getting them away from that backstage onto the shop floor, talking to the customers, as they should be."
Powered by cloud communication service Twilio, the chatbots are set to be in place by the end of September. The technology will also be deployed in 640 M&S stores as well, although it's currently unclear in what capacity it will be used.
Carrying out specialised tasks
Mark Armstrong, managing director of EMEA at IT development firm Progress, says we have been interacting with bots for years, but they're quickly advancing. Companies can use them to undertake specialist tasks and increase efficiency across the board, he says.
"Bots, specifically chatbots, are being hailed as the next big thing, replacing the need for downloadable apps. Integrated into an already viable platform, a bot can do things that a normal human chat wouldn't necessarily be able to accomplish easily, like check the local weather, order pizza, or hail a cab," says Armstrong.
"Whether we realise it or not, we have been interacting with bots, especially voice bots, for some time now. The somewhat annoying voice-prompter of some airline support lines (the ones that have enough voice-recognition) is a great example.
"Third-party companies are understandably starting to leverage bots to perform specialised tasks, such as check bank account balances or order plane tickets via text prompts. This increased automation and administration of business rules increases the efficiency of business processes, reducing dependency on IT and improving the overall agility of their operations."
Troubleshooting problems
Chatbots aren't just limited to providing support and services to customers. One day, they will also have the ability to aid firms in ensuring their IT infrastructure is functioning and capable of handling day-to-day tasks. Michael Hack, SVP of EMEA operations at software development company Ipswitch, says bots will be able to identify complex tech problems and help fix them in the future.
"Further into the future, the artificial intelligence that underpins chatbots and much of MIT's current work could be able to offer more support to businesses and deliver a new wave of truly intelligent networks that constantly troubleshoot for IT problems and keep the infrastructure running smoothly," he says.
"We think that the banking, finance and insurance sectors will be some of the first to adopt this kind of technology as part of their network security and cyber-defence systems, with the retail sector - especially those retailers with an online presence - not at all far behind."
The chatbot may be seen as a futuristic tech trend, but the fact is, it's an area that's already garnering major interest. And a lot of it is coming from businesses. Right now, these bots are doing great things in customer services, but as the innovation behind them improves, firms can expect them to do even more in the foreseeable future.
Get the ITPro. daily newsletter
Receive our latest news, industry updates, featured resources and more. Sign up today to receive our FREE report on AI cyber crime & security - newly updated for 2023.
Bobby Hellard is ITPro's Reviews Editor and has worked on CloudPro and ChannelPro since 2018. In his time at ITPro, Bobby has covered stories for all the major technology companies, such as Apple, Microsoft, Amazon and Facebook, and regularly attends industry-leading events such as AWS Re:Invent and Google Cloud Next.
Bobby mainly covers hardware reviews, but you will also recognise him as the face of many of our video reviews of laptops and smartphones.