Pure Accelerate 2023: The day-two keynote announcements
Keep up-to-date with all the day-two keynote announcements from Pure Accelerate 2023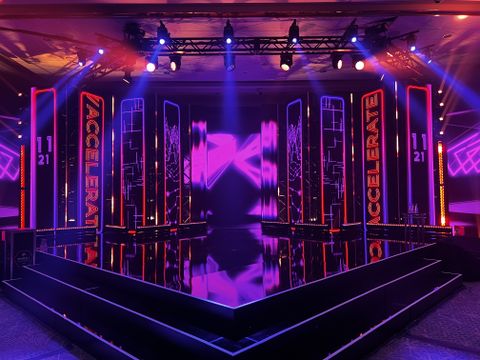 (Image: © Ross Kelly/ITPro)
Welcome to ITPro's day-two coverage of the Pure Accelerate 2023 conference. In this morning's keynote session we will hear all the latest from the world of flash storage and the growing business benefits.
Refresh
With the conference theme as 'Level Up', we can expect to hear more insights on how organizations are leveraging flash storage to deliver operational improvements and streamline efficiency.
Good morning from Las Vegas. The keynote presentation session is just about to begin at Pure Accelerate 2023. Opening the conference is chief marketing officer, Matt Burr.
"The future isn't flash. Flash is now," says Burr in his opening statement. A very enthusiastic start to the session here at Resorts World. The end is nigh for disk-based storage, he says.
CEO Charlie Giancarlo is up next, taking to the stage amid a rapturous applause from the keynote theatre. Giancarlo will be giving us an insight on the current state of the storage industry, and how Pure Storage is blazing a trail in this space.
Giancarlo draws comparisons between disk storage and the demise of blockbuster. "When media changes, it can change the future of companies".
Disk storage certainly appears to be going the Blockbuster route, Giancarlo suggests.
"When we look at 2006, within five years, Netflix, that was sending out DVDs, versus Blockbuster, completely changed in terms of market share. In 2011 or 2012, what happened to Blockbuster? It went bankrupt. And look at Netflix now."
But what does this have to do with hard disk, Giancarlo asks?
Well, the end is nigh for disk storage. Within the next decade, Pure Storage expects disk to be gone completely as businesses increasingly seek better performance, improved resilience and a more modern, efficient data architecture.
Flash storage adoption has accelerated rapidly in recent years. While disk is not quite done yet, flash is the future, says Giancarlo.
Hard disk used to rule the world. Remember when it was in your PC, or even your iPod? It's gone.
Hard disk is still only used in just two key areas - enterprise mass storage and hyperscalers. "The two last remaining bastions of hard disk".
This is changing though, Giancarlo says. And it's going to revolutionize enterprise data storage.
"We are confident that in five years' time, by 2028, there will be no new hard disks sold."
Pure was started on the basis of replacing hard disks, Giancarlo says. But what separates the company from its competitors in this space? There are some heavy hitters in the storage space, but Pure certainly is a trailblazer.
"Compared to our competitors, we are two-to-five times more power and space efficient. We are up to 10 times more reliable," Giancarlo says while outlining the benefits of flash storage.
AI is inescapable at the moment, but it's not without good reason. Pure Storage is very excited about the future of artificial intelligence and the role that storage will play in underpinning innovation in this space.
The company now has more than 100 customers working on AI projects, Giancarlo says.
"Our product line can perform at these high performance levels, including Meta, which built one of the largest supercomputers in the world with FlashBlade and FlashArray," he adds.
"There is going to be no place left for disk to operate," Giancarlo says. With the sheer volume of data and processing power required for AI development, disk storage just cannot cope. The future of AI lies in flash.
"It's a huge market, we're talking about tens of billions of dollars. And now is the time to go after it," he adds. A bold statement from Giancarlo on the potential of flash in supporting the AI 'boom' we're witnessing right now.
Touching on sustainability, Giancarlo highlights the fact that flash is "so much greener" than traditional disk storage.
"One-fifth to one-tenth the power [compared to disk], one-fifth to one-tenth the space and cooling," he adds. "This is not even assuming any advantage in data reduction."
The longevity of flash could also play a key role in addressing the growing issue of e-waste.
"It lasts longer, and even if it didn't, the amount of waste on flash is far less than on hard disk. So you can improve ESG scores as well," Giancarlo says.
Data centers account for 1-2% of global energy consumption. Flash can save up to 20% in power compared to traditional disk storage, Giancarlo says.
"If data takes up about 20-25% of the power in an average data center, and if we take the lower figure that going to flash is one-fifth of the power, then we will save roughly 20% of all data center power."
"Imagine that. That's a lot of the world's power that can be saved by one simple action."
A 20% reduction in data center power usage by moving to flash would be a monumental shift in terms of efficiency for enterprises. This highlights that flash could be a key differentiator for businesses balancing growth and expansion with environmental considerations in years to come.
Shawn Hansen, general manager for the FlashArray unit is up next on the keynote stage. Hansen will be providing an overview of recent product launches.
There's quite the list of new launches at this year's conference. A source of serious excitement for customers.
Hansen officially unveils the launch of the new FlashArray/X and FlashArray//C R4 products. A major step change in efficiency and performance, he says.
This launch represents the culmination of years' worth of development and innovation at Pure Storage. Hansen says the company is on the cusp of a period of very exciting growth and product innovation for customers
Hansen also confirms the launch of the new FlashArray//E series, the newest addition to the Pure//E family of products.
Another exciting launch which "lowers the bar" for organizations seeking to modernize their data architecture and unlock value from operational data.
CMO Matt Burr is back on-stage to welcome a very special guest...
Here's a hint. NBA legend. Philanthropist. Business mogul.
Shaquille O'Neal is the special guest this morning at Pure Accelerate 2023. A rapturous applause once again and an impromptu dance performance from Burr...
A humorous, rather relaxed conversation between Burr and O'Neal here exploring a range of topics such as philanthropy and sustainability.
The art of leadership also on the agenda, with O'Neal giving a fascinating insight into his leadership style during his NBA career. "When you're working with tough people you can push them," he says.
O'Neal says one thing he could tell his 20-year-old self would be to "listen more".
A valuable trait for true leaders. And a valuable lesson for organizations more broadly - listening to customer needs, understanding customer needs is key.
A very insightful session with O'Neal. Don't be afraid to listen, don't be afraid to ask what your customer, colleague, or teammate needs.
"When I played with Kobe [Bryant], people always said 'you're not a leader, you need to be a leader'," O'Neal says, reflecting on his time playing alongside Bryant. A dynamic duo. "I went out and bought 'how to be a leader for dummies in response to this."
Proactive communication and understanding is essential for leaders, whether they're individuals or businesses in a specific market. This is what separates Pure Storage from its competitors, Burr suggests. A strong focus on unlocking value for customers and delivering results at pace.
We are five minutes out from the first keynote of the day here at Pure Accelerate 2023. The keynote theatre is quickly filling up and the same buzz from day one appears to have returned.
Chief legal officer, Niki Armstrong, has opened proceedings on day-two. Today's sessions will provide an insight on the future of flash storage.
John 'Coz' Cosgrove and FlashBlade general manager Amy Fowler are up on stage with the first discussion on where we're headed with flash storage.
"Ten years ago, disk drives were about 4TB, which was pretty good relative to when they were first introduced decades before," says Fowler. "In these past ten years, disc has gone to 20-24TB. Flash DFMs can reach 48TB. Some pretty big changes."
Cosgrove reveals that later this year flash DFMs will be reaching a 75TB capacity.
Storage density and capacity has accelerated significantly in just the space of a decade - and there's still more to go. Next year will see 150TB drives rolled out by Pure.
"After 300TB in 2025, we could go to 600TB or even a petabyte in a module," Cosgrove says. "The gap is going to widen from year to year with disk and flash"
In terms of space management here, the advances in flash are delivering a marked improvement for organizations. A decade ago, one petabyte of storage would've required significant investment, space, and continuous management.
The gap is also widening between the DirectFlash approach and the SSD storage approach.
So how does this benefit customers?
"We've got to build really efficient data centers. Efficient data centers, all-flash data centers are the foundation of the future," says Cosgrove. For businesses, addressing both the performance and capacity elements at play is critical.
But the sustainability focus here is compelling and is enabling businesses to reduce their environmental impact.
Our next speaker today is chief product officer, Ajay Singh.
Singh will be exploring the evolution of cloud operating models.
Businesses are increasingly pursuing a multi-cloud approach. The flexibility and the 'freedom' of control over their data offers significant benefits, Singh says.
We have a Portworx customer on stage now, discussing how Johnston Controls is leveraging containers to transform their data architect and unlock value from the vast volume of data the company processes.
Johnson Control's Suresh Mothikuru is providing an insight on OpenBlue, the company's digital wing.
OpenBlue provides a range of connected devices for businesses globally. IoT on a mass scale, processing incredible amounts of data on a daily basis. Unlocking value from that data is critical.
A big focus for OpenBlue has been data management in containers. This is enabling the firm to move workloads in "real-time, not days", Mothikuru says.
From an efficiency perspective, this has enabled the company to bolster agility and reduce laborious traditional workload migration processes.
Our next speaker is chief technology officer, Rob Lee.
Lee cuts straight to the chase. AI is the topic in this session.
Lee says Pure Storage has been a long-term industry leader in the AI space, supporting a plethora of customers - such as Meta - to underpin AI innovation.
"AI is a game of who can collect the most data and feed it into the algorithm," he says. "This requires resources. You need high-performance storage to support this."
"This is exactly what we built FlashBlade for."
Storage flexibility is becoming a big hurdle for AI innovators, Lee says.
"You don't know what's ahead of you. You need to plan for flexibility. This space is moving so quickly, and this highlights the need to invest in a technology infrastructure to adapt, evolve."
"If you lock yourself into a tech stack that's not flexible, you're going to be left behind."
Siloed data is a key inhibitor for AI innovation, and development of generative AI systems.
Accessibility of data is critical and allows for agile development at pace.
Circling back to sustainability, Lee warns that by the end of the decade the amount of energy produced by data centers is enough to power every car in California.
"Half of publicly-listed companies in the US have set long-term energy reduction goals," he adds. With the AI industry accelerating at pace, it's easy to get carried away with the hype. We need to consider the environmental impact.
"Energy, space efficiency, these are real limitations. If it's not already part of your buying decision, it absolutely has to be," Lee says.
Reducing footprint and e-waste is another essential consideration for businesses.
Power efficiency has improved by 150x over the last ten years. This shows that the storage industry is innovating with sustainability in mind - and Pure is a leading figure in this drive.
Next up we have a Ajit Sharma, business optimization manager for Virgin Media O2 on the stage discussing how the company has reduced its environmental footprint with flash storage.
"We've been a Pure customer since 2016. We realized that sustainability moving forwards would have a big impact for us."
Virgin Media O2 has reduced its data center footprint by 90%, Sharma says. The company has also reduced its power consumption in data centers by 96% - really impressive numbers.
"It's important that if we don't make steps now, we're going to hurt the future," Sharma says.
Virgin Media O2 has created a sustainability-focused culture across the company, but this focus requires investment. From top-down, the company has made a concerted effort to invest in this transformation.
The reduction in data center power consumption and more efficient space management has unlocked cost savings across the business, Sharma reveals.
"We're saving millions of pounds by not building new data centers."
Shawn Rosemarin, VP of customer engineering is up next and begins his keynote by paying homage to the disk hard drive.
Disk drives have underpinned the information economy for decades. But disk has reached the end of its time. Flash is the future.
Compounding data growth means that organizations crave flexible, high-performance storage solutions today. Bottlenecks and inefficient performance can seriously harm businesses and customers.
The day-two keynote session has now been brought to a close. An insightful session, but here's a quick recap for you:
Sustainability has emerged as a major driver of flash storage adoption due to the increased performance and efficiency compared to traditional disk storage and SSDs
Developments in the generative AI space are being underpinned by the emergence of high-performance storage options. Innovators need agility, flexibility, and powerful storage capabilities to prevent operational bottlenecks and to maximize the use of data.
Ajit Sharma, business optimization manager at Virgin Media O2 gave a fascinating insight into how shifting to flash storage for its data center operations unlocked significant benefits. A 90% reduction in data center footprint and a 96% reduction in power consumption. Remarkable improvements that have enabled the company to save millions and deliver on its sustainability goals.
We hope you've enjoyed the live coverage of Pure Accelerate 2023. For additional insights and announcements from Pure Storage and the conference, keep an eye on the ITPro site.