VMware Explore 2023: All the day-one announcements
Live coverage of the first day's keynote at VMware Explore 2023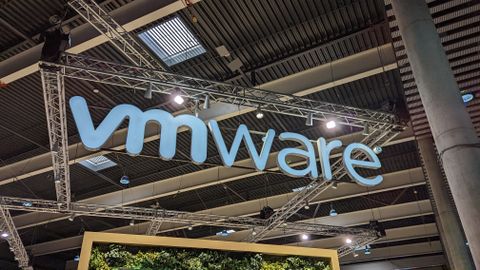 (Image: © Future/Rory Bathgate)
Welcome to our live day-one coverage of VMware Explore 2023. Today's event, due to kick off at 9:00 PDT, will feature speeches from Raghu Raghuram, CEO at VMware, as well as VMware President Sumit Dhawan.
The keynote's theme is 'Taking a Cloud-Smart Approach to Harnessing the Power of Generative AI', with announcements expected on the headline-grabbing tech.
Refresh
Hello and welcome to today's coverage. We'll be bringing you the latest keynote announcements as they are made, with events set to kick off in just a few short minutes.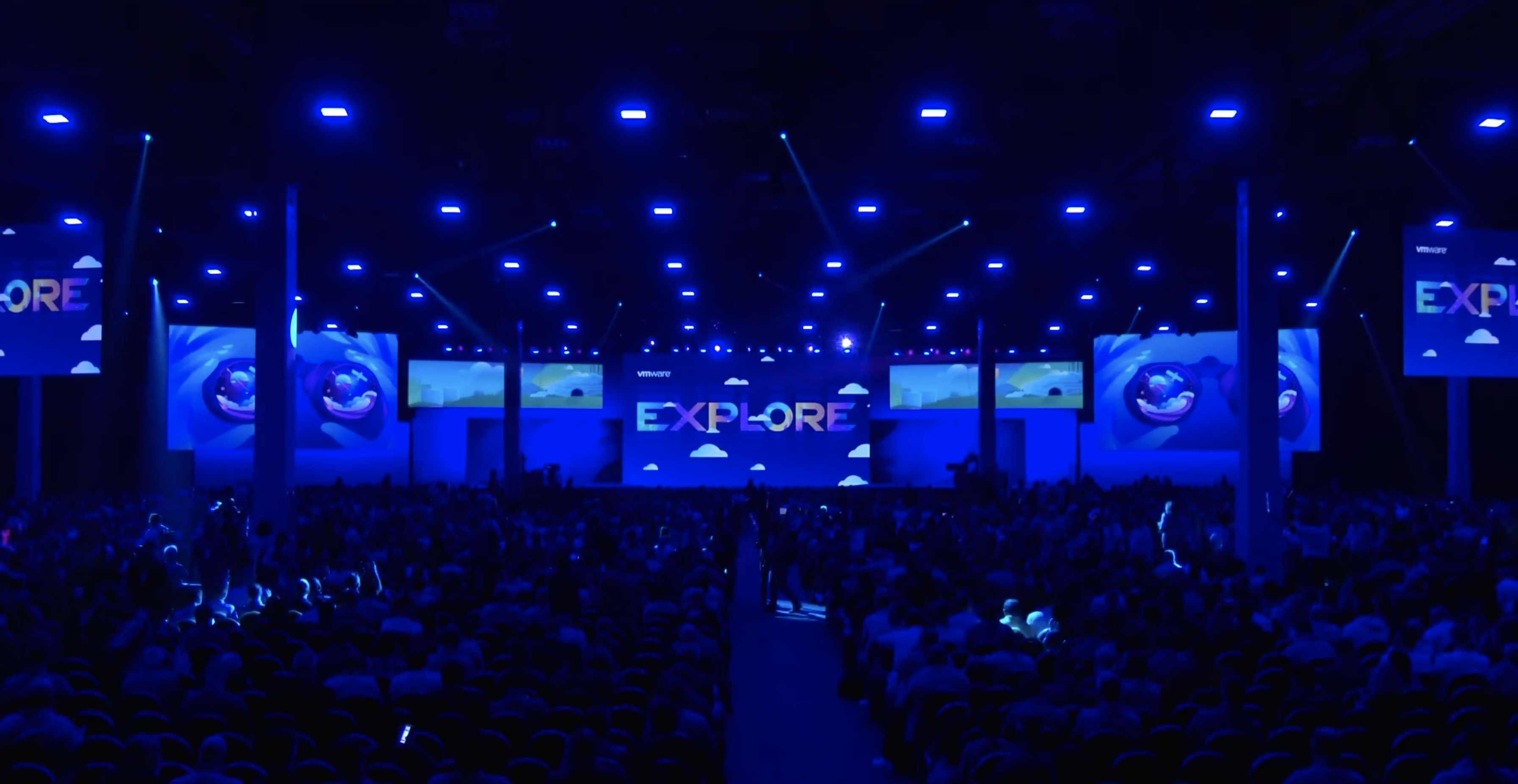 And we're off, with a video montage featuring talking heads from some of the world's largest tech companies including Google, Microsoft, and Hugging Face talking about how important AI is, but also how it has to be ethical.
"For any meaningful enterprise, their data lives in all types of locations," says Rangarajan Raghuram, CEO at VMware.
"Distributed computing and multi-cloud will be at the very foundation of AI. There's no way to separate these two."
"What this is going to do in the long term is enable us to understand global scale problems in a much deeper fashion, and therefore create new solutions that we can hardly even imagine today."
Raghu Raghuram has entered the stage to hopeful music. He notes that it's been 25 years since the VMware community first came together, and has acknowledged the company's future under Broadcom's acquisition.
Time for some words from Broadcom CEO Hock Tan, who has just committed to an additional $2 billion investment in VMware, with half of this focused on R&D.
"The potential of what Broadcom and VMware can do together for customers is simply enormous," he says.
He says that the other half of the investment is to be invested into deployment of VMware solutions through VMware and partner professional services.
"We're highly confident this transaction will close within Broadcom's fiscal 2023."
Hock Tan is in the crowd, and stands up to applause as Raghuram pays tribute to him.
Now onto two of the core topics of the conference: multi-cloud and generative AI.
Starting with multi-cloud, Raghuram notes that just a few years ago very few customers were using multi-cloud. Today, he notes, 75% of customers are using two or more public clouds, alongside edge buildout and a private cloud. In recognition of this "multi-cloud journey", VMware has worked hard to offer its customers a 'cloud smart' approach.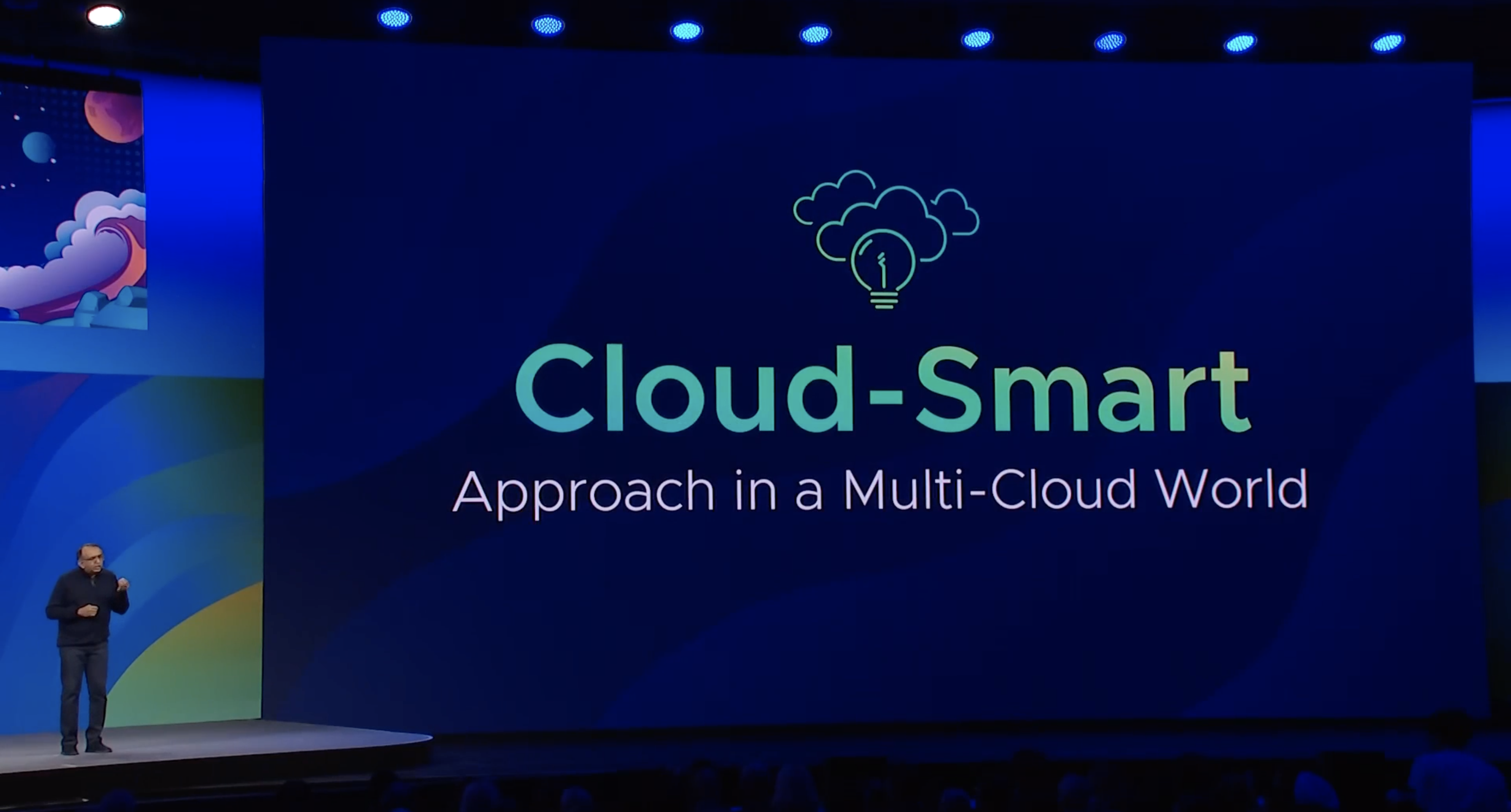 It's not just keeping one's cloud operating or secure, Raghuram notes. Modernizing infrastructure and delivering apps efficiently have also been major victories of a proper multi-cloud approach.
Here to talk about modernization more is Sumit Dhawan, president at VMware, who says that VMware cloud foundation technologies may be the "fastest growing" cloud around right now.
There's no mystery behind this popularity, Dhawan claims.
"Simple. Lower cost, better security, higher resiliency. In fact, we did a study with some of you and over found 170% ROI in three years, and 66% reduction in network and security operations."
Quickly onto five key announcements, with just a brief joke about blackjack tables on the way.
First, vSAN Max which brings the capability of petabytes of disaggregated storage.
Next, vSphere+ for upgrading an entire ESXi fleet from a central point. He promises VMware Cloud Foundation customers will also no longer have to do any more migrations, with "seamless upgrades" that are three times faster than earlier versions.
"Infrastructure management can sometimes feel like painting the Golden Gate Bridge; by the time you're done, you have to restart. We're changing that."
Third, NSX+ for true multi-cloud networking. First announced at last year's conference as Project Northstar, this is a long-awaited policy control tool.
"You get to define your policies once, and apply them across any cloud, which means you get deep visibility for all your networking policies in one place.
Fourth, the ability for customers to create VPCs for DevOps teams using API, "just like they're used to doing in a public cloud".
Fifth, VMware has announced improved ransomware recovery that lets customers run workloads in the public cloud while primary infrastructure is being fixed 75% faster than before.
Next up, some detail on the overhaul that VMware is announcing today for Tanzu.
Developers that use Tanzu already find they deliver projects up to 40% faster, and Dhawan states that the new additions laid out today are set to reduce developer burden and give platform engineering teams "peace of mind".
Automatically provisioned apps, that work across Kubernetes clusters, are just a taste of the improvements VMware has brought to Tanzu today. If you think you know the product, Dhawan says, think again.
For more detail on today's Tanzu announcements, read our detailed breakdown.
Next up, Anywhere Workspace. Dhawan notes that customers want apps to be available fast and problems resolved quickly.
Anywhere Workspace steps in here, Dhawan says, because it combines virtual apps, endpoint management, and digital experience management.
Dhawan calls it a "single hub" for applications, including persistent Azure Virtual Desktop.
Edge computing is fast becoming a customer demand, and VMware's next big announcement today is its Software Defined Edge.
Customers like Audi are already using VMware's edge portfolio to improve operations at such as manufacturing, Dhawan says, such as using VMware for its E-tron industrial control systems.
Today's announcement on edge also includes a commitment to managed private connectivity for enterprises, be that private 5G or integration of devices on the edge.
Dhawan welcomes Rajeev Khanna, CTO at Aon onto the stage to talk a bit about how VMware has helped his firm in their years-long partnership.
Generative AI is sparking imaginative new solutions, says Khanna, who expresses hope that the future is bright for the technology.
"We want that openness, we want the choice to run these workloads" he says in reference to new demand for AI models, and suggests that VMware has a core role to play in this space in the coming years.
Raghuram back on stage now to talk about generative AI in more detail.
"The promise is, there is potentially 100x improvement in the economics of creativity, of creating content of all types," he says, linking this into how it will improve application development too.
The technology also enables applications that were previously thought impossible through natural language input, he states.
Amy Olli, VMware general counsel has just walked onto stage mid-speech.
"I heard you talking about legal implications and I thought I'd just jump on stage," she quips.
On a serious note, Olli is laying out the legal complications with AI including IP theft, data protection, and privacy.
VMware AI Labs was formed to tackle these issues, Raghuram says. And apparently it has a solution: private AI.
"Ask yourself the question: where is your private data?" he asks. This isn't a question with a simple answer as data is generated second-by-second at the edge.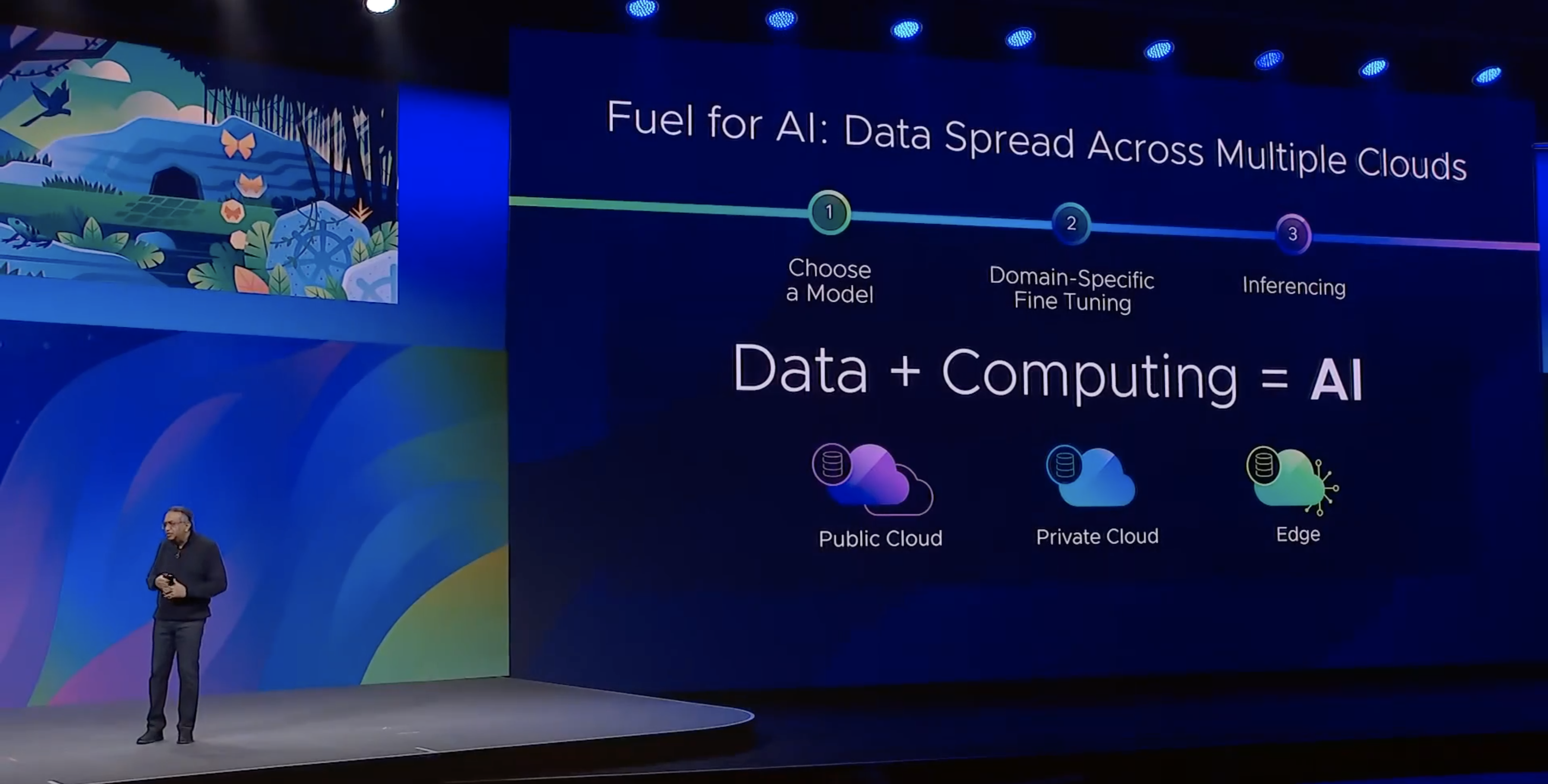 "Instead of taking all your data to the cloud, you've got to take your AI and your compute to where the data is."
VMware has spent months working on the solution to this, and Raghuram says they've now cracked it in partnership with Nvidia.
He's announced VMware Private AI Foundation with Nvidia, and Jensen Huang, CEO of Nvidia has joined Raghuram to reveal more.
"VMware is the operating system of how the world's companies are run. Today we're reinventing enterprise computing after a quarter of a century
"Instead of virtualizing applications to run on GPUs, we virtualize the GPU. We made it possible for VMware to run bare metal performance with all of its security and all of its manageability across multiple CPUs."
Together, the companies are promising the first-ever private AI at scale, secured within a company's multi-cloud estate.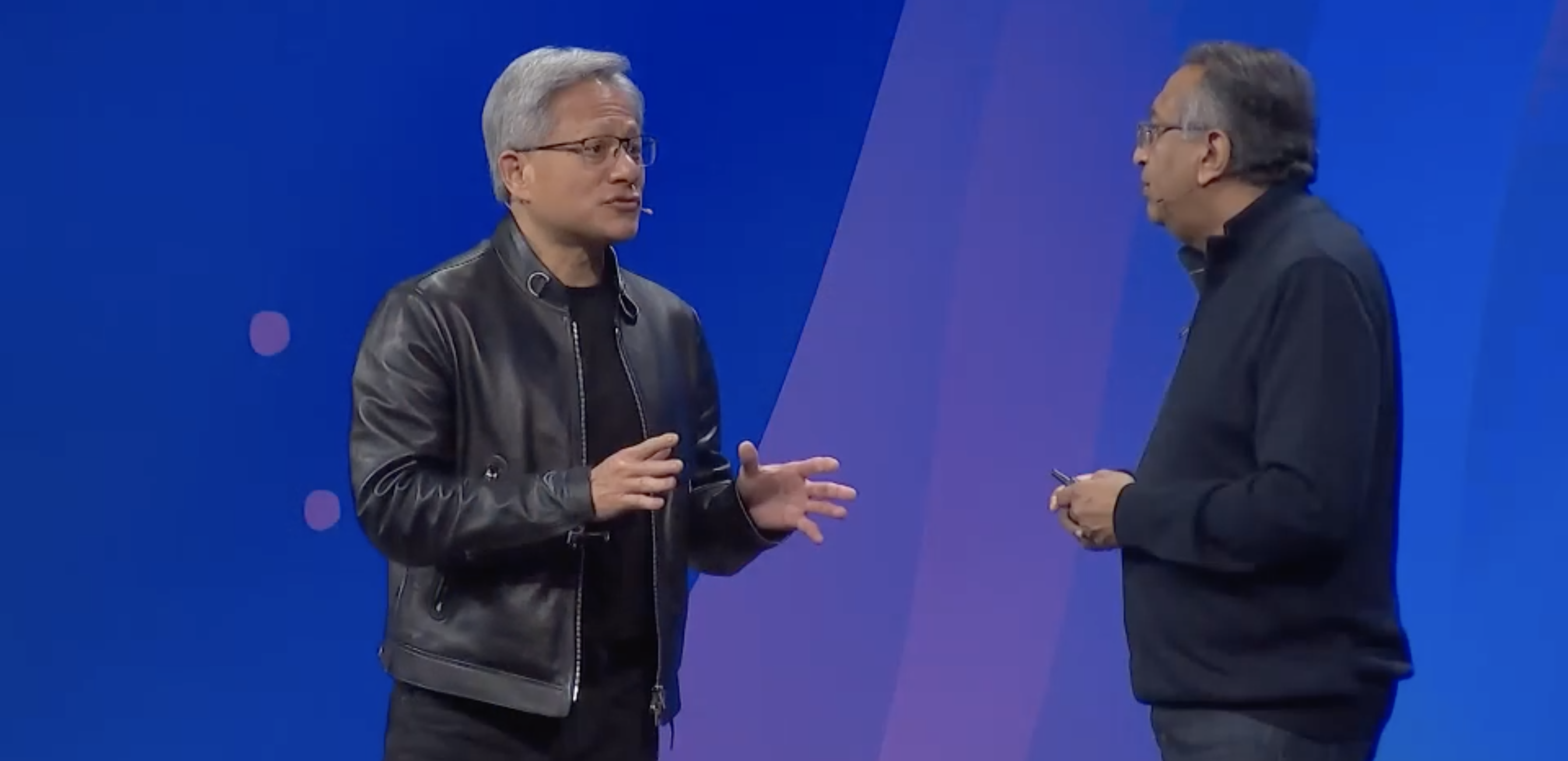 Nvidia has leveraged the help of Dell, Lenovo, HPE, to produce a suite of around 100 servers that will be dedicated for VMware Private AI.
They're available starting this month, featuring brand new GPUs tailored specifically for large language models (LLMs).
This is a reference to the Nvidia L40S, which leverages up to 1.7x more performance for generative AI training than the Nvidia A100. For reference, the A100 is what the original ChatGPT model was partly trained on.
With frameworks such as Nvidia AI Workbench and NeMo, the firm will provide customers with the ability to pull together data for AI in the cloud and fine-tune it for specific use cases.
Confused? "It's easy peasy" Huang says, with the confidence of the CEO of oen of the world's largest AI hardware provider.
To emphasize the importance of the moment, Huang has promised five lucky winners within the audience a 4090 founders edition GPU signed by both him and Raghuram.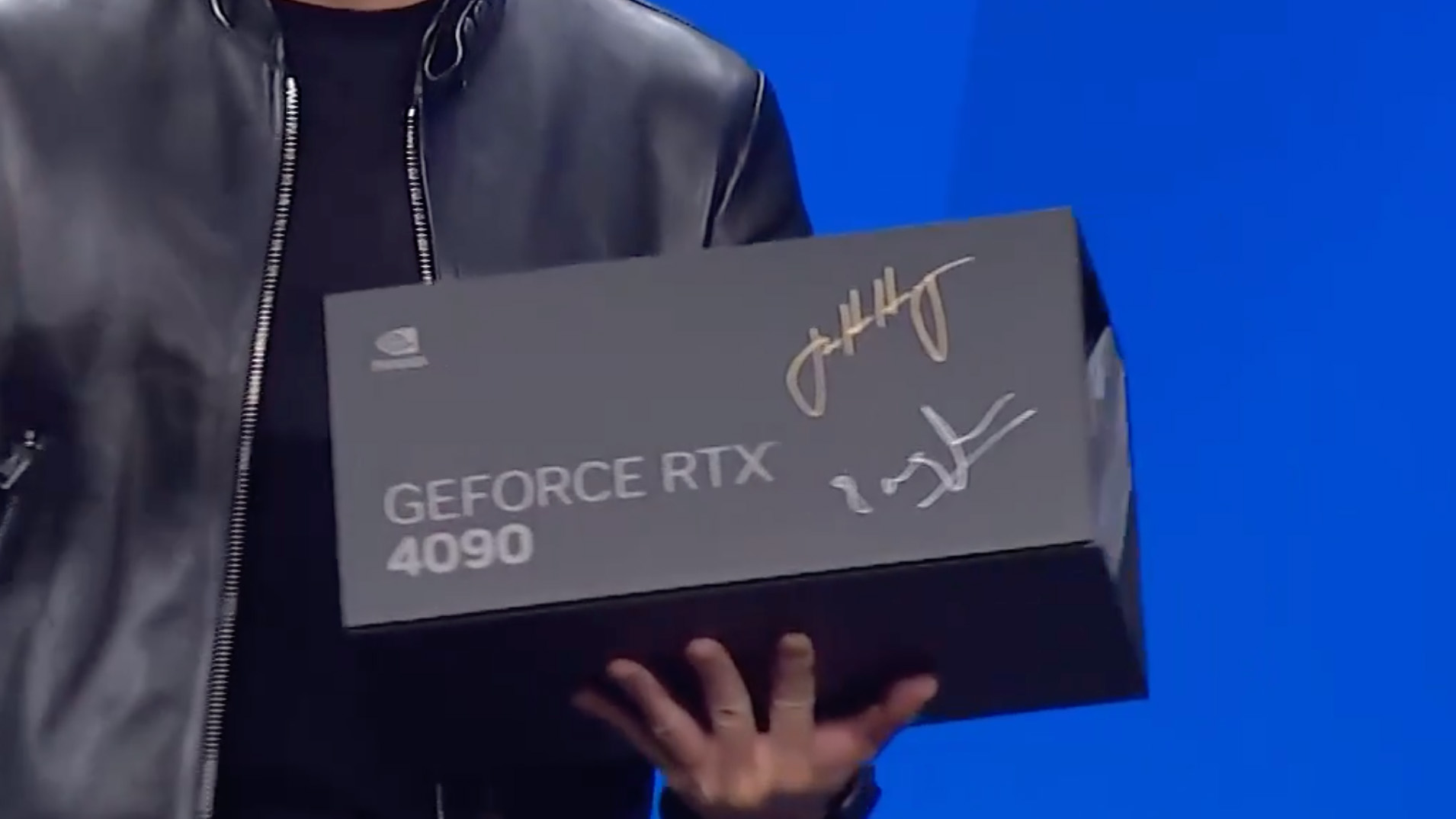 Raghuram announces that there's a whole host of partners waiting to collaborate on private AI with VMware including Hugging Face, Intel, and Anyscale.
Here to talk about more AI announcements is Amanda Blevins, VP and CTO, Americas at VMware. She begins by highlighting the importance of the audience - without them, there would be no AI users.
Intelligent Assist for VMware Tanzu is key to the company's AI strategy, she says, and the firm is confident it will change its customers' lives for the better. The system can provide intelligent recommendations to users which can be implemented "at the click of a button".
"Our vision is to help all IT operators through Intelligent Assist," she says.
"For all of you network engineers and security analysts, I think you'll really dig NSX plus Intelligent Assist. Instead of taking multiple days to find attacks and malicious in your environment, we can help you take it down to minutes."
With a wrap-up of the biggest announcements of the day, she brings the keynote to a close. A final word to those seeking the prize GPU: it's only available to those who can physically attend two of the solution keynotes in addition to today's - sorry remote attendees!
And with that, the keynote comes to a close. It's been a blur, with announcement after key announcement, but a core focus on the marrying of generative AI and multi-cloud.
Get the ITPro. daily newsletter
Receive our latest news, industry updates, featured resources and more. Sign up today to receive our FREE report on AI cyber crime & security - newly updated for 2023.
Thank you for signing up to ITPro.. You will receive a verification email shortly.
There was a problem. Please refresh the page and try again.