VMware Explore 2023: All the news and announcements
Keep tabs on all the latest announcements and news from VMware Explore 2023 in Barcelona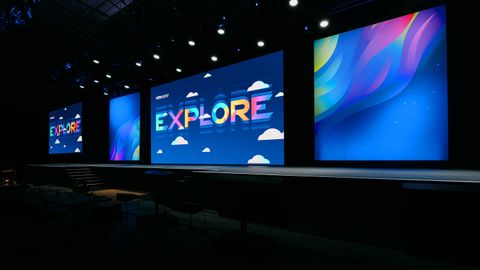 (Image: © VMware)
Welcome to ITPro's live coverage of the 2023 VMware Explore conference in Barcelona.
We've got an exciting couple of days ahead of us here in Catalonia, with the opening keynote session about to begin shortly.
In this morning's session, we can expect a raft of new announcements from VMware, as well as an update on the company's strategy and all things multi-cloud.
Make sure to follow our live coverage to stay on top of all the latest news.
Refresh
Good morning from Fira Barcelona. It's busy here in the keynote stage, with just five minutes to go until the event officially kicks off.
We're expecting to hear from Raghu Raghuram, CEO at VMware, alongside a host of executives. Some special guests are no doubt on the way as well, from throughout VMware's extensive partner and customer ecosystem and we'll be bringing you the latest as it comes.
And we're off, with a video on the use cases for generative AI, featuring testimony from executives at AWS, Hugging Face, and Google as well as Hock Tan, CEO at Broadcom.
"For any meaningful enterprise, their data lives in all types of locations, distributed computing and multi-cloud will be at the very foundation of AI," says Raghu Raghuram, CEO at VMware.
It's been 25 years of milestones and accomplishments for VMware, but Raghuram says that there may have been "no milestone as important as the one that happened last May, when we announced we were joining forces with Broadcom".
To explain more, he welcomes Hock Tan, CEO at Broadcom, on stage.
Tan is making three commitments to VMware customers.
1. To maintain and accelerate the speed of innovation and step up R&D investments.
2. Invest more in the VMware ecosystem.
3. Make itself and its products much easier to deal with.
With that, it's back to Raghuram, who is setting out the 'cloud smart' approach to multi-cloud.
"More than 3/4 of people are using two or more public clouds," he says, adding that VMware's push for cloud smart goes hand in hand with its AI strand.
We're now being shown a video of a VMware vcustomer that is using multi-cloud for backing AI expansion: Siemens Healthineers.
The firm uses multi-cloud through VMware to access data for AI model learning without the need to move data, ensuring privacy is protected while empowering their systems to push the boundaries of medicine.
Now on stage is Purnima Padmanabhan, GM and SVP, Modern Applicactions and Management Business Group, to talk more about VMware's new cloud innovations.
Padmanabhan says that VMware has charted a 31% year-on-year growth for its cloud, but that there is always work to be done and innovations to be unveiled.
New releases are "anchored by VMware Cloud Foundation, delivered as software but also through out partners and hyperscalers," Padmanabhan says.
VCF 5.1 has just been announced, and this will come with 2x GPU capacity and 4x storage performance. Padmanabhan says this is perfect for more complex workloads.
VMware's partners have doubled in the past year to 57, in a rapid expansion for its Sovereign Cloud capabilities, Padmanabhan says.
We've had a tease for our first generative AI announcement, in the form of more partners to be announced for its Private AI service, in addition to Nvidia as announced in August.
Moving at pace, Padmanabhan is highlighting the advancements VMware has made in the space of protecting against ransomware attacks and remediating them when they happen.
"We have automated all of this with VMware Live Recovery, and because we have access to all snapshots we have a tech preview where we can use ML to analyze these snapshots and give you early warning."
Padmanabhan takes a moment to emphasize the nightmarish mix projects that platform teams have to wrangle.
"Tanzu simplifies that process," Padmanabhan says.
"We provide your ability for developers so that they can operate and optimize your applications at scale and make sure that you're always optimizing your applications at scale and for best possible performance."
The new Tanzu Application Engine will be able to automatically package and secure code, and lay down networking so that developers no longer need to worry about clusters and configuring infrastructure.
It will be made available in testing next month.
Padmanabhan has moved on to consider the edge.
"Whether it's healthcare, retail, or manufacturing, edge is becoming more required, and that's where our Software Defined Edge comes in."
VMware Edge Cloud Orchestrator is VMware's solution for managing edge endpoints at scale. It can automate policy for each endpoint, and update them intelligently.
To hear more about edge, we're welcoming Sumit Dhawan, president at VMware, and Dr Henning Loeser, head of production at Audi Production Lab, Audi AG.
Loeser says that the switch to electric vehicles is both a challenge and an opportunity.
"It's a big opportunity for us, because it gives us the opportunity to put in new production lines and leapfrog our technology," he says.
Automating manufacturing more means adding lots more sensors, Loeser says, and understanding more about your process. This has meant adopting hyperconverged infrastructure with real-time capabilities, and that has the deterministic ability to make automation work.
In the future Loeser says that there will be even more sensors, requiring more compiute, and that this will lead to a "maintenance nightmare" without proper planning in collaboration with VMware.
"It's about using software to drive your production and being ablr to tap into the innovation cycle using the speed of software innovation," says Loeser.
Dhawan questions what Audi has found most helpful about its partnership with VMware.
Loeser says that it's been a learning journey for him, as someone with a manufacturing but not an IT background. Right now, he says, Audi is at the point where its small factory for certain models of Audi is already running on hyperconverged infrastructure.
In the coming years, Audi will deploy virtual PLCs on the same infrastructure, at which point the technology will be able to pull everything through.

"This will open the door to a new world of software-defined automation," he adds.
Both speakers acknowledge that AI has grown in importance. Loeser says that Audi has been using an AI algorithm for quality-checks on spot welds, and that next it will figure out how to scale more joining technologies and that this may necessitate more GPUs down the line.
"Here again, the hyperconverged infrastructure is a huge benefit because it's scalable," Loeser says.
"If in a couple of years, or even months, down the road we figure we need more compute it's much easier to add this with hyperconverged infrastructure."
On the topic of AI, we're now welcoming Chris Wolf, VP VMware AI Labs, onto the stage.
Wolf begins by acknowledging that AI is already widely-used, such as in predictive models and computer vision. But of course, he adds, the last year has seen rapid growth of large language models (LLMs).
"The surprise we've seen at VMware is that the total amount of resources you need for these use cases is often less than a typical organization might think," Wolf says.
He's giving the example of Hugging Face SafeCoder, which VMware built using the base of a model called starcoder. The pair programmer model was built with secure data in mind.
"Making sure that our source code stayed between our firewalls, that defines who we are as a business," Wolf says.
A core challenge, Wolf says, is privacy, which led it to announce its Private AI offering.
"What goes into an AI platform? Certainly, privacy needs to be at the center, but so does choice," he says.
"We can't assume that we can bet on a single vertical stack in terms of software and hardware, and it's going to solve the problems for all of our businesses."
There are also concerns around performance and cost. Wolf says that VMware that VMware Private AI has seen cost reductions of around two-thirds compared to public models, and can perform 5% better than bare metal.
We're getting a flashback to VMware Explore US now, with a clip of Jensen Huang, CEO at Nvidia, on stage with Raghu Raghuram to explain how Nvidia and VMware joined forces for VMware Private AI.
"Nvidia's GPUs are on every cloud, and VMware is everywhere," Huang had said.
"So for the first time, companies will be able to do private AI on the cloud at scale, and on multi-cloud."
Reference Architecture for VMware Private AI will help VMware customers to bring AI to their data centers more easily. It's a layer built on top of the Cloud Foundation, that comes with Ray, PyTorch, and Kubeflow as standard.
Wolf says Ray can provision a 100-node cluster in around three seconds - what he calls "an average Tuesday" for VMware.
In addition to infrastructure, Wolf says that VMware is focused on bringing a wide range of models to its customers. To do this, it continues to widen its partnerships and now boasts models such as Llama 2, Falcon, and StarCoder.
Intel and IBM have also announced expanded partnerships with VMware today, with new hardware and software for VMware Private AI. Read more here.
Wolf has announced that from today, Google AlloyDB and MiniIO will be available through Data Services Manager in tech preview. To learn more about this announcement, read our coverage here.
We're now hearing from Thomas Kurian, CEO at Google Cloud, via a pre-recorded video.
Kurian says AlloyDB Omni will help businesses to modernize legacy databases and expand new transformative generative AI applications.
"You'll be able to run PostgreSQL with superior performance and scale, with integrated AI capabilities and integration with our Vertex AI platform," Kurian says.
Wolf highlights announcements around Intel and IBM again, with the latter bringing watsonx AI to on-premises deployments. He promises much more on this soon, with workshops to take place at the conference. We'll be bringing you all of that and more soon.
And with that, the keynote is finished. Thanks for joining us, and stick around for more on the latest announcements, interviews, and insights from VMware Explore Barcelona.