EC approves Microsoft's purchase of GitHub
The European Commission declared the merger would not be anti-competitive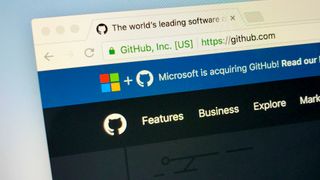 The European Commission has approved Microsoft's acquisition of GitHub, noting that Redmond's $7.5 billion purchase of the code repository posed no concerns over anti-competitive business.
The EC scrutinised Microsoft's move to buy GitHub, checking if by acquiring it Redmond could then work it to boost the sales of its cloud services and related DevOps services.
There was concern that Microsoft would be able to use GitHub to inexorably push then towards Microsoft products and services and block the intergeneration of GitHub code with those of rival product and services.
However, the EC noted that the acquisition would not nullify competition in the market and that the "merged entity would continue to face significant competition from other players".
"The investigation confirmed that Microsoft would not have the market power to undermine the open nature of GitHub to the detriment of competing DevOps tools and cloud services," the EC stated.
"This is because such behaviour would reduce the value of GitHub for developers, who are willing and able to switch to other platforms."
As such, Microsoft can continue with its GitHub merger without fear of running into roadblocks within the European Union.
The acquisition will likely see Microsoft continue to pursue the attention of developers and construct further services around them, such as developer tools on the Azure cloud platform.
04/06/18: Microsoft acquires GitHub for $7.5bn in its shift to open source
Microsoft has just announced an acquisition of the hosting service GitHub after a report sent rumours flying over the weekend.
The company went for $7.5 billion in Microsoft stock, a significant jump from the predicted $5 billion and GitHub's 2015 value of $2 billion.
As whispers of this deal began on Friday with anonymous inside information, as reported by Bloomberg, complaints from GitHub users flooded in. Some feared for the fate of GitHub due to Microsoft's history of letting acquisitions like Skype lose popularity. Tweets from developers saying "RIP GitHub" and "GitHub is dead" reflected worries about what Microsoft would do once it got its hands on the code-repository company, which has always been considered a champion of independent open source development.
"GitHub doesn't compete with most companies," said Larry Salibra, an engineer for Blockstack, which posts its projects on GitHub. "Giving your competitor access to your company's most valuable secrets understandably makes people uneasy."
Salibra explained that Microsoft could use GitHub's data, code created by thousands of developers and companies as well as trends in the software industry, to create rival products and bend the market to its will, according to Quartz Media.
Microsoft's past opposition to open source software has also incensed some GitHub users. In 2001, former CEO Steve Ballmer notoriously called Linux "a cancer" that threatened Microsoft's business model.
However, Satya Nadella, CEO of the Redmond giant since 2014, is supportive of open source. Under his leadership, Microsoft has become one of the largest contributors to GitHub. In fact, Bloomberg's inside sources claim GitHub chose to sell to Microsoft because of Nadella.
Despite backlash from GitHub users leading up to the deal, Nadella was optimistic about the acquisition's benefit for both parties.
Nadella said it would enable Microsoft to achieve three core goals: empowering developers by keeping GitHub open source, accelerating use of GitHub with access to Microsoft's cloud services and exposing Microsoft's developer tools to a wider audience.
"Microsoft is a developer-first company, and by joining forces with GitHub we strengthen our commitment to developer freedom, openness and innovation," said Nadella in a statement. "We recognise the community responsibility we take on with this agreement and will do our best work to empower every developer to build, innovate and solve the world's most pressing challenges."
GitHub will operate independently with Microsoft Corporate Vice President Nat Friedman moving over to take the place of GitHub CEO and will continue to offer the same tools and services to developers as before.
Nadella has also stressed his belief in "the power of communities to achieve much more than what their members can do on their own" and that GitHub will "retain its developer-first ethos".
"Developers are the builders of this new era, writing the world's code," he said on the Microsoft blog. "And GitHub is their home."
Image: Shutterstock
A daily dose of IT news, reviews, features and insights, straight to your inbox!
A daily dose of IT news, reviews, features and insights, straight to your inbox!
Thank you for signing up to ITPro. You will receive a verification email shortly.
There was a problem. Please refresh the page and try again.