Windows would be better running Chrome OS
Google should be taking Chrome OS to Windows users, not vice versa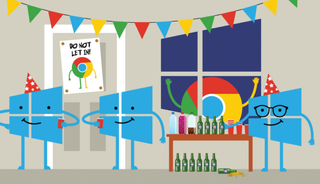 As I write, rumours are swirling that high-end Chromebooks will soon provide the option to boot into Windows. It's left me scratching my head so hard that I now have a bald spot.
The whole point of Chromebooks is that they are not Windows. No viruses, no half-hour waits while the operating system updates, none of the baggage of the big, unmanageable "hairball", as Sun Microsystems' Scott McNealy used to call it.
Chromebooks offering Windows is like a six-pack of Coca Cola coming with a free can of Pepsi or a macrobiotic burger: it's the thing they're not supposed to be. Is the Pope Catholic? I'm not so sure any more.
In my opinion, Google has got this completely back to front. It shouldn't be adding Windows to Chrome OS, it should be adding Chrome OS to Windows. If you point your web browser in the direction of www.neverware.com, you'll come across an operating system called CloudReady. It basically allows you to turn any laptop into a Chromebook, either dual-booting alongside Windows or running as the laptop's sole operating system.
CloudReady is great for turning an old laptop into a quick-and-easy web terminal. I've got it running on an old ThinkPad Carbon X1 that used to be my day-to-day machine. I've just switched it on for the first time in months and I'm browsing within 10 seconds. If that was Windows, it would take 30 seconds to boot and spend the next two hours downloading the 86 security patches and updates I've missed.
CloudReady is far from perfect, however. It's built on the same open-source operating system as ChromeOS, but it doesn't have some of ChromeOS's proprietary features. You can't play Netflix videos without applying a convoluted workaround, it won't locate you on Google Maps and you can't use screen-sharing functions or Google Hangouts. And unlike some of the fancier Chromebooks, you can't run Android apps from within CloudReady.
Google could solve most - if not all - of these problems at a stroke by making ChromeOS available to install on your own computer. Right now, the only way to get ChromeOS (legally) is to buy a Chromebook, but if it provided a CloudReady-like installer, Windows laptop owners could get the best of both worlds: a lightweight Chrome OS to use when they want a quick browsing session or to breathe new life into a tired machine; the full-blown Windows when they want to play games, edit some photos or do any of the hundreds of other tasks that require full-fat Windows.
My bet is that this would do more to boost Chromebook sales than bolting Windows onto Chromebooks. I'd imagine a good proportion of dual-booting users would soon realise that they spend most - if not all - of their time in Chrome OS. The next time they came to replace their laptop, why would they bother with a more expensive Windows machine when they can get all they need from a cheap, easy-to-maintain Chromebook? Especially if the Chromebook offered support for Android apps, which are often much closer to full-blown Windows apps than web apps.
Adding Windows to Chromebooks is bringing the mountain to Mohammed. Why's Google making life so difficult for itself?
Get the ITPro. daily newsletter
Receive our latest news, industry updates, featured resources and more. Sign up today to receive our FREE report on AI cyber crime & security - newly updated for 2023.
Barry Collins is an experienced IT journalist who specialises in Windows, Mac, broadband and more. He's a former editor of PC Pro magazine, and has contributed to many national newspapers, magazines and websites in a career that has spanned over 20 years. You may have seen Barry as a tech pundit on television and radio, including BBC Newsnight, the Chris Evans Show and ITN News at Ten.