Advertisement Feature
Best business apps for Windows 10
We find the best business-related apps in the Windows 10 Store.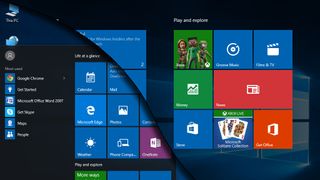 Windows 10 heralds the introduction of universal apps software that will eventually run across PCs, tablets and smartphones. Some of the best apps in the Windows Store are designed for business users, including a few developed by Microsoft itself.
Here, we've chosen a selection of the best business apps, each of which serves a unique purpose, whether that's working on documents, translating your business calls with foreign clients or setting up a meeting back at the office.
Word/Excel/PowerPoint Mobile
Free (requires Office 365 subscription for editing)
The Mobile versions of Microsoft's Office stalwarts have one huge advantage over the full desktop software: their size. The Mobile version of Word is a 117MB installation file, and Excel and PowerPoint are a shade smaller; the full version of Office 2016 requires gigabytes of disk space. That's an enormous boon for those on compact tablets or laptops with limited storage.
Of course, compromises have to be made. The ribbon menus of the Mobile apps are nowhere near as crammed as those of the desktop software, but it's not just a clich that most people use only a small fraction of Word's features, it's true. If you're merely tweaking documents, spreadsheets or presentations, you're unlikely to miss anything.
OneDrive is impeccably integrated into the Office apps, letting you pick up where you left off on the document you saved on your desktop just before you left your desk. Without an Office 365 subscription, however, the apps are nothing more than dumb document readers.
Wunderlist
Free (Some co-working features require subscription)
Wunderlist is the king of the to-do managers, whether you're working as part of a team or on your own. Individual lists can be shared with colleagues or kept private, with the option to assign tasks to your co-workers. Tasks that have been assigned to you appear in your Wunderlist Inbox, letting you see at-a-glance what's waiting to be done, with the most pressing tasks listed first.
Wunderlist is about as cross-platform as they come, with apps for iOS, Android, Windows Phone, web browsers and of course Windows 10. They each share the same immaculate interface, so there's no re-learning to do as you move between phone and desktop. The Windows 10 app also offers responsive design, so you can run Wunderlist in a thin strip down the side of your screen, letting you glance at your to-do list whilst you're getting on with the tasks at hand in the main window.
The option to break lists into different categories, such as Work and Family, make it easy to manage both professional and personal tasks. Our only gripe is that it should be easier to set due dates when first creating tasks, but it's a minor quibble.
Skype Translator
Free
Bad news if you're fond of your expenses-paid business trips to Paris, Madrid or beyond: Skype Translator could soon make them irrelevant. This is one of those apps that you can't quite believe will work until you've tried it, providing real-time translation for speakers of different languages.
The app provides the turn-by-turn translation you're used to seeing when the Prime Minister visits Russia and such like. Someone speaks and pauses, while Skype provides both audio and written transcripts of what's just been said, before the other person replies.
It can't cope with free-flowing conversation or people speaking over one another, and while translation errors are reasonably common, it's still faintly miraculous that a service like this even exists, making it possible to hold business meetings without paying for expensive human translation.
Right now, it only works with a smattering of languages (English, French, German, Italian, Spanish and Chinese) but it's expanding fast.
Drawboard PDF
7.69 (free trial available)
A staggering amount of business documents are still trapped in the inflexible, difficult to edit PDF format. Drawboard PDF provides the tools to make these documents easier to review, mark up and annotate.
All of the controls are handled from a radial dial menu, which works well with both mouse and touchscreen controls something of a rarity for Windows 10 apps. From that circular menu you can choose to easily highlight passages of text, add a signature', insert a written note, or draw directly on the screen.
Drawing works particularly well if your Windows 10 device is equipped with an electronic pen it's difficult to achieve sufficient precision with fingers alone and there's a decent range of pen styles and default drawing shapes to choose from when you're daubing notes or diagrams on the screen.
When you're done, you can "flatten" the annotations onto the document before sharing with colleagues, making it easier for others to see your marks, even if they don't have Drawboard PDF.
Meetings
Free
Meetings are the bane of most people's working lives, not least if they don't result in anything productive. The smartly designed Meetings app removes some of the aggravation that surrounds the endless boardroom showdowns and helps ensure agreed actions are taken.
You start by setting a time and date for the meeting, an agenda of topics to cover and inviting attendees. Then, as the meeting progresses, you take notes on each topic and record action points, which can be attributed to specific attendees.
At the end of the meeting, an automatically formatted set of minutes is created, which details what was discussed and lists the required action points. The full minutes can be emailed to each attendee, along with their individual action points, making it harder for people to wriggle out of their agreed responsibilities.
Get the ITPro. daily newsletter
Receive our latest news, industry updates, featured resources and more. Sign up today to receive our FREE report on AI cyber crime & security - newly updated for 2023.
Barry Collins is an experienced IT journalist who specialises in Windows, Mac, broadband and more. He's a former editor of PC Pro magazine, and has contributed to many national newspapers, magazines and websites in a career that has spanned over 20 years.
Today, he's a contributor to Forbes.com, a columnist for PC Pro and ComputerActive, and is the co-editor of BigTechQuestion.com, a site dedicated to helping solve people's tech problems. You may have seen Barry as a tech pundit on television and radio, including BBC Newsnight, the Chris Evans Show and ITN News at Ten.
You can follow Barry on Twitter at @BazzaCollins, or email him at barry@mediabc.co.uk
Get the ITPro. daily newsletter
Receive our latest news, industry updates, featured resources and more. Sign up today to receive our FREE report on AI cyber crime & security - newly updated for 2023.
Thank you for signing up to ITPro.. You will receive a verification email shortly.
There was a problem. Please refresh the page and try again.