The visa system is failing the tech industry
One student's struggle shows just how difficult it has become for startups to secure talent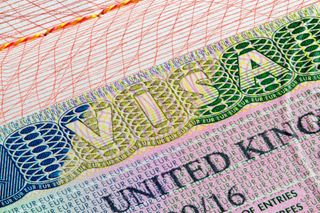 (Image credit: Shutterstock)
Off the back of last April's 1 billion AI sector deal, the UK has seen growing international interest from those looking to take advantage of a booming sector, including close to 150 million of investment from companies expanding out of Japan and Canada alone.
The growth in this sector has also attracted the attention of those looking to study and work. In fact, tens of thousands of international students flock to the UK each year in order to take advantage of world-class research and a thriving tech industry with the jobs to support their ambition.
However, figures show that more applicants are turned away than are accepted each month - not because of a lack of eligibility, but because of an annual cap that's regularly hit by the sixth-month mark. It's a "frustrating" system, according to one such student we spoke to, that's said to be throttling emerging startups and forcing valuable talent abroad.
Jose Alberto Esquivel first travelled to the UK from Mexico in 2015, after securing a place on a data science course at the University of Essex. He explains that the UK's highly active AI scene is a major draw of talent.
"I used to watch a lot of conferences online, on YouTube, and when I was studying here in Essex, I realised that some of those conferences were actually happening in London," Esquivel tells IT Pro. "I just started going to them and to the meetups. That had a massive impact on my professional growth."
Esquivel (left) was one of the thousands of students turned away in 2017 due to the visa cap
After spending a year immersed in London's tech scene, he was convinced it would provide the ideal environment in order to advance his career. However, following his graduation, he was forced to return home.
His story comes at a time when the UK's Tier 2 visa scheme, awarded to 'skilled' foreign workers with an offer of employment and sponsorship from a UK company, is turning away thousands of applicants each month. Thanks to data gleaned from FOI requests, we know that the government's Tier 2 visa annual cap, which is set at 20,700, is being hit earlier each year, and is regularly dwarfed by the number of applicants.
Figures released in September from the Campaign for Science and Engineering showed that between December 2017 and March 2018, over 6,000 otherwise eligible workers were turned away, including those graduating from UK universities, as a result of the yearly cap. In the tech sector, this meant 2,873 skilled and qualified workers were denied employment rights.
Esquivel was first granted a Tier 4 Student visa, which allows students to not only study here but also undertake part-time work or an internship with a company, provided this is limited to 20 hours per week. Given the tech sector's need for highly skilled workers, it wasn't long before Esquivel was offered an internship within the industry.
Signal Media, a London-based startup that uses AI to analyse news stories from around the world, was co-founded by Dr Miguel Martinez, another internal student who came to the UK from Spain in 2009. The startup is one of many that relies heavily on data scientists graduating with university degrees.
To work in the UK, graduating international students are required to upgrade their Tier 4 visa to a Tier 2 work visa - one that allows full-time employment but is subject to the yearly cap.
"I was quite confident we were going to try, but at the time I had gone back to Mexico," says Esquivel. "It was all like 'maybe Signal can hire you', but the talk I had with the guys here was basically 'we really want you, but as a start-up, we don't know if we can sponsor anyone right now for a Tier 2 visa'".
In the first seven months of 2018, the UK government hit its Tier 2 visa cap of 20,700 applicants. Unable to submit an application for the 2018 intake, and facing mounting student debt, Esquivel was forced to start looking for work in the US instead.
Turning away the best in the world
For Signal Media founder Dr Martinez, the UK's immigration policies are making it difficult for startups like his to thrive.
"The UK has some of the best universities on the planet and they're very close together - which makes it easy for us to get access to really good talent," explains Martinez. "The problem is [with] the way talent and immigration are done. [It's] one of the things that always frustrates me."
When people reach a PhD, they used to have a year of grace, because of immigration. So, you could basically do whatever you wanted after a year of having a PhD. That was removed and, currently, we are basically training the best people in the world, paying for part of their PhD with taxpayer's money and then telling them they have to leave the country the moment they finish."
At the time of Esquivel's internship, Signal was just a team of three data scientists, and going through the process of sponsoring an additional employee through a Tier 2 visa was an added drain on time and resources. For a Tier 2 visa, businesses are required to pay 1,475 per year per employee, alongside a lengthy application form.
"If you think of a small company, the people that are going to be checking things like hiring and recruitment are probably going to be one of the founders or one of the first employees, who [already] have several responsibilities," adds Martinez. "So, even if it is legally possible to register for a visa early on, it takes a lot of time, it takes a lot of money and a lot of focus, which is what small companies don't have."
Esquivel was highly sought after at Signal - not only is he exceptionally talented, but because his skill set is alarmingly scarce. A recent report from IBM found that Europe needs more than 346,000 data scientists alone by 2020, with current job postings in the UK going unfilled for an average of 45 days.
"For us it's simple," adds Martinez. "The digital economy in the UK needs more talent than we currently have available. The only way they can solve this is by training better talent in the UK, which I am afraid we haven't proven to be able to do for the skills we need, or to be able to import talent from overseas.
"Up till now, with the European Union, it was very easy to get talent from abroad. Now, without jumping into politics, there are fewer people who want to apply for tech jobs in the UK, as we have seen over the last six months. We have seen a decline in the numbers already."
Sending the right signal
For Russ Shaw, founder of Tech London Advocates, there needs to be an easier process put in place for students coming off Tier 4 Student visas to move on to Tier 2. He believes the UK needs to send the right signals as it leaves the European Union, most importantly when it comes to convincing foreign students that jobs will be available when they finish their studies.
"Universities are going to be hit hard by the impact of Brexit, so having more international students come to the UK is a good thing," he says. "And, let's let them stay for a longer period of time to transfer their knowledge and build businesses to trade back to their home countries.
"The primary place they are going to trade to is their home country and, if you look at the composition of these students and where they are from, the majority are from China, India and the US. Those three countries make up 50% of our international students."
From student to industry leader
Esquivel, having been forced to return home to Mexico without a Tier 2 visa, weighed up jobs in California and Austin. He retained a desire to go back to London and work at Signal, however, without the direct support of a UK startup, he found it difficult to source information on what his options were, and any advice he did find was difficult to interpret.
In August, Tech Nation, the governing body for tech visas, announced new user-friendly guidelines for the Tier 1 Exceptional Talent visa, specifically designed to address cases like Esquivel's. With Esquivel stuck in Mexico struggling to work out what to do, and Signal at a loss with how to help, Tech Nation suggested he apply for a Tier 1 Exceptional visa instead.
For this visa, non-EU applicants must be endorsed as a leader or an emerging leader of their chosen field. For Esquivel, that meant he needed to prove himself as a leader in data science. However, given its relative obscurity and, until recently, somewhat incoherent guidelines, the Tier 1 Exceptional Talent visa is a difficult sell.
"It could be the name," explains Esquivel. "No researcher or student is going to say they have 'exceptional talent'. You don't want to say it, so you just think that that visa is not for you. But when you start looking at the information and what you need for it, you realise it fits your profile - but the name is a little bit discouraging."
The application for a Tier 1 visa takes three months to process, and the total allocated, like the Tier 2 visa, is capped. However, unlike the 20,700 Tier 2 visas available, there are currently only 2,000 given out under the Tier 1 scheme.
Fortunately, Esquivel was able to explain that in addition to his work within his field of natural language processing he would also be giving back academically, collaborating with universities and publishing papers on the subject.
"That was my main argument when I applied for the Tier 1 visa," adds Esquivel. "Basically, in three months, I learned way much more than I would have by myself in Mexico or in the States just working on something."
Esquivel's universities ties allowed him to successfully secure a Tier 1 visa and employment at Signal, but, unfortunately, his story is a rarity. There are thousands of other eager applicants who are rejected each year for Tier 2 and lack the experience for Tier 1, despite industry-wide acceptance that we need more skilled workers to sate demand for the digital economy.
For Esquivel, better communication of the options available would be an effective start to addressing the problem. There is simply not enough information and visibility out there.
"Every time I go through immigration when I'm leaving or getting into the country, the immigration officer always asks me 'what is this visa? How do you get this visa?' No one seems to know much about it."
Get the ITPro. daily newsletter
Receive our latest news, industry updates, featured resources and more. Sign up today to receive our FREE report on AI cyber crime & security - newly updated for 2023.
Bobby Hellard is ITPro's Reviews Editor and has worked on CloudPro and ChannelPro since 2018. In his time at ITPro, Bobby has covered stories for all the major technology companies, such as Apple, Microsoft, Amazon and Facebook, and regularly attends industry-leading events such as AWS Re:Invent and Google Cloud Next.
Bobby mainly covers hardware reviews, but you will also recognise him as the face of many of our video reviews of laptops and smartphones.