Advertisement Feature
Inkjets vs. lasers in the office
The laser printer has long been the office workhorse, but inkjets can now hold their own in many areas.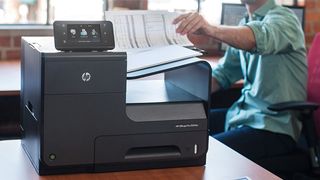 (Image credit: HP)
Journey back ten years and inkjet and laser printers had their own definite places. Inkjets gave you great quality, affordable colour printing for the home user or design professional. Lasers gave you high-speed and top quality, text-heavy documents for general office use. Inkjets were cheap to buy but could be expensive to run, lasers were exactly the opposite. And while inkjets were easy to set-up but took more time to manage and maintain, laser printers took a bit more time and expertise to get going, but could handle the most demanding workloads.
In the last decade that has changed, as printers and multi-function devices like those in HP's Officejet line have proven that an inkjet really can work in the office. All the same, there's an established mode of thought that says that the inkjet is still the solution for high-quality, low-throughput office use, while lasers are faster, cheaper-to-run, more manageable and more robust. If they need an office printer they can rely on, many IT managers will always opt for laser first. Does this argument still hold water, or is it time to accept that inkjets can do more?
Speeds
Performance used to be the key area where laser printers had the upper hand. Even fairly recent Office inkjet printers reached their limit at speeds of 30 pages per minute (ppm) in black-and-white or 24ppm in colour both best-case-scenario figures and many were stuck at under 15ppm in black-and-white and 10ppm in colour. That's fine for occasional printing in a smaller enterprise, but not for a more demanding office. Lasers, meanwhile, have been pushing on to speeds in excess of 40ppm in black-and-white or colour. If you have a small number of users printing fewer than 100 pages a day and need colour, then an inkjet is the answer. If you have a lot of people printing a lot of predominantly black text, then laser is the obvious choice.
With the introduction of HP's Officejet Pro X line, however, things get a lot more complicated. Its innovative PageWide technology, where the printhead spans the entire width of the page and can print a line of tiny dots in a matter of miiliseconds means that it can output black-and-white or colour pages at speeds of up to 70ppm in its general office mode, or 42ppm at the highest quality. That's comparable to HP's high-end laser printers, which can manage 60ppm in black-and-white on the LaserJet Enterprise 600 M603n or 43ppm in colour on the LaserJet Enterprise Flow M800z. HP's Instant On technology gives the laser printers slightly quicker first page times, with 8.5 seconds on the Enterprise 600 compared to 9.5s on the Officejet Pro X, but there's really not much in it. Choosing an inkjet no longer means any compromise on speed.
Print Quality
Laser printers have traditionally had the edge when it comes to clean, crisp black text, while inkjets have triumphed when it comes to reproducing photos. Modern inkjet printers now hold their own when it comes to text, and while office-focused models can't reach the photo quality of a six-colour photo printer, they generally produce better results than a similarly priced colour laser. If your content includes photography and you want it to look its best, then a high-speed inkjet comes into its own, and you won't lose anything when printing black text.
Plain Paper Printing
Plain paper print quality used to be a major bugbear for inkjet printers. Feed a laser printer standard office copier paper and you'll get well-defined black text and vibrant colour. Feed some budget inkjets the same media, and you'll lose clarity and definition, or see colours creep and merge on the page. However, for some time now office-focused inkjets like those in HP's Officejet series have been designed to work more effectively on plain paper, with inks, printheads and drivers that work around issues of ink-spread, feathering and paper-saturation, and help you get better results. While you definitely get the best prints on specialist paper, you can get perfectly acceptable results without.
What's more, many office inkjets, including those in the Officejet Pro X series, already use pigment-based black inks rather than dye-based inks. These work better and dry faster on plain paper, and aren't as prone to colour fading, or to smearing when put in touch with water. Spill water or use a highlighter pen on a print using dye-based ink and you'll mar the text as you mark or wipe the paper. Do so on a print made using pigment-based ink and you'll have no such problem. Buying inkjet no longer means making compromises. If you're looking for a printer that can handle general office use, either an inkjet or a laser will do an effective job.
Workloads and Paper Handling
Office laser printers have always been designed with heavy workloads in mind. Most come recommended to handle anywhere between 2,000 and 4,000 pages per month, while printers like the LaserJet Enterprise 600 M603n can handle monthly volumes between 5,000 and 20,000 pages. Even the affordable LaserJet Enterprise 500 Color can manage 5,000 pages. Until recently, Inkjets haven't been built to handle the same kind of workloads, with recommended monthly print volumes that can be measured in the hundreds, not the thousands.
This is changing, however. More recent printers in the Officejet Pro range can handle workloads of 1,500 pages per month, while printers in the Officejet Pro X series reach laser levels of 4,200 pages per month. If you need a solid, reliable printer capable of printing several hundred pages every day, then a laser is still your best bet. If you're looking at a daily workload of 50 to 200 pages, then an inkjet printer will be more than up to the task.
It's true that lasers have the edge on mass-scale workflows. Enterprise-ready models come with multiple large input trays, equally sizable output trays, and may be able to hold up to 1,100 or 1,600 sheets at any time. They also offer accessories to make a departmental print workflow that much easier, whether that be mailbox output trays or trays with integrated stapling and stacking. Even office-ready inkjets can't compete here right now, but many already offer duplex printing, and with capacity for up to 1,050 sheets, Officejet Pro X models can still handle a lot of paper.
Inks and Running Costs
The prevailing wisdom is that lasers are expensive to buy but cheap to run, while inkjets come with higher ink costs. There's also a perception that, while a laser toner cartridge might be good for thousands of prints, an inkjet will need its cartridges replacing all the time. In real life, however, the situation is more complicated. For instance, some budget office lasers now use smaller and more expensive cartridges, so they're not actually that cheap to run after all.
More importantly, inkjets have seen huge advances in this area. Printers in the Officejet Pro X series can use XL high-yield cartridges capable of printing 9,200 pages (black) or 6,600 pages (cyan, magenta and yellow). This takes the cost of printing black-and-white pages to under 1p per page, and the cost of printing colour pages to around 5p. Printheads and maintenance cartridges are designed to last the lifespan of the printer, and the non-moving, PageWide printhead means there's less to go wrong. Throw in the fact that an Officejet Pro X printer uses 50 per cent less energy than colour lasers, and it's possible to get an inkjet printer that costs 50 per cent less to run than some equivalent lasers.
Management Tools, Networks and Security
With HP's Web Jetadmin and embedded Web Server tools built-in, plus HP's other comprehensive setup and admin tools, an OfficeJet Pro or Pro X printer offers everything that most SMEs or teams need to keep their printers working smoothly and productively.
That said, when it comes to more advanced network connectivity or more security-conscious environments, there's still no beating an office laser. High-end LaserJet printers feature support for IPSec, IPv4 and IPv6, Gigabit Ethernet networking and multiple USB ports. Memory can be expanded and EIO hard disks can be installed, allowing larger organisations to protect their documents, save paper and review an initial copy of a large document before releasing the rest to print a real time and money saver. Enterprise-level lasers also work with more advanced management tools, enabling IT managers to handle more tasks across more printers remotely, and keep an eye on what's happening on the office floor. Again, this makes the laser the better business tool for larger enterprises, though that doesn't mean that an inkjet won't be the better fit for specific tasks.
Whatever the developments in inkjet technology, laser printing isn't going anywhere. If your main concern is printing large volumes of predominantly black text, then a laser printer still makes sense. If you need a printer that can cope with large teams and large workloads, or that delivers the latest administration and security features, then a laser printer still wins out. Yet there are now many situations where an office inkjet printer is the most logical choice. If anything, those instances will only increase with time.
For more advice on transforming your business, visit HP BusinessNow
A daily dose of IT news, reviews, features and insights, straight to your inbox!
Stuart has been writing about technology for over 25 years, focusing on PC hardware, enterprise technology, education tech, cloud services and video games. Along the way he's worked extensively with Windows, MacOS, Linux, Android and Chrome OS devices, and tested everything from laptops to laser printers, graphics cards to gaming headsets.
He's then written about all this stuff – and more – for outlets, including PC Pro, IT Pro, Expert Reviews and The Sunday Times. He's also written and edited books on Windows, video games and Scratch programming for younger coders. When he's not fiddling with tech or playing games, you'll find him working in the garden, walking, reading or watching films.
You can follow Stuart on Twitter at @SATAndrews.
A daily dose of IT news, reviews, features and insights, straight to your inbox!
Thank you for signing up to ITPro. You will receive a verification email shortly.
There was a problem. Please refresh the page and try again.