Oxbotica trials driverless shuttle in Greenwich
'Harry' is one of a number of GATEway projects testing autonomous vehicles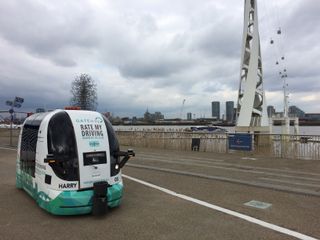 Members of the public have the opportunity to test out a new driverless shuttle in Greenwich.
Those invited to be part of the research - 5,000 people reportedly applied - will be able to ride the shuttle, named 'Harry' in honour of navigation visionary John Harrison, on a selected two-mile course in Greenwich over the next three weeks.
The shuttle can take up to four people and has a trained person on board who can stop the shuttle if necessary, complying with the UK's code of practice on automated vehicle testing.
Oxbotica, the firm behind the shuttle, has fitted its machine out with software called Selenium, which enables real-time navigation, planning, and perception in dynamic environments.
Dr Graeme Smith, CEO of Oxbotica, said that the shuttle "represents an enormous step forward on our journey of implementing real world mobility-as-a-service capability in an operational fleet which can ultimately run without human intervention".
He added: "Greenwich is an ideal focus for these trials in urban pedestrianised environments and we hope to learn tremendously from how autonomous vehicles interact with pedestrians and cyclists in real-world settings."
Harry has no steering wheel or pedals and it can detect up to 100 metres ahead of it and come to a steady stop. Over an eight-hour period of operation, a single GATEway shuttle will collect four terabytes of data - equivalent to 2,000 hours of film or 1.2 million photographs.
The focus of this study is not the technology, but how it functions alongside people in a natural environment. This first trial will explore people's preconceptions of driverless vehicles and barriers to acceptance through detailed interviews with participants before and after they ride in the shuttle.
The shuttle is part of an 8 million research project called GATEway (Greenwich Automated Transport Environment) "to develop and investigate the use, perception and acceptance of fully automated vehicles in the UK" led by the UK's Transport Research Laboratory (TRL) and funded by government and industry.
Oxbotica, spun out from Oxford University's Mobile Robotics group, said its Harry project is one of a number of trials taking place as part of the GATEway Project to help understand the use, perception and acceptance of automated vehicles in the UK.
London joins other cities in the world which are offering rides on autonomous shuttles to the public. Lyon became the first city to operate a daily driverless bus service, which run along a 10-minute route in the Confluence area.
In Australia, shuttles are going to be used in a trial at Adelaide Airport to transfer travellers between the main terminal and long term car park. In the US shuttles were used to transport workers in a complex of office parks and are expected to be trialled in public streets surrounding the parks later this year.
Picture credit: Oxbotica
A daily dose of IT news, reviews, features and insights, straight to your inbox!
Zach Marzouk is a staff writer for IT Pro, Cloud Pro, and Channel Pro where he writes news articles and in-depth feature pieces primarily focused on Asia Pacific and the US. Aside from covering topics like security, privacy, worker rights, and startups, he also contributes to the IT Pro podcast and IT Pro 20/20.
After studying an undergraduate degree in Arabic and Spanish at the University of Leeds, Zach completed a journalism internship at The Argentina Independent in Buenos Aires where he wrote about the country's history, politics, and technology.
He then joined IT Pro in 2017 where he was introduced to the world of B2B technology as a junior staff writer, before he returned to Argentina in 2018, working in communications and as a copywriter. In 2021, he made his way back to IT Pro as a staff writer during the pandemic.
Contact him at zach.marzouk@futurenet.com or find Zach's thoughts (and more) on Twitter @ZachMarzouk
A daily dose of IT news, reviews, features and insights, straight to your inbox!
Thank you for signing up to ITPro. You will receive a verification email shortly.
There was a problem. Please refresh the page and try again.