NHS should ditch pen and paper for email, says Health Secretary
Hancock sees "no reason" the NHS shouldn't run on email like the rest of the world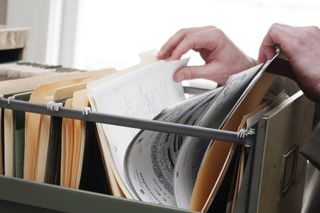 (Image credit: Shutterstock)
The NHS must replace traditional pen and paper communication with email in order to be more secure and efficient, Health and Social Care Secretary Matt Hancock has touted.
In a speech at an NHS England conference, Hancock said the NHS needs to incorporate modern technology in order to best serve patients.
"Having to deal with outdated technology is hugely frustrating for staff and patients alike and in many cases downright dangerous," he said. "A letter lost in the post could be the difference between life and death."
Emailing patients directly about appointments and test results will cut waste, reduce delays and improve cyber security, Hancock said.
NHS organisations won't have to necessarily use NHSMail; as long as their chosen email provider meets the required security settings, they can use whichever provider they like.
This is not NHS' first move towards eradicating archaic technology. It is a part of Hancock's greater vision to introduce more innovative technology to the NHS.
Last December, the NHS was banned from buying new fax machines, and Hancock instructed it to be completely fax-free by 31 March 2020.
"We have signalled the end of archaic fax machines in hospitals and GP practices, and as of this year the NHS will no longer buy them," Hancock said. "Our mission now is to make it as easy as possible for GPs to communicate safely and securely with their patients and colleagues."
Hancock was vocal about the need to streamline communication between doctor and patients. However, fax machines weren't the only form of older tech the NHS was reliant on.
The NHS has suffered from a slew of security issues recently. For example, the Windows XP operating system was one of the primary reasons the 2018 WannaCry ransomware attack was so effective.
Email opens the door for more than just quicker correspondence- it is much more secure than paper communication.
"There is no reason why a doctor cannot email a patient confidentially, for example with their test results or prescription, rather than make them wait days for a letter or ask them to come into the surgery," said Hancock. "The rest of the world runs on email and the NHS should too."
A daily dose of IT news, reviews, features and insights, straight to your inbox!
A daily dose of IT news, reviews, features and insights, straight to your inbox!
Thank you for signing up to ITPro. You will receive a verification email shortly.
There was a problem. Please refresh the page and try again.