Microsoft pulls patch following botched security update
Users complain of system errors after flawed Patch Tuesday fixes.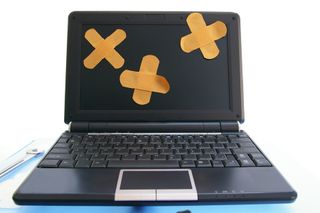 Microsoft has withdrawn a fix for vulnerabilities in its products after complaints if problems with booting up on Windows 7 from users.
The patch, MS13-036/2823324, a fix for a critical-rated security flaw in the Windows file system kernel-mode driver ntfs.sys, was part of Microsoft's Patch Tuesday series of monthly updates. The update was meant to patch what was only a "moderate" risk for users.
Once the patch was installed, instead of fixing the vulnerability, it made Windows 7 desktops crash on reboot, reporting that hard drives were uncleanly mounted. It also made some systems run CheckDisk on startup.
Dustin Childs, group manager of response communications at Microsoft Trustworthy Computing, said in a blog posting that the firm "determined that the update, when paired with certain third-party software, can cause system errors. As a precaution, we stopped pushing 2823324 as an update when we began investigating the error reports, and have since removed it from the download centre."
Childs denied that system errors would result in loss of data or that it affected all Winodws users. It acknowledged in a knowledge base entry that "systems may not recover from a restart, or applications cannot load, after security update 2823324 is applied."
"We recommend that customers uninstall this update."
The flawed fix also conflicts with anti-virus products from Kaspersky. The confirmed the issue can cause its products to falsely claim that their licence is not valid.
Microsoft said it was working on issuing a new security update that works as well as investigating the issue.
A daily dose of IT news, reviews, features and insights, straight to your inbox!
Rene Millman is a freelance writer and broadcaster who covers cybersecurity, AI, IoT, and the cloud. He also works as a contributing analyst at GigaOm and has previously worked as an analyst for Gartner covering the infrastructure market. He has made numerous television appearances to give his views and expertise on technology trends and companies that affect and shape our lives. You can follow Rene Millman on Twitter.
A daily dose of IT news, reviews, features and insights, straight to your inbox!
Thank you for signing up to ITPro. You will receive a verification email shortly.
There was a problem. Please refresh the page and try again.