EE employee hacked ex-girlfriend's phone
Francesca Bonafede's former partner accessed her data while he worked at the telecoms company in 2018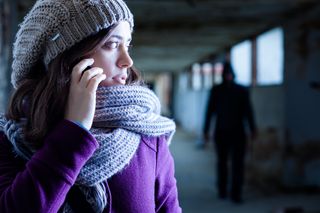 An EE customer has said she was stalked by a former partner who worked for the telecoms company after he accessed her personal information without permission.
Speaking on BBC's Victoria Derbyshire programme, Francesca Bonafede explained how her number was switched to a new phone and her address and bank details were accessed by her former boyfriend.
She discovered the breach in February 2018 when her phone inexplicably didn't work and called her provider, EE, straight away.
"I was at work and got the phone out of my purse and there was no network whatsoever," she said. "I contacted EE to try and figure out what was wrong, but none of the agents I spoke to was able to identify what the problem was.
"I also asked 'how long is this going to take?' and they said to me that it could be a 'day, a month, we're not quite sure'."
It actually ended up being five days, with Bonafede calling the company up repeatedly until someone managed to figure it out. It transpired that someone had gone to an EE store in London, ordered a new SIM card and switched Bonafede's account over to a completely new handset.
She argued that this was obviously not her and one of EE's call centre agents mentioned an address linked to the new SIM card which Bonafede instantly recognised as one belonging to her former partner. The two had split up some years before but she remembered he worked in one of EE's high street stores.
"The person started stalking me," she added. "He knew my address, obviously from the breach, so he came to my address multiple times, with friends, trying to intimidate me and asking me to withdraw my complaint.
"I had endless phone calls from different numbers, text messages, so much so that I ended up in the police station because I was rather frightened. He would turn up, always at night, so on my way back from work, I would find him there. It was rather stressful and I had to go to the police and tell them what was happening. They asked me repeatedly 'what is EE doing about this' and I said 'actually I don't have a clue' because they don't keep me updated."
Bonafede's ex was then arrested and given a harassment warning, but even by this stage EE still couldn't tell her what was going on and what information had been accessed. She felt that the company wasn't taking her problem seriously until she tweeted it and caught the attention of a senior member of the complaints team who told her she was "horrified" and "really sorry" for the way she was treated.
"By then I had spent countless hours on the phone, countless hours at the police station, I missed days at work and the stress of being stalked, the whole situation was terrible. And, the way I was treated by EE was appaling, only investigating on their side with no communication with me whatsoever."
EE has since responded by apologising to Bonafede in a statement and have confirmed the employee in question no longer works for the company.
A daily dose of IT news, reviews, features and insights, straight to your inbox!
Bobby Hellard is IT Pro's reviews editor and has worked on Cloud Pro and Channel Pro since 2018.
In his time at IT Pro, Bobby has covered stories for all the major technology companies, such as Apple, Microsoft, Amazon and Facebook, and regularly attends industry-leading events such as AWS Re:Invent and Google Cloud Next.
Bobby mainly covers hardware reviews, but you will also recognise him as the face of many of our video reviews of laptops and smartphones.
He has been a journalist for ten years, originally covering sports, before moving into business technology with IT Pro. He has bylines in The Independent, Vice and The Business Briefing.
Contact him at bobby.hellard@futurenet.com or find him on Twitter: @bobbyhellard
A daily dose of IT news, reviews, features and insights, straight to your inbox!
Thank you for signing up to ITPro. You will receive a verification email shortly.
There was a problem. Please refresh the page and try again.