US sues Edward Snowden over his memoir
The Department of Justice claims the whistleblower's book breaks non-disclosure clauses in his contract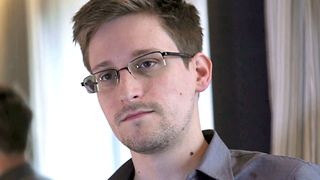 Edward Snowden is once again facing the ire of the US government, this time over his newly released memoir.
The former IT contractor turned whistleblower failed to get government clearance for the book's allegedly sensitive material and is now being sued for violation of the non-disclosure agreements he signed as an employee of the National Security Agency (NSA) and CIA.
The US Department of Justice (DoJ) doesn't intend to block publication or distribution of the book, which would violate Snowden's freedom of speech under the First Amendment. Instead, the US Attorney's Office said it aims "to recover all proceeds earned by Snowden because of his failure to submit his publication for pre-publication review in violation of his alleged contractual and fiduciary obligations".
The memoir's publisher Macmillan is also named as a defendant in the case.
Permanent Record, the memoir in question, includes reflections on Snowden's life from his childhood in the suburbs of Washington DC to his role in building the mass surveillance system he later tried to bring down.
The civil case against Snowden is separate from the criminal case the DoJ has been pursuing since June 2013, after Snowden released sheaves of confidential government information to the press.
"Intelligence information should protect our nation, not provide personal profit. This lawsuit will ensure that Edward Snowden receives no monetary benefits from breaching the trust placed in him," said G Zachary Terwilliger, US attorney for the Eastern District of Virginia, the office that filed the suit.
Snowden's American Civil Liberties Union (ACLU) attorney, Ben Wizner, asserted that the book contains no new intelligence information. "Had Mr Snowden believed that the government would review his book in good faith, he would have submitted it for review," he said. "But the government continues to insist that facts that are known and discussed throughout the world are still somehow classified."
Snowden is currently living in Russia, having claimed political asylum there six years ago.
A daily dose of IT news, reviews, features and insights, straight to your inbox!
A daily dose of IT news, reviews, features and insights, straight to your inbox!
Thank you for signing up to ITPro. You will receive a verification email shortly.
There was a problem. Please refresh the page and try again.