100 data breaches made during UK's handling of the EU Settlement Scheme
Home Office in breach of GDPR with reports of misplaced ID documents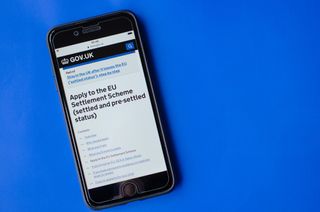 More than 20 data breaches a month were made during the Home Office's administration of the EU Settlement Scheme (EUSS), a report has found.
Over the course of five months from April 2019 to August of the same year, the Independent Chief Inspector of Borders and immigration (ICIBI) said that the scheme had seen 100 breaches of data.
RELATED RESOURCE
Digital Risk Report 2020
A global view into the impact of digital transformation on risk and security management
This involved passport and identification documents going missing in office and during postage where a number had been delivered to the wrong address.
This is the second time the ICIBI has conducted an investigation into the Home Office's administration of settled status applications and also the second time the governing body has been found to have breached data protection laws with regard to immigration.
"The information provided to inspectors regarding data breaches was concerning," chief inspector David Bolt wrote in his report. "Not least the increase in breaches each month between April and July 2019 (with a slight dip in August 2019), albeit most of those to the end of June were due to a postal company rather than EUSS staff or processes.
"Data breaches damage public confidence, and applicants will blame the Home Office, whether or not this is fair. It is therefore important for the Home Office to do everything it can to keep breaches to a minimum. Most appear to have involved document handling errors and these should be easiest to prevent with clear instructions and good organisation."
In June and July, there were a reported 38 occurrences of documents being misplaced by a postal company. However, there were 10 incidents of ID documents being misplaced within the EUSS office and further reports that documents had been sent to the wrong address and information shared with an unauthorised third party.
"We take data protection very seriously and have apologised personally to those affected. We have already taken steps to stop them happening again," a Home Office spokesperson told IT Pro.
In April 2019, the Home Office had to apologise for exposing the email addresses of those involved in the Windrush compensation scheme - which was also a breach of GDPR.
A daily dose of IT news, reviews, features and insights, straight to your inbox!
Bobby Hellard is IT Pro's reviews editor and has worked on Cloud Pro and Channel Pro since 2018.
In his time at IT Pro, Bobby has covered stories for all the major technology companies, such as Apple, Microsoft, Amazon and Facebook, and regularly attends industry-leading events such as AWS Re:Invent and Google Cloud Next.
Bobby mainly covers hardware reviews, but you will also recognise him as the face of many of our video reviews of laptops and smartphones.
He has been a journalist for ten years, originally covering sports, before moving into business technology with IT Pro. He has bylines in The Independent, Vice and The Business Briefing.
Contact him at bobby.hellard@futurenet.com or find him on Twitter: @bobbyhellard
A daily dose of IT news, reviews, features and insights, straight to your inbox!
Thank you for signing up to ITPro. You will receive a verification email shortly.
There was a problem. Please refresh the page and try again.