What the UK's new immigration system means for the tech industry
Everything your business needs to know about the government's new points-based system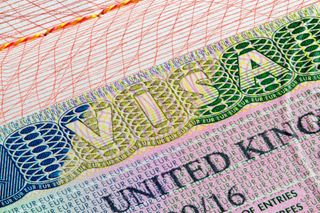 (Image credit: Shutterstock)
The government's controversial immigration bill has been voted through the House of Commons with a majority of 99 (351 votes to 252) meaning a points-based system is almost assured.
It's set to be one of the biggest changes following the UK's exit from the European Union, with the Labour party claiming it will alienate many of the key workers who have risked their lives during the coronavirus pandemic.
From the first day of 2021, to live and work in the UK applicants will need to score 70 points from a list of essential and swappable criteria. The ability to speak English is classed as essential, as is having an offer from an approved sponsor, and they will also need a job "at an appropriate skill level". Those only count as 50 points, however, with the additional 20 coming from the 'swappable' category.
Adding a level of complication, however, is that while salary is, in theory, a swappable element, in practice there's a minimum salary level of £20,480. That salary tier will gain applicants 0 points, though - it's not until they reach £23,040 that this will actually starts counting towards their points total.
From a tech perspective, access to talent was one of the sectors biggest concerns with leaving the European Union. The industry is heavily reliant on foreign IT workers and the country is facing an ever-expanding skills gap.
Home secretary Priti Patel has come under heavy criticism for the new rules, with many pointing out the detrimental effect it will have on contractors, freelancers and entry-level applicants. In January there was a lot of anger at the use of the term "low skilled" for people in menial jobs - many of which have become vital during the pandemic. To make matter worse, Patel has also admitted that her own parents wouldn't have been able to live and work in the UK under these new rules.
While the system will seem draconian to many who aren't familiar with the existing immigration system, from the perspective of non-EU citizens the route to working in the UK is actually a little easier than it was before thanks to a lower minimum salary requirement.
Points of the system
From the first day of 2021, visa applicants will have to score 70 points from a list of nine characteristics. Three of these are essential but only add up to 50 points:
they need to have a job offer by an approved sponsor, which will score 20 points
a job at the appropriate skill level (equivalent to A-Level), which also gets them 20 points
and they will need to have a strong command of English, though only 10 points will be awarded for that.​​​​​​
They will need to find another 20 points from one of the other six categories to qualify, with the best hope being a salary of £25,600 or above.
Swipe to scroll horizontally
| | | |
| --- | --- | --- |
| Characteristics | Tradable | Points |
| Job offer by approved sponsor | No | 20 |
| Job at appropriate skill level | No | 20 |
| Speaks English at required level | No | 10 |
| Salary of £20,480 (minimum) - £23,039 | Yes | 0 |
| Salary of £23,040 - £25,599 | Yes | 10 |
| Salary of £25,600 or above | Yes | 20 |
| Job in a shortage occupation (as designated by the MAC) | Yes | 20 |
| Education Qualification: PhD in a subject relevant to the job | Yes | 10 |
| Education Qualification: PhD in a STEM subject relevant to the job | Yes | 20 |
With the system starting next January, this doesn't leave a lot of time for businesses to prepare, according to Julian David, CEO of Tech UK. This is of particular concern to SMBs that might not have the right administrative capacity to manage recruitment. As such, TechUK is calling on the government to put support structures in place to help.
"It is vital that efficiency and effectiveness are central pillars of this the future immigration system," David explains. "The UK tech sector's ability to attract and retain talent relies on businesses being able to be agile and dynamic to plan for the future."
IT Pro put this concern to the Home Office which cited its policy statement, which says a programme of engagement will begin in March 2020 to "raise awareness" of the new system. This, it says, will focus on SMBs and other sectors that will be most impacted.
"We will build on the success and experience of implementing the EU Settlement Scheme with opportunities for face to face engagement with officials, who will go to every region of the UK, alongside traditional communication and media channels," the policy states. "We will work with key countries around the world, including EU Member States, to explain how the new system will operate."
The reduction of the salary requirements isn't likely to have too much impact on the tech sector, given that most roles within it are well paid – UK tech wages were up 13% last year, according to reports. However, with overseas workers needing to either make more than £23,040 to accrue any points, have a PhD – preferably in a STEM-related subject – or be applying for a job where there's a shortage of workers, some entry-level roles might be beyond their reach, according to Steven Cockcroft, the founder of CybersecurityProfessionals.com.
"Some entry-level positions – in cyber security and tech as a whole – might suffer thanks to the minimum income threshold, which isn't ideal for the sector, considering the UK has the third-highest demand for cyber jobs globally," he says. "In a time where the cyber security skill gap is still getting wider, throttling the migration of candidates may prove difficult but, if wages remain strong, cyber security might not struggle too much under the new system."
Tech roles likely to be hit the hardest
Roughly 25% to 30% of candidates working in London's tech sector are from the EU, according to Gordon Smith, Hired's European GM. His concern is that the system and the Home Office haven't taken into account the diverse ways candidates train for technology roles.
"We've had to do a lot of education and use data to support the argument that there just aren't enough people and we as the tech community are going to have to be more open to people who have come through different backgrounds," Smith says. "So people that have taught themselves how to code or people that have changed careers and gone to a boot camp or something like that.
"Looking at a lot of candidates that people are hiring at the moment, it's based on skills rather than academic ability. That philosophy doesn't mirror up with the points system and I think that's going to be the biggest challenge."
According to a recent survey by CodinGame, one in three developers consider themselves as "self-taught", learning via free resources such as online tutorials and textbooks.
"I think companies have become more sophisticated at getting a candidate to prove to them that they can do the job and they're prepared to disregard academic background completely because they actually don't care," Smith says. "They just want someone with the skills to do it."
He also questions whether the Home Office was informed enough to be able to take a similar approach, expressing concerns that many talented people might not get through the new system as it won't see their true potential.
"I think it will be a concern for companies because that would be incredibly frustrating to see someone who was the perfect fit, who was going to add real value to your company, but they can't get in the country because they didn't agree they were phenomenally talented," Smith explains. "That's going to be a challenge for tech specifically."
Those seeking to work in the UK on a freelance basis will also find the new rules challenging as there is no dedicated route for the self-employed. Andy Chamberlain, deputy director of policy for the Association of Independent Professionals and the Self-Employed (IPSE) feels the government has made a "fatal error" in not making a decent provision for the self-employed.
"So far, there does not seem to be any explicit provision for the skilled contractors that drive innovation in the UK," Chamberlain says. "This is a fatal flaw: the government must urgently rethink its approach and set up a dedicated self-employed route. Otherwise, it risks not only hampering the flexible labour market in the UK but also prompting the EU to take a similarly draconian approach to British contractors."
Get the ITPro. daily newsletter
Receive our latest news, industry updates, featured resources and more. Sign up today to receive our FREE report on AI cyber crime & security - newly updated for 2023.
Bobby Hellard is ITPro's Reviews Editor and has worked on CloudPro and ChannelPro since 2018. In his time at ITPro, Bobby has covered stories for all the major technology companies, such as Apple, Microsoft, Amazon and Facebook, and regularly attends industry-leading events such as AWS Re:Invent and Google Cloud Next.
Bobby mainly covers hardware reviews, but you will also recognise him as the face of many of our video reviews of laptops and smartphones.