Podcast transcript: How the energy crisis will impact data centres
Read the full transcript for this episode of the IT Pro Podcast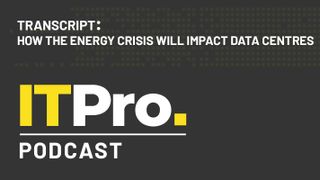 This automatically-generated transcript is taken from the IT Pro Podcast episode 'How the energy crisis will impact data centres'. We apologise for any errors.
Adam Shepherd
Hi, I'm Adam Shepherd.
Zach Marzouk
And I'm Zach Marzouk,
Adam
and this is the IT Pro Podcast where today, we're taking a look at the current energy crisis.
Zach Marzouk
The UK is currently facing a serious power problem. A number of factors including the war in Ukraine, low gas storage levels and unusually high demand, have caused wholesale energy prices to skyrocket, and those prices are being passed on to consumers. With price caps on domestic energy bills rising at an alarming rate, many households are facing the prospect of their bills doubling within six months.
Adam
Domestic users aren't the only people who need power however, and while consumer energy bills are rising at an alarming rate, the situation may prove to be even more dire for the IT industry. Data centre operators in particular require enormous amounts of power in order to continue providing vital services, both to consumers and to other businesses, and rising costs could prove catastrophic for the continuity of the services. Joining us to talk about the potential risks posed by the current crisis, as well as how businesses can mitigate the potential impact of rising energy costs is Tiny Haynes, Senior Director of Research at Gartner. Tiny, thanks for being here.
Tiny Haynes
Thank you very much for having me.
Adam
So Tiny, the situation in terms of energy costs is not great at the moment, I think it's fair to say. But what role do energy costs typically play in the budgets of datacenter operators?
Tiny
Well, there's a number of different answers to that. For small colocation services, where energy costs are actually bundled into the price, then, obviously, the provider, the data centre operator is going to take the hit. And it's up to them to try to secure supplies for as long as possible. In fact, I was speaking to a customer this morning, and one of these providers has got a deal for the next four years at a set rate. So some of these guys are hedging and going quite well. The other side of things are going to be for those data centre operators who just simply pass through the energy costs. And of course, then that responsibility sits on the customer themselves. And it's used for bigger deals around about 500 kilowatts outputs, where you'll see a straightforward pass through, although there's always variants of that lower figure. So for a datacenter operator that's taking the risk, and if they do not have a capability of passing through the price rises, and normally contracts will have maybe a three or 5% annual inflation adjusted price rise, then they are going to certainly suffer in the short term. And if indeed if if these energy prices don't seem to be coming down over the next few years, then I think there's going to be a lot more distressed assets in this market.
Zach
Do you happen to know how much these costs are expected to rise over the next six to 12 months?
Tiny
Well, that's the big question, isn't it? So at the moment, I'm hearing people talk between 25 and 50%. It really depends on the global gas price. And we're now at the mercy of the geopolitics. Unfortunately, it will take some time for the UK as a general rule to bring in additional capacity from renewable sources where you're not going to be subject to such price variance. Interesting enough that we've had the announcement by the outgoing Prime Minister of new investment into nuclear power stations in in Sizewell C. But that's probably gonna be about 10 years before it comes online. So as far as price rises, go, I can only see them going up. I would not be surprised if they are looking to double in the same way that the consumer prices are doubling. In fact, I've seen non datacenter operators but other organisations seeing their prices go up by a factor of three, which possibly could happen in the datacenter market over the next six to 12 months.
Adam
Oof. That is big, big numbers that we're talking about then if it's a doubling of power costs. So for those data centre operators that on passing the power costs directly on to their customers, and charge a flat rate, all inclusive; what kind of margins do they have, generally speaking, to absorb these increases?
Tiny
it really depends on the datacenter. And the operator themselves. If I am providing straightforward data centre space, then obviously, the margin is going to be very exposed to the power pricing. And I would carry between a 15 to 40% margin on that service. However, if I'm providing managed services, so, putting in like cloud like services, or maybe professional services, there's more margin to play with. So a straightforward colocation provider who's in the retail space, so sub-100 kilowatts, and if they're just not doing any pass through, and there's no language in their contract, which allows them to make emergency payments, I think that there's going to be a lot of problems for them going forward. But if you're offering more managed services, which might be application management, and monitoring, maybe professional services on top, there's a bit more margin to play with and the data centre costs become less of a factor. And indeed, we're seeing that with the cloud guys. So Amazon, Microsoft and Google, what they're doing is they're not passing on the price rises in energy costs currently to the consumer. And when you ask them directly, they say no, there's no intention, will that change in the next six to 12 months, if we see a huge increase in pricing? Some of these providers are making a lot of money, a lot of margin, and some of them are not. So I think you're probably looking at so those organisations which aren't making as much margin who'd be more likely to pass on the price raises. But then you get into a whole different sort of conversation about which cloud provider do I go with? Are they going to be a going concern going forward?
Zach
Could this be an opportunity for the bigger cloud providers to snap up the smaller ones if they can withstand the costs?
Tiny
The problem with the cloud providers, if it's, let's take the example the hyperscalers, like Amazon, Microsoft, and Google, they've built all of their infrastructure and services based on their own code. And the reason that they're able to innovate so quickly is because of the fact that they have open API's, everything's built to a certain style. And it's easy for them to continue to grow. If I start to buy cloud providers who use different source code, I'm gonna have to really re-engineer that code to work in my environment, and do I necessarily want to get involved in a market, which has been a bit more distressed when I'm having problems myself? Now saying that, you will find that Ireland has currently got a moratorium on new data centre build, because they just can't provide the power required for these DCs. I mean, some of these DCS, you're talking tens of megawatts of power requirements. So it might be worth some of these guys to say, Okay, what we'll do is we'll buy your datacenter for our own services, but we'll just trash all your systems and services, because we won't making any money out of that, or it might cost us too much to go and reengineer it for our own platform.
Adam
So speaking of trashing services, is there any capacity, as it were, for data centre operators to effectively try and mitigate their energy bills, by just saying, Okay, we're going to just switch off a bunch of racks and just radically limit the kind of headroom that we have on our services and on our datacenter and accept a bit of loss of kind of compute scale, in exchange for limiting the risk of kind of price spikes.
Tiny
If you're a straightforward data centre provider where you're offering space and power, there's gonna be limited scope for you to switch things off unless you get rid of the customers. Now we did see that happening with TelecityRedbus when they decided to go and do their amalgamation and we saw these half rack and quarter rack services being ejected by the new entity. So you effectively get rid of some customers because they are too small, they're not going to be giving enough margin, but if you're fundamentally just providing space and power, your hands are pretty tied. But if you say look, yeah, I can offer additional managed services and make more money then there's that conversation to be had to say, Okay, well, let's eat into that margin. I mean, a customer's going to be aware of the exposure that these colocation providers have today. We saw this year Sungard go into administration, that was part of that, not necessarily the only reason, but part of that was going to be because of the power price lock in. And with the power prices going up dramatically, and customers who are resigning with other data centre providers are getting a bit of a bill shock, because suddenly their power price had gone through the roof.
Adam
On that subject, then, who would you say is in a better position - If anyone - customers who are running their own kind of on premise infrastructure and running their own services off that, or downstream customers of cloud service providers and public cloud providers? Is there anyone that's kind of more insulated from these increases?
Tiny
I think the energy price is going to hit on premise data centres as much as it's going to hit colocation. Will your facilities guys have done the same sort of negotiation that the data centre's guys would have done? Would they have had the same sort of ability to negotiate megawatts of power? Probably not. So you're probably a lot more exposed. For the cloud guys. Currently, they are not passing on that price. So once again, we see that the attraction of cloud over on premises. Yeah, so I think that the only other thing is, is get away from the fossil fuels and go to Norway or Iceland, where the data centres are using renewable energy; 97% In Norway and 100% in Iceland, you don't get the same sort of bill shock.
Zach
How much of a potential problem is this for Europe, compared to the UK?
Tiny
Europe, the problem is doubled. Because you don't just have the issue with energy prices going up. And I'm thinking places like Germany, you also have the problem of actual energy availability. Speaking to some customers in Germany, they are predicting there will be blackouts. And therefore, yes, a datacenter should have UPS and generator and an on site diesel. But if you knock out an entire city, so for example, Frankfort, where it's one of the big data centre locations, power fails there for any certain amount of time, everyone's going to want to resupply their diesel at the same point. I mean, you've got lots of data centres there will be exposed. So I think that the European problem is even more than the UK. Not to say that we should be smug in any way, because obviously, because we do rely on Norwegian gas, if Norway as part of the EU, decides to prioritise the EU through some sort of agreement, then of course, what you'll then have is the UK losing out on gas and of course the pricing goes up even further. So I don't think anyone's really sitting pretty but I think the Europeans have actually a supply issue as well as a pricing issue.
Adam
So Microsoft's Project Natick, Natick, not entirely sure how you pronounce it, is its experiment to see if you can put datacenters essentially at the bottom of the sea. Is this something that's going to be a feasible possibility for leveraging kind of renewables and hydro and solar and wind and stuff like that, to kind of circumvent some of this reliance on fossil fuel based power?
Tiny
I always thought that project has actually been more for cooling. And you, it's not unprecedented. We do have data centres in Norway, which are taking water from the fjords and using that as a cooling source, hermetically sealing data centres and dropping them in the water. You can then plug in however you wish. But of course, you've got, there's a new data centre, you might be able to use some of the hydro electrical capability, which I mean, as I say, Orbital Marina are producing a one megawatts tidal system. You also have got a lot of offshore wind farms, which you could take a connection to, but it's not really a give you much more than a datacenter which says okay, I'm going to do a deal with Orbital or one of the wind farms. It's just the cooling is going to be a bit more efficient. Okay, you've reduced the PUE of the data centre and you might get some efficiencies in that. And, of course, you don't have to worry too much about the overheating that we've had recently with with the Google and other data centres. So there are elements that yes, that can certainly help. But I don't, don't think it's me that the absolute lifesaver, because you've got these huge, great big data centre requirements, we're talking megawatts of requirements here, and hermetically sealing them and put them into water is for certain use cases, maybe, but it's not going to solve all the problems. And how do you swap out a disk when a server goes down?
Adam
Yeah, that's, that's always the challenge. You can't exactly send a frogman down with a bag of bag of fresh drives.
Tiny
Exactly. Yeah.
Zach
What does the outlook look like for downstream cloud service providers and end user customers?
Tiny
As I say, the cloud guys aren't passing on the cost at the moment. So the customers shouldn't be affected - at the moment. And I keep on putting that proviso in because everything is unprecedented. We are in a situation where the short term answer is going to be they're swallowing the costs. But if over time, if you're not as a profitable cloud service, as maybe some of the real big guys are, then you're gonna start eating into your margin. And if it becomes to, how do I get some money to bail me out private equity might not necessarily want to jump in and save you if you're a distressed asset. So for the hyperscalers - well, definitely Amazon, Microsoft. I mean, Google, that that's always the question mark. But those two, I don't see much problems. Too many problems. Google is, it's an interesting organisation, that they're doing some very interesting things with GCP. They've got some really good deals out there and some good work they've done with distributed cloud. Do they continue running the GCP operations? Because we have seen them as they scale back on IoT. Will they start to scale back other services, just to focus on core, is is the question really to ask. And as this gets further and further along, and more pressure on margin, then I think people's hands will be played for them.
Adam
So we've spoken a lot about the the hyperscalers, and the sort of cushioning that they have to some degree from this. What about cloud service providers that are running their services on top of datacenter and hosting partners that maybe aren't as large as the hyperscalers, don't necessarily have as much insulation against those price increases? If their providers are passing the costs along to them, do those kind of downstream service providers then pass the costs on to their actual end user customers? Or are they also going to have to eat a portion of that cost for themselves?
Tiny
I think a mix of both, they'll try and resist it as much as possible. Because is this going to be a blip in the marketplace? With the new prime minister coming onboard, is there going to be rate relief for small, medium sized businesses, which might allow them to be a bit more flexible? So there's a lot of question marks here. So they might say in the short term, we'll swallow some of this margin because we know that longer term things are gonna get better? Or do they say, Look, we don't think that things are gonna get better, we're gonna have to pass on price increases to our customers. And the advantage, obviously, with a cloud contract is, is there's no commitment from either side. And so if your prices go up, you pay that price immediately.
Adam
And that, I think, combined with the kind of rising energy bills for businesses across the board, you know, outside of the kind of datacenter related costs, that could potentially be quite worrying for a lot of smaller businesses, as well, I think if they've got not just their own energy bills increasing but also the cloud costs that they're paying, increasing off the back of those energy price rises.
Tiny
Yeah. I certainly think that we do have a particularly nasty next few months until we see some resolution here, and yeah, if I was a small business, I would be certainly be very concerned about the exposure either my datacenter provider or my cloud provider has. So things like disaster recovery as a service where, unless you go into the major cloud providers, there's all sorts of niche solutions. If there's very niche solutions for verticals, I'd be quite concerned unless these guys are hosting with the big hyperscalers.
Zach
Are there any policies you would like to see introduced to help data centres?
Tiny
Well, I think that business rate relief is always going to be a handy one. The ability to get more stability in the energy prices, so negotiating contracts, longer term contracts with the energy providers to allow them to be a bit more stable. There's also going to be some opportunities to reengineer datacenters. We all talked about that this PUE rating, the power utilisation efficiency or effectiveness. But if you've got an older DC, it's going to be about 1.8, 1.6. The newer DCS come a lot lower. So there might be some government grants to be able to retrofit existing DCs for things like free air cooling, that might be useful. But it's going to take some capital and you know, getting access to that capital, you either get it from the private equity market or you get it from the government. The good news is that that private equity has been investing a lot in datacenter providers. So Black Rock have taken a big interest in QTS, DRT is just one big real estate fund. And I've seen EMAR do exactly the same in the Middle East that they're investing in data centres. So there's interest there. But I think if the government can obviously give out some sort of short term relief in this current climate, that will always be appreciated.
Adam
And speaking of which, you've mentioned things like the datacenter kind of modernization projects in terms of things like cooling and PUE, and the sort of greater stability that that customers can expect in terms of their energy bills from the large hyperscalers. But are there any other fallback or failover preparations that businesses should be putting in place now, to mitigate the impact of any potentially significant data centre energy cost rises?
Tiny
not just on energy costs, I'd make sure that the data centres have checked their failover. So they've done black building tests. So if we do have a catastrophic brownout or blackout, then all the systems have been checked. And black building tests are... the best way to describe them is a lot of panic from engineers, because you're actually switching off live systems and making sure things fail over.
Adam
Ooh.
Tiny
Yeah, exactly. So do you really want to be a lot harder on them to say, look, you know, a generator test once a week is not going to cut it, you need to show us a good failover, you want to show us also your resupply for diesel, if we have an extended period of time, or at least what we're going to do about that. As far as the energy costs themselves go, you can look at what infrastructure you've got in your current racks and see if you can switch things off or you can accelerate your migration to cloud. There are reasons why you can't go to cloud and where it's not be possible. So that's not always going to be the answer. But unnecessary equipment, if you can switch it off, power down servers when they're not needed at nighttime, I mean, this is how the cloud guys really make their money is they have this sort of shedule of switching things off, etc. And that you can do the same for servers, or at least bring them on to lower power or switch a PDU off then at least you're going to be sort of saving some money. So it's looking at the operational processes that you can do to only use what you need against also, the datacenter providers as well to make sure they're being efficient as possible, and also checking their failover systems.
Adam
I mean, it sounds a lot like the advice that kind of consumers and households are being given for bringing their energy bills down. It feels like the businesses equivalent of put on a jumper if you're cold rather than turning the heating on, but kind of writ large.
Tiny
Yeah, well, I think at the end of the day, let's take the mystique out the datacenters. I mean, they have a big bank of batteries, they have a generator and they have a lot of air conditioning, I mean they are fundamentally like your house, except you can't open a window in a datacenter; you have to use aircon.
Zach
The energy crisis isn't only going to affect datacenters, but it's going to affect every single person working in that data centre, do you think that businesses are going to increase their employee's salary to help them cope with the cost of living?
Tiny
Well this is just a general sort of cost of living question which I probably won't be the best person to answer. But I mean, each individual data centre operator will have their own employment policies. It's quite a specialist skill, which they're looking for. So you can't just simply employ minimum wage here. So you're gonna have to start paying people more to keep them. But I think what we all also are seeing is a lot of move to cloud and in cloud, costs, the skills are very difficult to find. So you might find even more pressure on engineers who are skilled in the hyperscalers, to be able to afford these guys because you know, there's even more demand for them.
Zach
During the water crisis that we went through during July and August, there was a lot of scrutiny around water companies. I think one of them opened a probe into a data centre scrutinising how it was using water. Do you think that data centres could become scapegoats in the next year or so due to how much energy they use?
Tiny
Well, the question is really, the data centres are just enabling the digital change. And if you want to do Facebook, and tweeting, and all those other things, you're living that digital life, they can't stop that service, unless the consumers stop that service. As far as water consumption in the data centres themselves go. I know a lot of the DCs are moving away from potable water to grey water, so rainwater and groundwater that they will use in their facilities, rather than using the straightforward pipe mains water. Data centres represent around about 1% of the world's electricity consumption. It's only ever gonna get more and more. They can certainly come under the gunsights of people, but I think you know that there are more lower hanging fruit like crypto mining, which is incredibly intensive usage of, of datacenter and power. So I think crypto mining might get hit before anything else does.
Adam
And I think that's a valid point to pull out is that data centres power a huge amount of not just kind of consumer services, but also critical infrastructure. You know, there's so much that we rely on as a society that is all powered by digital infrastructure, you know, healthcare systems, transport systems, all the key systems, I mean, the the energy grids themselves, are in large part powered by data centre platforms and digital infrastructure. And without that a lot of society just kind of grinds to a halt. So there's a limit to how much you can put a moratorium on that kind of activity, I think.
Tiny
yeah, I keep on trying to scare my girls by saying, just imagine your electricity supply doesn't work in the morning, you won't be able to tweet because obviously you won't be able to go online. Because there will be no mobile phone signal, or wireless when we go down, you won't be able to flush the toilet more than once because the pumps are are all consuming electricity. Your fridge is switched off, I mean, these these are apocalyptic sort of scenario. So you want to minimise that as much as possible. But yeah, we are incredibly reliant on an energy and to power our our lives. And I think that we have to be very realistic about energy security going forward. I've been talking to customers this week, more and more about data centre consolidation, seeing where the opportunities are going to be to the quick wins. The reality is a DC migration is a six to nine month process. So even if you start today, you're not necessarily going to see a way around the pain in the short term.
Adam
Well on that slightly bleak note, I'm afraid that is all we've got time for on this week's episode. But thanks once again to Gartner's Senior Director of Research Tiny Haynes for joining us.
Tiny
Thank you very much indeed for having me.
Zach
You can find links to all of the topics we spoken about today in the show notes and even more on our website at itpro.co.uk.
Adam
You can also follow us on social media, as well as subscribe to our daily newsletter.
Zach
Don't forget to subscribe to the IT Pro Podcast wherever you find podcasts. And if you're enjoying the show, leave us a rating and a review.
Adam
We'll be back next week with more insight from the world of IT, but until then, goodbye.
Zach
Bye.
Get the ITPro. daily newsletter
Receive our latest news, industry updates, featured resources and more. Sign up today to receive our FREE report on AI cyber crime & security - newly updated for 2023.
ITPro is a global business technology website providing the latest news, analysis, and business insight for IT decision-makers. Whether it's cyber security, cloud computing, IT infrastructure, or business strategy, we aim to equip leaders with the data they need to make informed IT investments.
For regular updates delivered to your inbox and social feeds, be sure to sign up to our daily newsletter and follow on us LinkedIn and Twitter.