Qualcomm targets Intel's servers business with new chip
Centriq 2400 goes head-to-head with Intel's Xeon server chips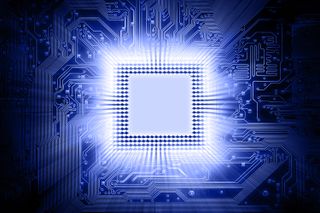 Qualcomm has released more details about its Centriq 2400, which will go head-to-head with Intel's Xeon server chips in terms of speed and performance.
The 10nm chips have been developed using the company's new production process, dramatically reducing the physical size, but still packing in 48 cores - double that of Intel's chips. Qualcomm's first 10nm chips are expected to launch for mobile devices in the first half of next year, with its server counterparts released later in the year.
Anand Chandrasekher, senior vice president and GM of Qualcomm's Datacenter Technologies explained the chips address several trends in the enterprise industry.
"The way servers are purchased and consumed is changing dramatically as a result of cloud computing, and this is reflected in the momentum of cloud adoption that continues to gain versus traditional enterprise IT," he explained.
This migration has created a shift in the supply chain, with mega datacentres sourcing their server platforms from ODMs. Because most technologies used in datacentres are based upon open source technologies, Qualcomm can work directly with the developers to offer the hardware they require to make their servers perform as best as they possibly can.
"The pace of manufacturing process evolution is now being driven by mobile as opposed to PCs," Chandrasekher added. "Over the past few years, as PC volumes have declined, mobile volumes have exploded past 1.4B units per year providing a powerful incentive for foundries to drive faster to next-generation process nodes."
Although Intel is usually the first past the post to develop such innovative server technologies because it produces the chips itself (starting off creating chips for PCs, which are then converted to those for servers) Qualcomm can develop chips specifically for servers thanks to its relationships with manufacturers.
This means that although Intel's 10nm chips will launch in the first half of 2017, they will be for PCs, with their server equivalents landing in 2018.
A daily dose of IT news, reviews, features and insights, straight to your inbox!
A daily dose of IT news, reviews, features and insights, straight to your inbox!
Thank you for signing up to ITPro. You will receive a verification email shortly.
There was a problem. Please refresh the page and try again.