Qualcomm showcases 10in 4K tablet
Firm talks up benefits of its Snapdragon 805 processor and the HEVC (H.265) decode.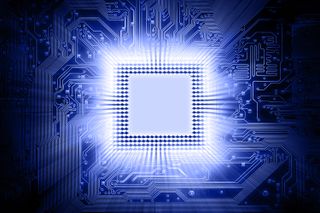 Qualcomm has developed a 10in reference tablet that uses a 4K (3840 x 2160) display, as the chipmaker pushes for the adoption of the Ultra HD standard.
The tablet is powered by Qualcomm's latest Snapdragon 805 processor - a quad-core chip with a clock speed of up to 2.5GHz. This is the first commericial chip to support the HEVC (H.265) decode, which provides 40 per cent better compression than the commonly used H.264 standard. Currently, 30 mins of 4K video will take up 110GB of storage. However, when compressed with H.265, Qualcomm is expecting a 2 hour movie to be 40GB in size.
In terms of battery life, Qualcomm claims using a 4K display will be on-par with full HD screens as the size of the backlit on devices will remain the same.
The latest Adreno 420 GPU is 15 per cent more power efficient than the pervious generation, which should also help minimise power consumption.
The reference device will not be commercialised by Qualcomm, but the chipmaker believes OEM partners could bring devices to market towards the end of 2014. There are other barriers to adoption, though, which need to be addressed including the lack of 4K content, the need for end users to have a high-speed internet connection for streaming and the requirement for more on-board storage on devices. But it is possible these could be resolved before the end of 2014.
Panasonic launched a 20in 4K tablet at CES, but Qualcomm's reference device marks the first time the technology has been shown off in a more portable form factor.
Check out the demo of the Qualcomm 4K tablet below:
A daily dose of IT news, reviews, features and insights, straight to your inbox!
Khidr Suleman is the Technical Editor at IT Pro, a role he has fulfilled since March 2012. He is responsible for the reviews section on the site - so get in touch if you have a product you think might be of interest to the business world. He also covers the hardware and operating systems beats. Prior to joining IT Pro, Khidr worked as a reporter at Incisive Media. He studied law at the University of Reading and completed a Postgraduate Diploma in Magazine Journalism and Online Writing at PMA Training.
A daily dose of IT news, reviews, features and insights, straight to your inbox!
Thank you for signing up to ITPro. You will receive a verification email shortly.
There was a problem. Please refresh the page and try again.