Microsoft patches Teams against image-based account takeover flaw
Malicious gifs that produced cookies could be used to access an entire organisation's accounts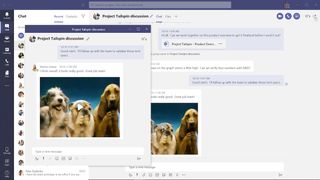 Microsoft has moved fast to patch a vulnerability that let hackers take over Teams accounts simply by sharing malicious gifs.
The issue could have potentially affected every user that uses Microsoft Teams on desktop or in a web browser, according to CyberArk, which worked with the tech giant's security research centre.
The hack is essentially a subdomain takeover whereby attackers use a gif to scrape user data and gain control of an entire organisations' Teams accounts as it's shared through the service.
This is an exploit of the way Teams passes authentication access tokens to image resources. Every time a user opens the app a temporary token is created in the form of a JESON Web Token (JWT). These allow other users to see images shared with them or by them, as they are stored on a Microsoft server. A user only has to see the image for the attack to start spreading automatically.
This creates two cookies that allow hackers to make calls through the Teams APIs as well as have complete control over an account. This includes being able to read and send messages, create groups, add or remove participants and change permissions.
The only hurdle to the attack is that "authtoken" can only be used with a subdomain.
"If an attacker can somehow force a user to visit the sub-domains that have been taken over, the victim's browser will send this cookie to the attacker's server, and the attacker (after receiving the authtoken) can create a skype token," CyberArk explained in a blog post. "After doing all of this, the attacker can steal the victim's Teams account data"
Microsoft has patched the issue after being alerted to the threat via its vulnerability disclosure program. The tech giant deleted misconfigured DNS records that allowed the attackers to gain control of the subdomains.
A daily dose of IT news, reviews, features and insights, straight to your inbox!
Bobby Hellard is IT Pro's reviews editor and has worked on Cloud Pro and Channel Pro since 2018.
In his time at IT Pro, Bobby has covered stories for all the major technology companies, such as Apple, Microsoft, Amazon and Facebook, and regularly attends industry-leading events such as AWS Re:Invent and Google Cloud Next.
Bobby mainly covers hardware reviews, but you will also recognise him as the face of many of our video reviews of laptops and smartphones.
He has been a journalist for ten years, originally covering sports, before moving into business technology with IT Pro. He has bylines in The Independent, Vice and The Business Briefing.
Contact him at bobby.hellard@futurenet.com or find him on Twitter: @bobbyhellard
A daily dose of IT news, reviews, features and insights, straight to your inbox!
Thank you for signing up to ITPro. You will receive a verification email shortly.
There was a problem. Please refresh the page and try again.