Samsung reveals 'largest ever' SSD at 15TB
The PM1633a's storage space is equivalent to 300 Blu-ray discs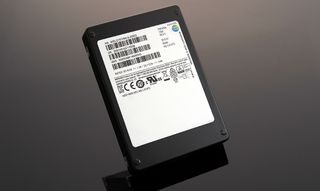 Samsung has introduced a 15TB solid-state drive (SSD), which it claims is the largest drive of its kind in the world today.
The PM1633a drive is intended for enterprise storage systems, and utilises a 12GB/s serial attached SCSI (SAS) interface.
Its 15.36TB of space is equivalent to approximately 300 Blu-ray discs or 4,000 standard layer DVDs, while Samsung said its 2.5-inch form factor means enterprise storage managers can fit twice as many of the drives in a standard 19-inch, 2U rack, compared to an equivalent 3.5-inch storage drive.
"To satisfy an increasing market need for ultra-high-capacity SAS SSDs from leading enterprise storage system manufacturers, we are directing our best efforts toward meeting our customers' SSD requests," said Jung-Bae Lee, senior VP of the memory product planning and application engineering team at Samsung Electronics.
Samsung also claimed the drive can perform random read and write speeds of up to 200,000 and 32,000 IOPS respectively. On sequential read and write speeds it can apparently reach up to 1,200MB/s.
The South Korean manufacturer had first unveiled the PM1633a at the Flash Memory Summit in August 2015, saying that the drive is a product of Samsung's 3D V-NAND chip technology, and therefore should be more reliable than its predecessors.
Samsung has not yet unveiled the price or release date of the new drive, which will go on sale alongside smaller storage drives later this year, including 7.68TB, 3.84TB, 1.92TB, 960GB and a 480GB drive.
A daily dose of IT news, reviews, features and insights, straight to your inbox!
A daily dose of IT news, reviews, features and insights, straight to your inbox!
Thank you for signing up to ITPro. You will receive a verification email shortly.
There was a problem. Please refresh the page and try again.