Bank of England investigates launch of Bitcoin-like digital currency
Report outlines benefits of central banks adopting digital currencies to speed up payments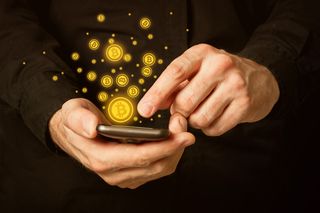 The Bank of England is exploring the potential for circulating Bitcoin-esque digital currency.
Central banks could copy the technology behind digital currencies to reinvent the payments system, according to the Bank of England's One Bank Research Agenda report.
The publication looks at possible ways monetary policy could interact with other issues, including climate change, and raises the topic of digital currencies to investigate how such innovation could transform money transfers.
It read: "Digital currencies, potentially combined with mobile technology, may reshape the mechanisms for making secure payments, allowing transactions to be made directly between participants.
"While existing private digital currencies have economic flaws which make them volatile, the distributed ledger technology that their payment systems rely on may have considerable promise."
The central bank was interested in using digital currencies' distributed ledger system, which speeds up transactions and verifies them securely without the need for a third-party.
The central bank said officially-endorsed digital currencies could be used to undertake interbank settlements, and be made available to a wider range of banks and financial institutions.
However, it warned that a digital currency would make a central bank's money more widely available, which could have a negative impact on deposits stored with commercial banks.
At the same time, the Bank of England warned it would have to adjust the distributed ledger system to give it more control over digital transactions.
"Further research would also be required to devise a system which could utilise distributed ledger technology without compromising a central bank's ability to control its currency and secure the system against systemic attack," the report read.
Digital currencies raise regulatory issues as well as technological challenges, it added, starting with the need to create a secure protocol to transfer money over the internet.
Companies offering currency exchanges and digital wallets would operate on top of this platform, and would require further regulation.
Chancellor George Osborne welcomed the research on Twitter, suggesting fintech companies could flourish using an approved digital currency.
The news comes after Dell became the latest company to accept Bitcoin payments from UK SMBs.
A daily dose of IT news, reviews, features and insights, straight to your inbox!
A daily dose of IT news, reviews, features and insights, straight to your inbox!
Thank you for signing up to ITPro. You will receive a verification email shortly.
There was a problem. Please refresh the page and try again.