Tech leaders funnel $1bn into green energy innovation
Bill Gates and Jeff Bezos will invest in projects tackling climate change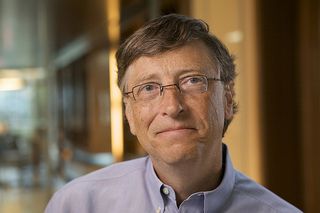 A consortium of tech magnates led by Bill Gates is investing $1 billion (800 million) in a venture capital fund backing green energy sources, in order to stave off global warming.
Breakthrough Energy Ventures is also supported by Sir Richard Branson, Amazon founder Jeff Bezos and Alibaba boss Jack Ma, and will focus on long-term investments rather than short-term profits. The group's capital will reportedly be invested over the next 20 years.
The group will look at four criteria when examining potential investments: whether they can attract additional sources of capital, whether they have an existing scientific proof-of-concept, whether they need the firm's expertise, and whether they have the capacity to reduce emissions by at least half a gigaton.
The fund's investors have a collected wealth of 135 billion, and many have previously invested in, or donated to, environmentally-friendly projects. Gates in particular has been famed for his charitable efforts since ceding control of Microsoft in 2000.
"Our goal is to build companies that will help deliver the next generation of reliable, affordable, and emissions-free energy to the world," he said. "I am honored to work along with these investors to build on the powerful foundation of public investment in basic research."
The new initiative marks the first official act of the Breakthrough Energy Coalition, a group of 28 environmentally-conscious investors formed at last year's Paris climate talks.
Notably missing from the group is Tesla CEO Elon Musk. In addition to the electric car company, Musk also heads up renewable energy company Solar City and is one of the most prominent and active environmentalists in Silicon Valley.\
Picture courtesy of The Henry Ford/Michelle Andonian
A daily dose of IT news, reviews, features and insights, straight to your inbox!
Adam Shepherd has been a technology journalist since 2015, covering everything from cloud storage and security, to smartphones and servers. Over the course of his career, he's seen the spread of 5G, the growing ubiquity of wireless devices, and the start of the connected revolution. He's also been to more trade shows and technology conferences than he cares to count.
As reviews and community editor, he's responsible for leading IT Pro's wide-ranging product coverage, and is an avid follower of the latest hardware innovations. He's never happier than when tinkering with complex network configurations, or exploring a new Linux distro.
In addition to managing the IT Pro Panel and working with the community of IT leaders that make it up, he co-hosts the IT Pro Podcast, where you can hear him ranting about his love of strange gadgets, his disdain for Windows Mobile, and everything in between.
You can find Adam tweeting about enterprise technology (or more often bad jokes) @AdamShepherUK, or you can email him at adam.shepherd@futurenet.com.
A daily dose of IT news, reviews, features and insights, straight to your inbox!
Thank you for signing up to ITPro. You will receive a verification email shortly.
There was a problem. Please refresh the page and try again.