Uber's self-driving trial hits red light in San Francisco
Local authorities yank registrations for 16 autonomous cars Uber was testing in the city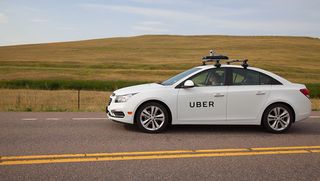 Uber's self-driving car experiment has ended in San Francisco, after transport regulators yanked the registration of the Volvos being used in the unauthorised trials.
Earlier this week, Uber started testing self-driving cars on the streets of the Californian city, but refused to get the necessary permit to trial autonomous vehicles on public streets. The permit itself reportedly costs only $150, but Uber said its cars had human drivers behind the wheel, so weren't fully self-driving and therefore didn't require a permit. Other self-driving car makers, including Google-parent Alphabet and Elon Musk's Tesla Motors, have been granted such permits.
Local authorities disagreed, with the Department of Motor Vehicles warning Uber it faced legal action if it didn't apply for the permit or take the 16 cars off the road. The DMV has now revoked the registration of the cars.
"The registrations were improperly issued for these vehicles because they were not properly marked as test vehicles," the DMV said in a statement sent to the Wall Street Journal. "The department invited Uber to seek a permit so their vehicles can operate legally in California."
Uber told The Guardian it was looking to trial the cars elsewhere, suggesting it would not apply for a permit. "We're now looking at where we can redeploy these cars but remain 100% committed to California and will be redoubling our efforts to develop workable statewide rules."
Uber has been testing its driverless cars in Pittsburgh for months.
Other concerns have been raised with the Uber autonomous cars, with San Franciscans uploading videos of the cars running red lights and a cycling group complaining the cars can't handle bike lanes.
20/12/2016: Cyclists warn against Uber's self-driving car trial
Uber has admitted its self-driving cars don't understand San Francisco's bike lanes, days after the taxi-booking firm started trialling its autonomous vehicles in the Californian city.
Uber started trialling its self-driving cars last week, though it didn't have the proper permits to do so, according to state officials. The company has refused to apply for a license, saying the cars remain in the control of humans behind the wheel, pinning the blame for running red lights on those drivers.
Now, a local cycling group has warned that the cars don't turn from the correct position to cross bike lanes. That's according to Brian Wiedenmeier, executive director at San Francisco Bicycle Coalition, who rode in an Uber autonomous car at a demonstration day prior to their public trials. "I can tell you firsthand: Those vehicles are not yet ready for our streets."
Wiedenmeier said he didn't know the cars would be hitting public roads within days of the demonstration, but said he did warn Uber "about the shortcomings of the technology".
"In the ride I took through the streets of SoMa on Monday, the autonomous vehicle in 'self-driving' mode as well as the one in front of it took an unsafe right-hook-style turn through a bike lane," he said in a blog post. "Twice."
A right-hook-style turn sees the vehicle turn across a bike lane, potentially colliding with cyclists, rather than merging into the bike lane and turning from closer to the kerb. Such turns are banned in San Francisco, with Wiedenmeier saying they are one of the main causes of collisions between cars and cyclists.
"I told staff from Uber's policy and engineering teams about the safety hazards of their autonomous vehicle technology," he said. "They told me they would work on it. Then, two days later, they unleashed that technology on San Francisco's streets."
Wiedenmeier said Uber told him that the human "safety drivers" have been told to take the wheel when turning right over a bike lane and that engineers are working on the problem. "In the meantime, Uber is continuing to operate autonomous vehicles for passenger service in San Francisco," he said.
He said: "There's no other way to put it: Launching autonomous vehicle technology before it's regulated and safe for our streets is unacceptable."
Uber told the Guardian that its engineers were working on the issue.
16/12/2016: California bans Uber's self-driving cars hours after they hit the road
California regulators have banned Uber's self-driving car taxi service introduced this morning in San Francisco.
The California Department of Motor Vehicles (DMV) told Uber it might face legal action if it does not get the permit required for putting autonomous vehicles on public roads.
In a letter to Uber, DMV chief counsel, Brian Soublet, said: "If Uber does not confirm immediately that it will stop its launch and seek a testing permit, DMV will initiate legal action", reports the Independent.
The service introduced by Uber allowed people living in San Francisco to test its vehicles with integrated autonomous driving tools, allowing the company to test their performance in a real-life situation.
According to The Independent, Uber knew about this requirement but said its cars do not meet the definition of 'autonomous vehicle', as they require a human driver behind the wheel to intervene when needed.
To receive a permit, companies must pay a 120.87 ($150) fee and provide proof of insurance.
So far, the California DMV allowed 20 companies to test their self-driving vehicles on public roads, after applying for the relevant permit and receiving approval from the state authorities.
The permit forces the company deploying autonomous vehicles to report all crashes and situations in which the driver is forced to take control, and all this information is disclosed to the public.
IT Pro contacted Uber for comment but had not received an answer at the time of writing.
15/12/2016: You can now take an Uber self-driving car in San Francisco
Uber has launched its self-driving car taxi service in San Francisco, just a few months after announcing the service in its hometown of Pittsburgh.
Anyone ordering a taxi using the UberX service in the city could find one of its new XC90 autonomous cars pulling up rather than a driver-controlled car in its latest trial. Before accepting the trip via the app, the customer will be able to choose whether they want to use the autonomous car or would rather use a standard vehicle.
However, passengers won't be completely on their own with the self-driving car - an Uber engineer will also be present to take over if and when needed.
The service will use Volvo's XC90 sports utility vehicle, which is kitted out with Lidar to detect hazards and seven cameras to help navigate. It was created alongside Uber at the taxi firm's Advanced Technologies Centre in Pittsburgh.
"The promise of self-driving is core to our mission of reliable transportation, everywhere for everyone," said Anthony Levandowski, Uber's vice president of self-driving technology.
Up to three passengers can fit into the Volvo XC90 cars and those sitting in the back will be able to use a touchscreen to view their route as they travel through the city. The screens will also display 3D footage obtained from the cameras dotted around the car's exterior so they can see what's happening around them.
Uber explained it chose to test the cars in San Francisco because it presents different challenges compared to Pittsburgh.
"We drove in the rain and other kinds of weather, and we've added lane-changing capabilities since we started in September," Levandowski said.
"Now we want to see how we operate in this new environment, especially with the giant hills that San Francisco has to offer."
Get the ITPro. daily newsletter
Receive our latest news, industry updates, featured resources and more. Sign up today to receive our FREE report on AI cyber crime & security - newly updated for 2023.