Tesco IT issue delays thousands of online orders
The outage affected orders originating from 150 stores countrywide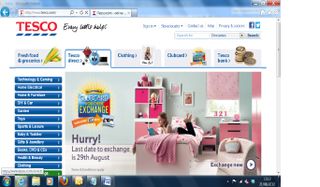 A nationwide IT outage at Tesco resulted in customers not receiving their grocery orders yesterday, with the company offering affected customers a 10 voucher. The problem was reportedly related to the picking of products from shelves, although no more details have been provided by the supermarket.
The issues apparently affected deliveries originating from 150 stores around the country with some customers saying the supermarket had left them out of the loop.
Although IT Pro understands less than 10% of customer grocery home shopping orders have been affected, disgruntled customers took to social media to complain about the problems and lack of customer service.
Some people awaiting their deliveries said they were unable to contact Tesco because their phone lines were busy and live chat wasn't working.
While other customers said that although Tesco was offering customers a 10 voucher as compensation, only a refund would be satisfactory so they could go and shop elsewhere.
"We're currently experiencing an IT issue which is affecting some Grocery Home Shopping orders," a Tesco spokesperson said. "We're working hard to fix this problem and apologise to customers for any inconvenience this may cause."
Tesco is apparently trialling a one-hour delivery service that will see groceries delivered within an hour of the order being received. At the end of May, the supermarket trialed the Tesco Now service in London using Starship Technologies' six-wheeled robots. They wil be able to deliver up to 20 items to addresses.
"We are always looking at new ways to improve the shopping experience for our customers," a Tesco spokesperson told the Daily Mail. "We carried out a one-off trial as part of out Tesco Now initiative in partnership with a technology company. We learnt a great deal from this trial and we'll be reviewing feedback before deciding our next steps."
A daily dose of IT news, reviews, features and insights, straight to your inbox!
A daily dose of IT news, reviews, features and insights, straight to your inbox!
Thank you for signing up to ITPro. You will receive a verification email shortly.
There was a problem. Please refresh the page and try again.