Advertisement Feature
Parenting in the digital age
Technology is now a major factor in enabling parental involvement in education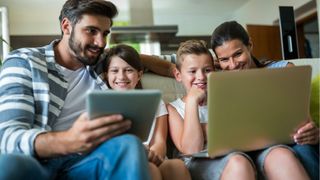 Numerous studies have shown that parental involvement in a child's education can make a huge difference between mediocrity and excellence. Parents providing educational activities over the summer months give their kids a boost, so they return to school in the autumn more prepared to learn than children who were left to their own devices (quite literally, in many cases).
The greater the involvement level of parents with their children's school activities in general, from homework to extra-curricular events, the higher the children's level of achievement. Research by the University of Exeter argues that this is more important than the overall quality of the school attended. Increasingly, technology plays a key role in this involvement.
One school that's doing it's part to embrace digital change is the Waid Academy in Fife, Scotland. Waid enrolls just under 700 pupils and sits at the heart of a close-knit community. Sabrina Ferguson, depute head teacher at Waid, joined the school in 2016 with the remit to transform it into a technology-enhanced environment. This involved integrating with Glow, Scotland's digital learning platform, Microsoft Office, and developing training on interactive displays provided by SMART Technologies.
Ferguson's three-pronged approach not only consisted of educating teachers and pupils, but parents, too. "[We ran] a session for parents on what we're doing within the school, how we're enhancing digital literacy and how we're developing different skills for digital innovation," Ferguson explained. "And also we wanted to offer them an opportunity to speak to the police about COP (Child Online Protection), and how to keep children safe online, as a result of all of this new advanced technology here, but also the fact that the pupils are much more engaged with technology at home and within school."
Thanks to technology, what goes on in the classroom no longer stays entirely in the classroom. With cloud-based online systems, parents can check what homework their offspring have been set, keep tabs on their grades and projected performance, and even gain access to assignments should the child need help completing them.
Moreover, parents no longer need to worry about filing away their child's paper progress reports or notices from the school. Again, online systems can provide a historical record of these that is just a webpage URL and login away. But online systems also allow teachers to provide more regular updates on progress, not just the term-end (or even annual) reports that used to be the norm. A study from What Works Clearinghouse shows that more frequent feedback, in the form of daily report cards, has a positive impact on the behaviour of students with ADHD.
Of course, technology isn't a panacea on its own; it needs to be allied with good teaching practice. According to a 2015 OECD report, technology will merely improve results a little without better teaching practice, whereas best practice can achieve good results without technology. In fact, from the same study, some countries with low educational technology adoption scored the highest on literacy and numeracy. However, there are clear indications that good practice and appropriate technology together are more likely to provide the best results of all, making it essential that the two are combined.
A key component of technological assistance in the classroom itself is the display and presentation technology used by the teacher. Many teaching spaces now include a projector or wall-mounted display. But without the accompanying collaboration solution, this still promotes the traditional, non-interactive mode of presentation. In contrast, according to the OECD, most teachers now see their roles as facilitating students with their own learning journey, rather than imposing rote digestion of information.
Collaboration and interaction are key components for teaching kit that can truly amplify this facilitation. The aforementioned SMART Technologies, for example, provide interactive displays and collaborative software for education. The flagship 7000 series screen combines a digital whiteboard with pre-planned interactive lessons and web browsing, without the need for an attached computer, although it can accept multiple simultaneous inputs and switch between them easily via a preview screen. The touchscreen facility and SMART ink let multiple pen users draw and write on the screen as if it were a conventional whiteboard.
Of course, a pupil's relationship with technology does not start and end in school. As they move into employment and become parents themselves, they will be confronted by an evolving, tech-driven world. At the recent Bett education technology show, Micro:bit Foundation's chief of education and strategy, Gareth James, stressed the importance of equipping young people for this change. "Increasingly we are seeing more and more of the world relying on digital tools. People using digital tools in the workplace, people creating digital products," he said. "Therefore as we look forward into the 21st century, digital skills are vitally important to our young people to take advantage of the opportunities coming their way."
According to Ferguson, Waid's ambition has been to promote a wider understanding of technology's capabilities in education both inside and out of the classroom. "We're listening to pupils, and parents and teachers about what they need to help them become a bit more digitally literate," she said. "But also within an educational context, more specifically about supporting digital learning and digital literacy."
All this can be a lot for parents to get to grips with, particularly if their only memory of the classroom is blackboards and paper notebooks. But there's no question that technology can have a positive effect on how much children get out of education. What goes on at schools like the Waid Academy is no longer hidden in mystery. From keeping tabs on attendance, academic performance, and what your money is being spent on, to helping your kids with their homework, digital technology is making education much more transparent and easy for parents to be involved in.
SMART Technologies is transforming education discover more here.
Get the ITPro. daily newsletter
Receive our latest news, industry updates, featured resources and more. Sign up today to receive our FREE report on AI cyber crime & security - newly updated for 2023.
ITPro is a global business technology website providing the latest news, analysis, and business insight for IT decision-makers. Whether it's cyber security, cloud computing, IT infrastructure, or business strategy, we aim to equip leaders with the data they need to make informed IT investments.
For regular updates delivered to your inbox and social feeds, be sure to sign up to our daily newsletter and follow on us LinkedIn and Twitter.