Visa will allow customers to settle payments using cryptocurrency
The option to pay in USD Coin will be made available thanks to Visa's pilot programme with cryptocurrency platform Crypto.com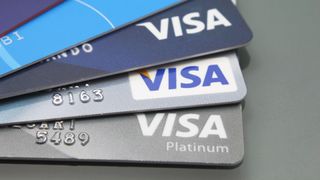 (Image credit: Shutterstock)
Visa has announced that it will allow customers to settle transactions on its payment network in USD Coin – a stablecoin cryptocurrency linked to the US dollar.
The announcement follows similar decisions made by financial service providers, including Mastercard and PayPal, which have recently moved to embrace digital currencies as a valid payment method.
The option to pay in USD Coin will be made available through Visa's pilot programme with cryptocurrency platform Crypto.com, and is also planning to extend the programme to other partners later this year, according to Reuters.
Visa's head of crypto Cuy Sheffield said that its choice to welcome USD Coin to its list of available currencies was influenced by the growing demand for digital currencies.
"We see increasing demand from consumers across the world to be able to access, hold and use digital currencies and we're seeing demand from our clients to be able to build products that provide that access for consumers," he said, speaking to Reuters.
If a Visa customer wants to pay for a service using USD Coin, the amount won't have to be converted into traditional currency, simplifying the process and reducing costs for businesses, the company confirmed.
Last month, Visa partnered with online banking service First Boulevard in order to pilot "crypto APIs that enable a bank to offer cryptocurrency custody and trading to their customers". Commenting on the news, Visa chief product officer Jack Forestell said that his company is to become "the bridge between digital currencies and [its] global network of 70 million merchants".
"With this pilot program, we want to extend the value of Visa to our neobank and financial institution clients by providing an easy bridge to crypto assets and blockchain networks," he added.
However, despite its venture into digital currencies, Visa hasn't announced any plans to welcome the use of Bitcoin.
Similarly, despite Mastercard's recent decision to support select cryptocurrencies, early indications suggest Bitcoin won't make the cut. Mastercard also outlined some requirements for the currencies, including the need to prove that they are secure, compliant with industry standards and regulations, as well as stable enough to be used as a "vehicle for spending".
A daily dose of IT news, reviews, features and insights, straight to your inbox!
A daily dose of IT news, reviews, features and insights, straight to your inbox!
Thank you for signing up to ITPro. You will receive a verification email shortly.
There was a problem. Please refresh the page and try again.