PayPal users can now checkout using Bitcoin
Customers can use Checkout with Crypto to buy goods using Bitcoin, Litecoin, Ethereum and Bitcoin Cash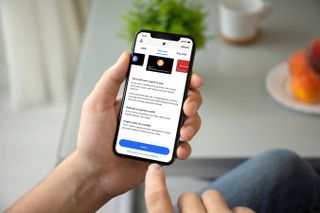 (Image credit: PayPal)
PayPal has launched Checkout with Crypto, a new feature that allows customers with cryptocurrency to check out using this option on the company's platform.
The cryptocurrencies supported by PayPal are Bitcoin, Litecoin, Ethereum and Bitcoin Cash, and only one of these can be used for each purchase.
This feature will now automatically appear in the PayPal wallet at checkout for US customers with a sufficient cryptocurrency balance to cover an eligible purchase, and there will be no transaction fees.
Once the purchase is confirmed, the cryptocurrency is converted to fiat money, a government-issued currency that is not backed by a commodity but by the government that issued it, and then the transaction is completed.
"As the use of digital payments and digital currencies accelerates, the introduction of Checkout with Crypto continues our focus on driving mainstream adoption of cryptocurrencies, while continuing to offer PayPal customers choice and flexibility in the ways they can pay using the PayPal wallet," said Dan Schulman, president and CEO at PayPal.
"Enabling cryptocurrencies to make purchases at businesses around the world is the next chapter in driving the ubiquity and mass acceptance of digital currencies."
Furthermore, this feature allows customers to checkout with cryptocurrency without any additional integrations or fees required by the business. Customers can sell cryptocurrency through PayPal to then pay a business for select online purchases. The transactions are settled in USD and converted to the applicable currency at PayPal conversion rates.
When asked when this feature would be rolled out to the UK, a spokesperson for PayPal said: "Currently this feature is only available to PayPal customers in the US We have nothing further to share regarding market expansion at this time."
In October, PayPal launched a service that allowed customers to trade and exchange cryptocurrencies on their platform. The service is in partnership with the Paxos Trust Company, a regulated provider of cryptocurrency services. Furthermore, PayPal has been awarded a conditional "Bitlicense" by the New York State Department of Financial Services, which is needed for businesses looking to trade in Bitcoin.
A daily dose of IT news, reviews, features and insights, straight to your inbox!
Zach Marzouk is a staff writer for IT Pro, Cloud Pro, and Channel Pro where he writes news articles and in-depth feature pieces primarily focused on Asia Pacific and the US. Aside from covering topics like security, privacy, worker rights, and startups, he also contributes to the IT Pro podcast and IT Pro 20/20.
After studying an undergraduate degree in Arabic and Spanish at the University of Leeds, Zach completed a journalism internship at The Argentina Independent in Buenos Aires where he wrote about the country's history, politics, and technology.
He then joined IT Pro in 2017 where he was introduced to the world of B2B technology as a junior staff writer, before he returned to Argentina in 2018, working in communications and as a copywriter. In 2021, he made his way back to IT Pro as a staff writer during the pandemic.
Contact him at zach.marzouk@futurenet.com or find Zach's thoughts (and more) on Twitter @ZachMarzouk
A daily dose of IT news, reviews, features and insights, straight to your inbox!
Thank you for signing up to ITPro. You will receive a verification email shortly.
There was a problem. Please refresh the page and try again.