Google Chrome finally axes Flash - for good
Chrome to start blocking 90 per cent of Flash content by default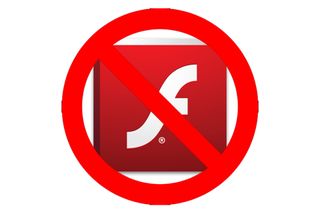 Google Chrome will begin blocking 90 per cent of the web's Flash content from next month.
The announcement marks the latest step in Google's move away from Flash and towards the much more stable and versatile HTML5 standard.
"You'll see an improvement in responsiveness and efficiency for many sites," promised Anthony LaForge, Google's head of Flash in Chrome.
"This is similar to a change we made last September, when some Flash content became click-to-play with Chrome 42," LaForge wrote in a blog post announcing the change. "This had an immediate, positive impact for our users by improving page load times and saving battery power."
Chrome build 53, coming in September, will begin blocking Flash by default, and in December, build 55 will block it altogether.
The only exception will be for sites that only support Flash, in which case the user will have to consent to running Flash when the page first loads.
Flash has fallen significantly out of favour in recent years. While it used to power much of the rich content seen in the early days of Web 2.0, it has now been superseded by more capable technologies.
It has also been repeatedly proven to be insecure, and security experts have been calling for its retirement for the past several years. Given that most of the web now runs on HTML5, they argue, having Flash enabled is more of a security risk than a benefit.
Google itself has been rapidly phasing Flash out of its services. Last September, it started blocking Flash ads on Chrome, and in June it stopped accepting Flash-based advertising across the board. Rival web companies such as Mozilla have also followed suit, blocking the format on its Firefox browser.
Adobe rebranded its animation software from Adobe Flash Professional to Adobe Animate CC recently, saying it did so to signify that two-thirds of all content created using the software is in the HTML5 format, rather than Flash.
Google is not hanging Adobe completely out to dry, however. "Flash helped make the Web a rich, dynamic experience, and shaped the modern set of web standards," LaForge wrote. "We continue to work closely with Adobe to ensure that your web experience is as fast and secure as possible and to help the Web transition to HTML5."
A daily dose of IT news, reviews, features and insights, straight to your inbox!
Adam Shepherd has been a technology journalist since 2015, covering everything from cloud storage and security, to smartphones and servers. Over the course of his career, he's seen the spread of 5G, the growing ubiquity of wireless devices, and the start of the connected revolution. He's also been to more trade shows and technology conferences than he cares to count.
As reviews and community editor, he's responsible for leading IT Pro's wide-ranging product coverage, and is an avid follower of the latest hardware innovations. He's never happier than when tinkering with complex network configurations, or exploring a new Linux distro.
In addition to managing the IT Pro Panel and working with the community of IT leaders that make it up, he co-hosts the IT Pro Podcast, where you can hear him ranting about his love of strange gadgets, his disdain for Windows Mobile, and everything in between.
You can find Adam tweeting about enterprise technology (or more often bad jokes) @AdamShepherUK, or you can email him at adam.shepherd@futurenet.com.
A daily dose of IT news, reviews, features and insights, straight to your inbox!
Thank you for signing up to ITPro. You will receive a verification email shortly.
There was a problem. Please refresh the page and try again.