Why Web 3.0's 'data democratisation' is a boon for business
GDPR wants to hand more power to data subjects, and Web 3.0 is gearing up to capitalise on that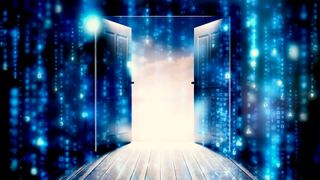 One of the practical consequences of the introduction of GDPR (General Data Protection Regulation) earlier this year has been a new level of personal data awareness, which consumers are using to understand how they are exchanging information for the goods or services they buy.
Data, and how it's collected and used, has suddenly come into sharp focus, with many using the opportunity of consent emails to remove themselves from the various databases that they may have purposefully or accidentally signed up to over the years.
This was a dramatic change for those online businesses that relied on data collection to inform the development of services, or used data as part of product delivery. Users now have far greater control over how their data is used, what many consider to be the first steps towards 'data democratisation'.
Yet, this concept is at the heart of the shift towards Web 3.0, representing another opportunity for users to wrestle control of their data, and yet another fundamental shift in the relationship between business and customer.
Democratisation of data
Web 3.0, or the Semantic Web, moves away from the centralised data archives we have today, in favour of a more open use of data that embraces ideas most commonly associated with blockchain decentralised control and greater user visibility. With Web 3.0, the current gatekeepers of personal data are in effect removed, changing the terms of data ownership by making it more democratic.
Bernard Marr, futurist and author of 'Big Data in Practice' recently explained that 'data democratisation' means "everybody has access to data and there are no gatekeepers that create a bottleneck at the gateway to the data," adding that "the goal is to have anybody use data at any time to make decisions with no barriers to access or understanding."
The exchange of data for goods and services that has formed the bedrock of today's digital economy could, therefore, be shaken if data democratisation is adopted on a wide scale. Whether the data behemoths would allow this, as the data they collect is a vital component of their business models, remains to be seen.
Questions about information transparency have been asked since the inception of the Internet. However, as digital services have become ingrained into every facet of our working and private lives, transparency is now more relevant especially to businesses that see data as their most precious and essential commodity.
The ongoing battle for transparency
Speaking to IT Pro, Anshuman Singh, head of digital Europe for Mindtree a global technology consulting and services company says: "With mass amounts of information available on the internet, we are now having a societal push that is pressuring those who utilise the Web to do so transparently.
"People are pushing for transparent and authentic information from those who choose to post on the Web. This, in turn, puts pressure on businesses, and individuals, to ensure that the data they share is legitimate."
Governments and businesses have for a decade been pulling in different directions to try to understand how the privacy and rights of individuals and the needs of businesses can be integrated together. So far, this has failed, especially when data-gathering and usage are considered.
The recent debacle with Facebook and Cambridge Analytica is a good example. Facebook's policies were found to have been in breach of data protection laws, resulting in a 500,000 fine from the Information Commissioner's Office which Facebook has since appealed.
However, Facebook unlikely to change its general policy of data collection and manipulation in the future, at least beyond ensuring basic compliance. It may be less blatant, but we won't see any curtailment in the short-term at least. The tug of war continues.
Could the principles of open data offer a solution to issues like this? Certainly, more 'openness' would be welcomed by consumers and their governments, but perhaps less-so by companies and organisations that rely on the collection of data to support their profitable businesses.
"The Semantic Web is going to be successful once data standards and formats are opened up so that any standardised machines and agents can read, process, and update such data, as needed," said Neeraj Murarka, CTO and co-founder of Bluzelle that is building decentralised data systems.
He argues that this "encourages widespread competition so that even smaller companies are able to participate in and compete for providing services built around the Semantic Web. The public is no longer stuck with defacto providers for common services like email, travel reservations, social networks, etc., but can instead choose from a plethora of services that came about from the Semantic Web."
Reaping the Web 3.0 rewards
If the Web and the data it contains are to become more democratised, the way businesses view their relationships with customers will naturally need to change. However, that's not to say there will be a lack of opportunities for business.
Research from the Open Data Institute revealed that there is a greater need for organisations need to explain to customers how personal data about them will be used and shared. One third (33%) of customer respondents said this would make them feel more comfortable sharing data.
"When data is working hard for consumers, it should help them make better decisions, save money, and present them with wider benefits and opportunities," says Dr Jeni Tennison, CEO of the Open Data Institute.
Some of tech's biggest players have already started to move towards open source as a result Microsoft grabbing Github and IBM absorbing Red Hat, to name the most recent.
"Web 3.0 is mostly driven by grassroots movement including open source communities," explains Gartner's Homan Farahmand. "Data giants will evaluate Web 3.0 technologies to understand relevant use cases and benefits.
It won't surprise me if data giants similarly embrace Web 3.0 technologies to expand or extend their services where it makes sense. It is just a matter of finding the sweet spot in the digital ecosystem."
One such sweet spot is likely to lie in the rollout of decentralised services, he explains, which would help establish an ecosystem of suppliers, solution providers and network operators.
"Value can be generated and exchanged in a peer-to-peer network with a lower barrier for entry and broader engagement of participants," explains Farahmand. "This is what some pundits refer to as value democratisation."
In the third and final part of this series, we will consider how businesses and organisations can use the concepts and technologies shaping Web 3.0 to enhance their products and services. Part one is available here.
Get the ITPro. daily newsletter
Receive our latest news, industry updates, featured resources and more. Sign up today to receive our FREE report on AI cyber crime & security - newly updated for 2023.
David Howell is a freelance writer, journalist, broadcaster and content creator helping enterprises communicate.
Focussing on business and technology, he has a particular interest in how enterprises are using technology to connect with their customers using AI, VR and mobile innovation.
His work over the past 30 years has appeared in the national press and a diverse range of business and technology publications. You can follow David on LinkedIn.