Apple and O2 launches £269 iPhone in the UK
Phone will sell for £269 inc VAT for the 8GB model, on sale from 9 November, and O2 as the exclusive mobile network.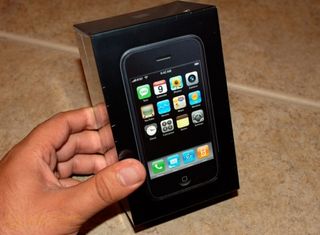 Users in the UK keen to get their hands on an iPhone will have to wait a little bit longer, as Apple confirmed the highly-anticipated smartphone will go on sale in Britain on 9 November.
Speaking at a launch event this morning at the company's flagship store in London's Regent Street, Apple chief executive Steve Jobs said that the company had been through a long process finding the right partner for a UK launch.
"We are coming to the UK and we wanted to pick the best carrier for the product. The one that we felt most comfortable working with is O2. We had a lot of choices to make regarding networks across Europe, and I think we made the right ones. A lot of it was about finding partners that fitted with Apple ethos" said Jobs.
The phone will be priced at 269 inc VAT for the 8GB model. The 4GB model, which was discontinued earlier this month in the US, will not be offered in the UK. The phone will go on sale on 9 November in Apple's own stores and O2 retail outlets.
Jobs added that initial reactions to the iPhone in the US, where the company and network partner AT&T have sold one million iPhone handsets in first 74 days of sale, have been very positive.
"Our research has shown that 85 per cent of iPhone customers would recommend it to a friend or relative, and that is really encouraging" he said.
O2 will have the exclusive network carriage rights in the UK, and has taken steps to expand its retail distribution reach, given its modest number of retail stores.
"We have partnered with Carphone Warehouse so that between our own stores, CPW and Apple's stores, we will have 1,300 outlets for the iPhone nationwide, and everyone in the UK should be within 20 minutes drive of an iPhone retail outlet" said Matthew Key, chief executive of O2 UK.
"All price plans will have unlimited data, on wireless hotspots, GPRS and Edge" said Key, moving quickly to address concerns over high data bills that have emerged during early use in the US. The data service does have a fair usage policy, which Key would not go into specifics on.
"We still aim to sell 10 million phones by end of calendar year 2008, which accounts for one per cent of worldwide phone sales" added Jobs.
Three iPhone price plans are on offer, priced at 35, 45 and 55 per month inc VAT. O2 has also signed a Wi-Fi hotspot roaming deal with The Cloud, giving users access to 7,500 hotspots across the UK without the need to login to a hotspot service provider.
In contrast to the AT&T service in the US, the O2 airtime contracts will be 18-month deals, rather than two-year minimum contracts.
The O2 airtime contracts mean the minimum cost of ownership of an iPhone in the UK will be 900 over the life of the contract, rising to 1,260 on the highest price plan.
Jobs and Keys played down the lack of 3G data capability on the phone, pointing to the success of other data-based GPRS and Edge devices. "The Edge network works really well, especially for email as we have seen with the BlackBerry, and surprisingly for Google Maps. The one thing you do want to go faster is web browsing. So we have opted for Wi-Fi integration rather than cut battery life by integrating 3G support at this stage" said Jobs.
Keys revealed that the company has had to make a multi-million pound investment in Edge and is part way through a nationwide rollout. There will be around 30 per cent Edge coverage on the O2 network by the 9 November launch date, with eventual nationwide coverage planned.
However, neither side would reveal the details of the revenue-sharing deal, which is believed to involve as much as 40 per cent of iPhone price plan revenues being passed back to Apple, making the partnership highly lucrative for the electronics giant.
Also confirmed was the launch of the phone with Orange in France and T-Mobile in Germany.
Mobile phone news, reviews, themes and downloads at Know Your Mobile
A daily dose of IT news, reviews, features and insights, straight to your inbox!
A daily dose of IT news, reviews, features and insights, straight to your inbox!
Thank you for signing up to ITPro. You will receive a verification email shortly.
There was a problem. Please refresh the page and try again.