VMware takes to the cloud
Last year's hottest IT trend is hooking its fortunes to this year's, as virtualisation giant VMware lays out its strategy for cloud computing.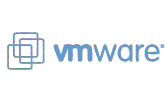 VMware has laid out its path for cloud computing at its annual VMworld 2008 conference in Las Vegas this week with a set of cloudy new announcements.
The virtualisation market leader's cloud computing strategy, dubbed "vCloud Initiative", is effectively a platform to organise a firm's internal resources into a cloud-style system, and then communicate between that and an external cloud resource to best deliver services and applications.
At the crux of this strategy is the Virtual Datacentre Operating System (VDC-OS) the layer of software which does the work.
"In 2008, the big buzz word is cloud," chief executive Paul Maritz said in a keynote at the conference.
"It's a fundamental change to the computer industry moving fundamentally away from a device centric system to a world which is information, application and people centric," he said.
The VDC-OS works in three ways, first delivering infrastructure services to pool servers, storage and networks into a cloud. Second, it manages applications to decide how best to serve them, and third, a system called "Cloud vServices" organises needed capacity between on-premise and off-premise clouds.
In an example in his keynote address, Maritz showed how an application could have a set service level agreement (SLA), and if that was exceeded, load would automatically be transferred to an external cloud to make up the difference. In the demo, SugarCRM was set at a four second response time; when a peak in usage sent response times above that, extra processing kicked in from the external cloud provider.
The cloud computing initiative launched with support from over a hundred partners, including BT, Rackspace and T-Systems.
A daily dose of IT news, reviews, features and insights, straight to your inbox!
A daily dose of IT news, reviews, features and insights, straight to your inbox!
Thank you for signing up to ITPro. You will receive a verification email shortly.
There was a problem. Please refresh the page and try again.