Timeline: The saga of Microsoft and Yahoo
We recount the biggest takeover attempt since the dot com period, and how it's evolved into a potential search partnership.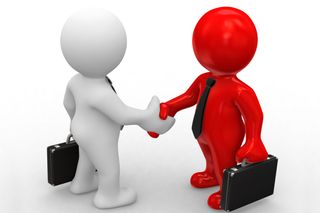 It's been a year since Microsoft placed its massive bid on the table, in the hopes of taking over search firm Yahoo - leading to months of back-and-forth over price and more. Is it possible for the two companies to kiss and make up, and how will Yahoo make any sort of fight against Google's domination?
We run down the full year of the saga.
1 February 2008: Microsoft tables a $44.6 billion (22.3 billion) unsolicited offer to buy Yahoo.
11 February 2008: Yahoo officially rejects Microsoft's offer after ten days of consideration. The board of Yahoo argued that Microsoft's offer undervalued the company.
14 February 2008: Reports claimed Yahoo has entered talks with media company News Corp about a possible merging of their online assets.
28 February 2008: Yahoo denounced Microsoft's bid as a 'significant distraction' requiring significant time and resources.
11 March 2008: News Corp cools its interest in a deal with Yahoo, as Rupert Murdoch announces that his media conglomerate has no plans to make an offer.
7 April 2008: Yahoo said it was not opposed to a Microsoft takeover bid, stating that its issue was with the value placed on its business, not the identity of the potential buyer.
11 April 2008: Analysts back Microsoft's Yahoo bid, even though Yahoo has been making moves to partner with AOL and Google.
5 May 2008: Microsoft walks away after the two giants disagree on a purchase price. This leads to Yahoo's share price falling by nearly a quarter, with pressure mounting on the search company to find another strategy.
16 June 2008 Microsoft reveals that Yahoo rejected an $8 billion offer for its search business.
8 August 2008: Rebel Yahoo shareholder Carl Icahn, who was in favour of a Microsoft deal, joins the board after a strong protest vote against board members.
30 October 2008: Yahoo and AOL have merger discussions, further sticking the boot into Microsoft.
6 November 2008: Jerry Yang says that he is still open to making a deal with Microsoft, but only at the right price. Steve Ballmer says Microsoft is not interested.
18 November 2008: Yahoo chief executive Jerry Yang resigns.
20 November 2008: Microsoft says it definitely won't buy Yahoo, but there is still the chance of a web search partnership.
30 November 2008: A Times report claiming that Microsoft is planning a $20 billion bid is 'rubbished'.
3 December 2008: Former AOL boss Jonathan Miller is reported to be planning a Yahoo bid.
4 December 2008: Yahoo board member Steve Icahn opposes the partial sale of Yahoo because he thinks it is undervalued.
10 December 2008: A Yahoo shareholder urges the web company to sell its search business to Microsoft, claiming it could double Yahoo's value.
14 January 2009: Carol Bartz joins Yahoo as chief executive to lead the company after Jerry Yang moves to his old role focusing on strategy and technology.
16 January 2009: It's revealed that Bartz was tempted away from her last role with a million dollar salary.
28 January 2009: Carol Bartz says that Yahoo is not going to be sold off or pulled apart, even after is posts a quarterly loss.
2 March 2009 - Financial filings show that the failed deals with Microsoft and Google cost Yahoo some $73 million.
10 March 2009 - Yahoo's revised severance plan is approved by courts, removing the "poison pill" package which would have made takeover difficult.
28 May 2009 - Yahoo's Carol Bartz says anyone wanting to partner with her firm on search would need "boatloads" of cash.
28 May 2009 - Microsoft relaunches its own search engine, renaming it Bing.
4 June 2009 - Bartz responds to the launch of Bing, saying the new search engine wouldn't pressure her into a deal with Microsoft.
17 July 2009: New rumours suggest Microsoft and Yahoo are to tie-up in a $3 billion deal - which would see the bulk of the cash going to Yahoo for the first few years.
20 July 2009 - Such rumours please activist investor Carl Icahn, who renews his call for a deal between the two firms.
29 July 2009 - Fresh reports say Microsoft and Yahoo are set to announce a search and advertising deal...
29 July 2009 - And for once, the rumours were right, as the pair announced a tie-up on search and advertising.
This story originally ran on 30 January 2009, but has since been updated.
A daily dose of IT news, reviews, features and insights, straight to your inbox!
A daily dose of IT news, reviews, features and insights, straight to your inbox!
Thank you for signing up to ITPro. You will receive a verification email shortly.
There was a problem. Please refresh the page and try again.