Samsung i8910 HD arrives on Orange network
The HD version of the Samsung Omnia has hit UK shores on the Orange network.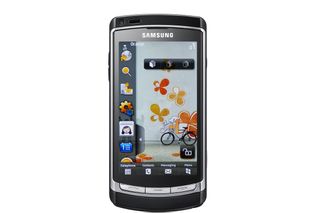 Samsung yesterday took the wraps off the Samsung i8910 HD (formerly the Omnia HD), launching the handset exclusively on the Orange network.
The device was first showcased at Mobile World Congress (MWC) in February this year, but is now available to Orange customers from free on 24-month contracts with 40 tariffs.
While the Omnia HD's new official moniker is the i8910 HD, it still has the greatness associated with its old name in terms of features, but also includes a 3.7 inch responsive AMOLED auto-rotating touch screen and is a world first in terms of bringing HD video recording to a mobile phone.
"The Samsung i8910 HD epitomises innovation," said Derek Williamson, general manager of Samsung Mobile in the UK and Ireland. "I've been with Samsung for 10 months now and we've had a number of high profile launches [during that time]."
Samsung boasts that the i8910 HD brings together "style, multimedia and business performance in one device." It has HSDPA connectivity and comes with 8GB of storage as standard, but can be expanded up to 32GB when needed. The handset also features an eight megapixel camera.
Williamson added: "Only a few months ago, we were excited about the first eight megapixel phone to come to the market... What else can I say? It has 8GB of memory and you can get it up to 32GB although I'm not sure what you'd do with 32GB!"
Click here for our review of the Samsung Omnia (i900) and here for our first look review of the Samsung i8910 HD
A daily dose of IT news, reviews, features and insights, straight to your inbox!
Maggie has been a journalist since 1999. She started her career as an editorial assistant on then-weekly magazine Computing, before working her way up to senior reporter level. After several years on the magazine, she moved to 'the other side of the fence' to work as a copywriter for a marketing agency, writing case studies and working on ad and website copy for companies such as eBay, Dell, Microsoft and more. In 2006, just weeks before IT Pro was launched, Maggie joined Dennis Publishing as a reporter. Having worked her way up to editor of IT Pro, she was appointed group editor of Cloud Pro and IT Pro in April 2012. She became the editorial director and took responsibility for Channel Pro, in 2016. Her areas of particular interest, aside from cloud, include management and C-level issues, the business value of technology, green and environmental issues and careers to name but a few.
A daily dose of IT news, reviews, features and insights, straight to your inbox!
Thank you for signing up to ITPro. You will receive a verification email shortly.
There was a problem. Please refresh the page and try again.