iPhones in danger of overheating
Apple is advising users to look after their devices during the hot weather.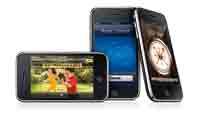 Apple has warned iPhone users to keep a close eye on their devices during the current heat wave to avoid encountering overheating related problems.
Charging issues, dim displays and weakened signals, are all unwelcome by-products of iPhones being used or stored outside of optimum temperatures, according to a support notice on the company's website.
The heat issue affects both the iPhone 3G and the latest generation, the iPhone 3GS.
"Operate iPhone 3G and iPhone 3GS in a place where the temperature is between 0 and 35 C (32 to 95 F). Low- or high-temperature conditions might temporarily shorten battery life or cause the device to temporarily stop working properly," Apple's support page states.
Similarly, Apple advises users that their phones should be stored at temperatures of between -20 and 45 C (-4 to 113 F) and to avoid leaving their devices in cars because their temperatures are often outside of this scale.
In certain cases, the iPhone will display a temperature warning screen that will flag to users that their phones need to cool down before use. They may still be able to make emergency calls, however.
A daily dose of IT news, reviews, features and insights, straight to your inbox!
Maggie has been a journalist since 1999. She started her career as an editorial assistant on then-weekly magazine Computing, before working her way up to senior reporter level. After several years on the magazine, she moved to 'the other side of the fence' to work as a copywriter for a marketing agency, writing case studies and working on ad and website copy for companies such as eBay, Dell, Microsoft and more. In 2006, just weeks before IT Pro was launched, Maggie joined Dennis Publishing as a reporter. Having worked her way up to editor of IT Pro, she was appointed group editor of Cloud Pro and IT Pro in April 2012. She became the editorial director and took responsibility for Channel Pro, in 2016. Her areas of particular interest, aside from cloud, include management and C-level issues, the business value of technology, green and environmental issues and careers to name but a few.
A daily dose of IT news, reviews, features and insights, straight to your inbox!
Thank you for signing up to ITPro. You will receive a verification email shortly.
There was a problem. Please refresh the page and try again.