Reviews Round-up: Office spruce-up
We take a sneak peak at Office 2010, while Asus both impresses and disappoints with a new netbook and laptop.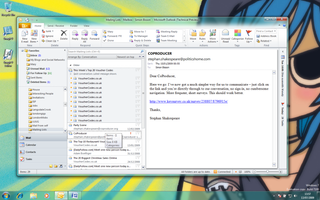 Asus Eee PC 1005HA netbook Netbooks have become dominant in the industry over the last few months, but we've been pining for the good ol days' when they were still stripped down and affordable. Now Asus has got us all misty eyed by showing us that it can still be done. Bravo, we say.
Office 2010: Preview Microsoft has always amazed by managing to keep refreshing a product that the vast majority of people didn't need improving on and it looks to have done it again with Office 2010. Outlook has finally received a much needed makeover, although we realise this somewhat contradicts what we just said. PowerPoint and Excel see changes too, while collaboration is improved as well.
Dell PowerEdge R710 serverWith its mix or power, design and features, our reviewer was most enamoured with Dell's Nehalem-based R610 server a few months back. Now Dell is here with its 2U version and not surprisingly he's once again impressed.
Asus UX50V laptop review While we loved its latest netbook earlier in the week, the same couldn't be said for its latest laptop. It's certainly a good looking machine but compared to competitors, the UX50V is underpowered and overpriced, neither of which are good things to be.
Samsung SyncMaster P2370 Samsung's P2370 piqued our interest with its low power credentials, but it was the design and styling that really impressed us in the end. It also offers an impressive size and resolution for the money, much of which is down to using the new 16:9 format - or at least new for computer displays, which thanks to economies of scale is much more affordable for panel manufacturers to produce. The result? Lots of monitor for your money. It's no corporate display, but could be perfect for a home office.
A daily dose of IT news, reviews, features and insights, straight to your inbox!
A daily dose of IT news, reviews, features and insights, straight to your inbox!
Thank you for signing up to ITPro. You will receive a verification email shortly.
There was a problem. Please refresh the page and try again.